Favorites
If I Weren't a Product Designer, I Would Be a: fashion designer or a dessert critic.
Most Inspired by: the way different cultures live: their colors, customs, and nuances
Movie Interior: Moulin Rouge
Albums: Adele, Rihanna, anything by Chopin, even Justin Bieber (what!? I can't help it, I love his music)
Museum: the Met
Style Icon: There is not a single person I can name. Style is a reflection of your personal state of being; for me this is constantly evolving.
Cocktail: life!
Restaurant: anywhere with great atmosphere, salty french fries, and a serious dessert menu
Hotel: any Relais & Châteaux
Flower: an armful of anything from the garden
Hostess Gift: a loaf of homemade banana bread, a coffee table book, or a nosegay of garden flowers in a charming little pitcher
Resources
Fabric: Call the handsome Mr. John Robshaw.
Decorative Accessories: Call the clever Mr. Jonathan Adler.
Bedding: Call the elegant and witty Mr. George Matouk.
Furniture: Call my brother, James De Wulf. He's a punk but a very talented one.
Lighting: You can call me. We have stunning lighting.
Florist: the garden
Caterer: We love to cook, so we do our own catering.
Favorite Local Shop: Vintage Virtuosa in Westport, CT
Favorite Shop Abroad: La Petite Charlotte, Paris. Or any open market anywhere.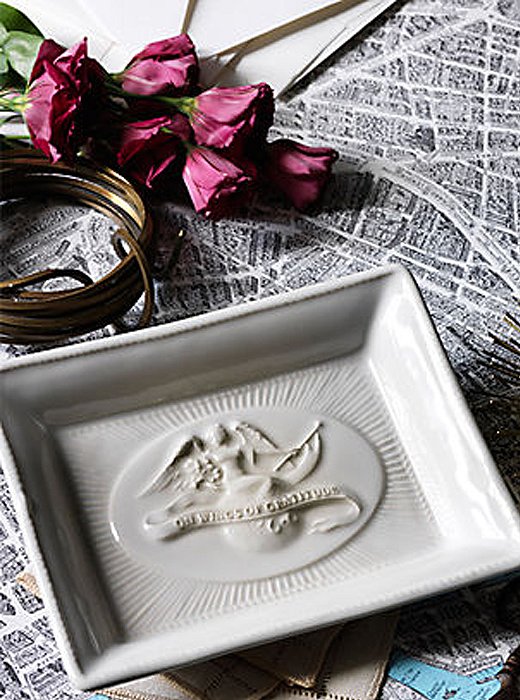 Decorating
Favorite Paint Colors: Hot Lips, Benjamin Moore; Borrowed Light, Farrow & Ball
Favorite Room to Decorate: any private space—a bedroom, a boudoir, an office. They allow intimacy and personality to manifest.
Favorite (Dinnerware) Patterns: Country Estate, Juliska for any time and Matignon Green, Haviland & Parlon for formal affairs.
Decorating Cheap Thrills: flea-market and estate-sale finds
Favorite Decorating Trick: Paint! It's cheap and completely transforming.
You'll Never See Me Using: Never say never…
At Juliska, we strive to create a new generation of uncommon classics. Each piece juxtaposes rustic with refined and masculine with feminine.