In search of a few effortless, inexpensive ways to quickly switch up your style? We asked top designers for their go-to decorating cheap thrills and received a surprising array of ideas to spice things up. Scroll through for some ridiculously easy (and brilliant) tips sure to liven up your home.
Always, always have fresh flowers. A grouping of small topiaries or orchids on a tray is also a novel way to refresh a room.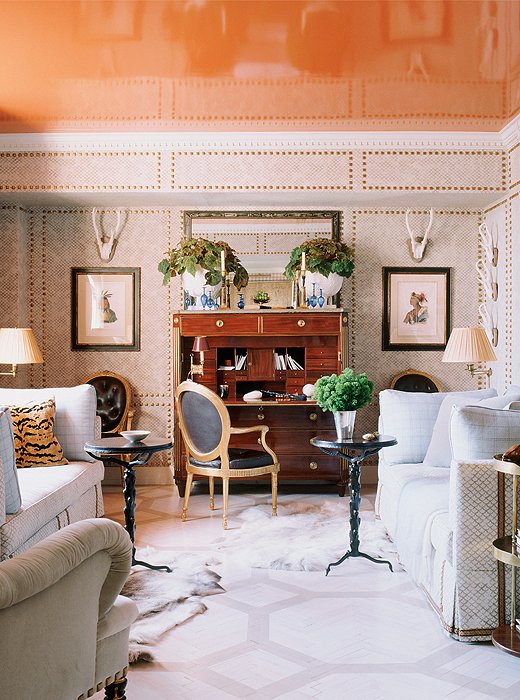 "High-gloss paint on the ceiling to make it look higher." – Kelly Wearstler
"Dawn Pink Light Bulbs! I absolutely always use them in my home. It's just a really pale pink light bulb that casts a beautiful, warm glow."—Brenda Houston
"Throws."—Alexa Hampton
"Flowers and a Diptyque Candle."  —Ryan Korban
"Patterned paper napkins as last-minute throwaway powder-room hand towels."—Mary McDonald
"Painting; it's a lot of look for little money."—Nathan Turner
"An industrial convex mirror over a sofa."—Vicente Wolf
"Getting rid of tired objects." —Lauren Geremia
"Lampshades made of pleated, printed Indian cottons."—Carolina Irving
"Beautifully presented food." —Paul Wiserman
"My children's framed artwork." —Kelly Wearstler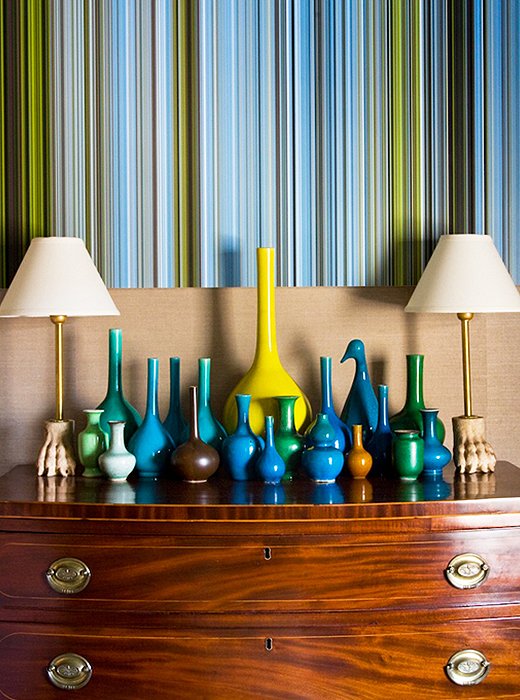 A grouping of ceramic vases.
"Taking everything out of a room and rearranging it completely."—Bunny Williams
"If the pillows made for your sofa look better on your bed, switch them."—Kenneth Brown
"Items from nature: rocks, geodes, fossils, etc."—Sasha Adler and Lauren Gold
"Jet-black taper candles." —Windsor Smith
"Changing nobs on handles on cupboards can do wonders."—Erica Tanov
"Shopping thrift stores in random towns. Discovering that one fun piece in a land of junk is thrilling."