The huge influence Chinese culture has had on the worlds of art, film, fashion, and interiors shows no signs of slowing, so it seems fitting that Vogue and New York's Metropolitan Museum of Art chose "China: Through the Looking Glass" as the theme for this spring's Costume Institute exhibition. "China is emerging as such a potent force on the international fashion and cultural scene, and it's fascinating to explore the nation's aesthetic history in this way," says Hamish Bowles, Vogue's international editor at large. Inspired by three gorgeous gowns from the exhibition, we decided to find interiors that translated a bit of this trending Eastern allure into the home.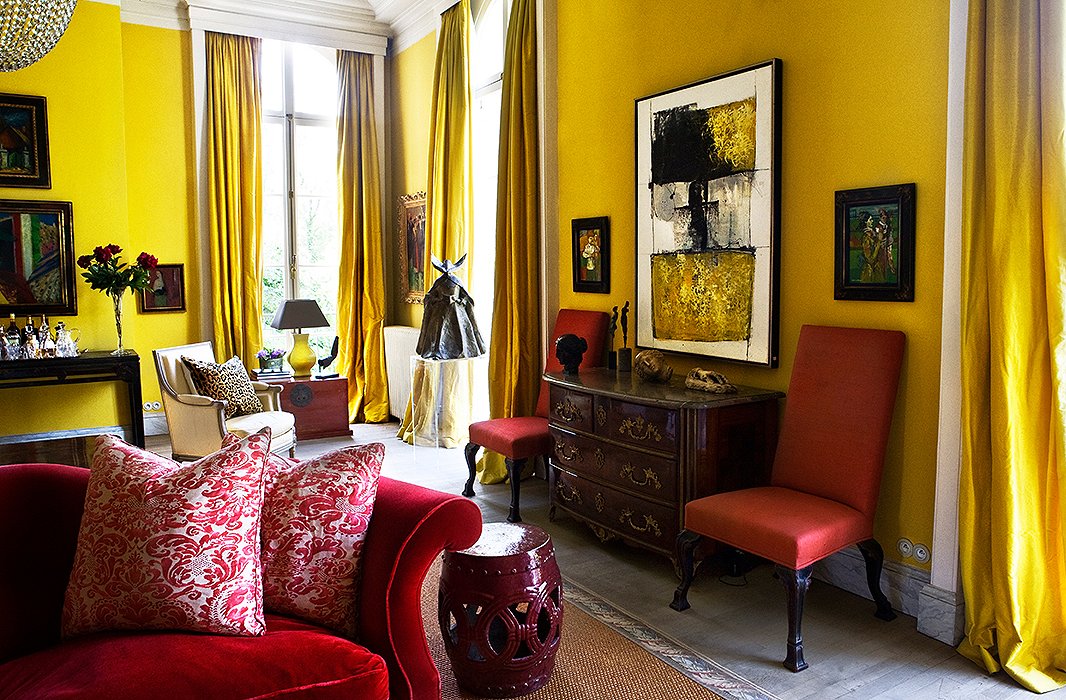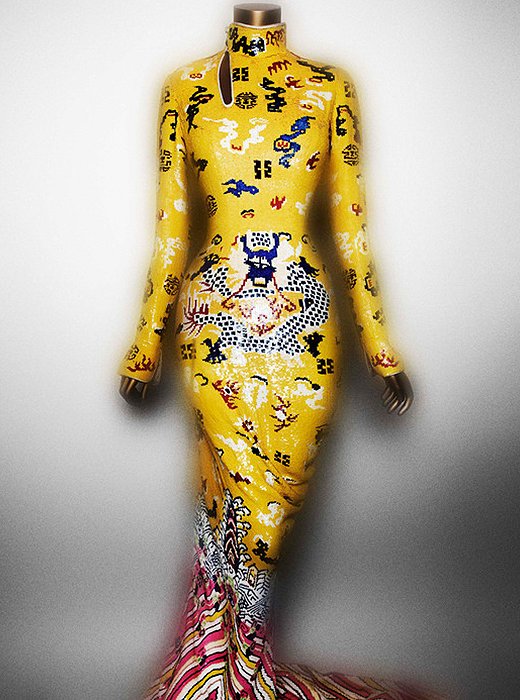 Look #1: Auspicious Yellow
Yellow is so highly esteemed in Chinese culture that in Imperial China, it was considered the emperor's color. As it happens, this joyful hue adds as much allure to the walls and window coverings of this living room as it does to the stunning sequined gown designed by Tom Ford. A Ming-style trunk and a glazed garden stool, both used as side tables, infuse this space with a subtle but unmistakably Eastern flair.
Look #2: Enchanting Objects
The beauty of blue-and-white porcelain (which was first created in China) inspired this evening dress by Roberto Cavalli from the exhibition and adds a traditional-leaning elegance to this entryway. Blue-and-white pieces have the biggest impact when used in groupings, such as the vases on and the stools below this console table. Dreamy chinoiserie wallpaper acts as yet another nod to Eastern-influenced design.
Look #3: Playful Palette
Jubilant Chinese kites were a point of inspiration for this wearable work of art designed by John Galliano for House of Dior, and this living room's exuberant use of "lacquer red" perfectly channels the dress's most prominent color. Pops of yellow and black, playful patterns, and a bold stripe on the wall add to the space a sense of theatricality—which the dress boasts in spades—while a gilded mirror acts as a grounding bit of gravitas.