Bunny Williams: Classic and Chic
"The appeal of chinoiserie lies in the history of how it came about," says the renowned decorator. "It was the romantic European take on the Orient, melding different styles of Asian influences—Moorish, Chinese, Indian—that morphed into a style of its own."
The designer often layers her interiors with chinoiserie fabrics and upholstery in bold florals for a touch of that romantic notion and exotic style, as she does in the above guest room. "Look for pieces that stand out unto themselves, like a pagoda hanging cabinet or 18th-century gilded palm pilasters. I love beautiful lacquer work and blue-and-white porcelain."
Bunny's chinoiserie must: "Enchanting rooms, like fascinating people, are multidimensional. Rather than doing a whole room, start with a strong patterned chinoiserie fabric or wallpaper to build your room around."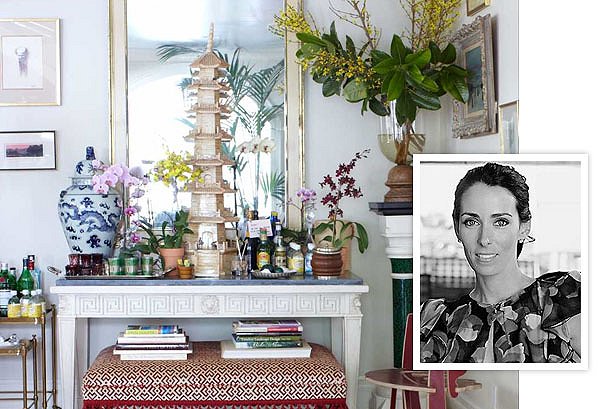 Ruthie Sommers: Elegant and Eclectic
"Historic designs are part of an arsenal in designing," says Ruthie. However, given how distinctive chinoiserie furnishings are, Ruthie does caution that "one should use restraint." Although they have a strong presence, chinoiserie pieces blend nicely with other classic decor with historical details.
For a stylish bar with a curated look, she mixes a few Eastern accents (a giant urn and a towering pagoda) with a console that's carved with Greek key motifs and an ottoman with geometric upholstery. Another way to incorporate chinoiserie pieces is to add unique accents in an unexpected space. "I think an easy option is to try adding some gorgeous lanterns, like pagoda-style ones, in a sleek modern bath."
Ruthie's chinoiserie must: "Garden stools work in any room, anywhere. They are decorative and utilitarian. And don't buy too cheap. Buy less but better quality."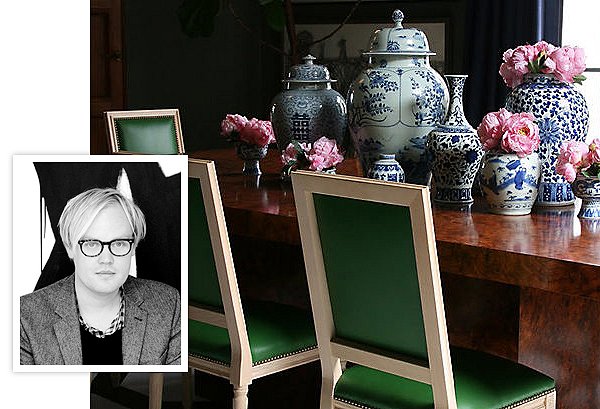 Grant K. Gibson: Modern and Minimalist 
"I love the way that chinoiserie pieces can add a sense of history and a look of travel into a space," says the up-and-coming designer. But he recommends decorating with a light touch. "Trying to be minimal with the amounts of chinoiserie decor can make it feel less stuffy," he explains.
In this dining room, Grant offsets the European-style table and chairs with a simple grouping of blue-and-white porcelain, which instantly makes a statement without being visually overwhelming. "If you have a lot going on with pattern in a space, adding blue-and-white pottery is a great way to get that Asian flair while keeping it from being overly busy."
Grant's chinoiserie must: "The easiest way to incorporate chinoiserie is to add blue-and-white pottery. It's bright and graphic, and it always looks fresh and timeless."