When it comes to desserts that are indulgent and impressive, just about anything with chocolate has to top the list. But while you might think chocolate mousse and chocolate truffles are tricky to make, the recipes below from our friends at Sur La Table prove otherwise. Even the third recipe, for chocolate madeleines, is not as difficult as Proust's In Search of Lost Time might have led you to believe. But there's no need to tell your friends and family that! 
Chocolate Mousse
Serves 8
Ingredients
2 cups heavy cream
4 egg yolks
3 tablespoons sugar
Pinch of salt
1 teaspoon vanilla
7 ounces bittersweet chocolate
Instructions
Heat ¾ cup cream in a 1-quart heavy saucepan until hot. Whisk together yolks, sugar, and salt in a metal bowl until combined well, then add hot cream in a slow stream, whisking until combined. Transfer mixture to saucepan and cook over moderately low heat, stirring constantly, until it registers 160°F on thermometer. Pour custard through a fine-mesh sieve into a bowl and stir in vanilla.
Melt chocolate in a double boiler or a metal bowl set over a pan of simmering water (or in a glass bowl in a microwave at 50 percent power for 3-5 minutes), stirring frequently. Whisk custard into chocolate until smooth, then cool.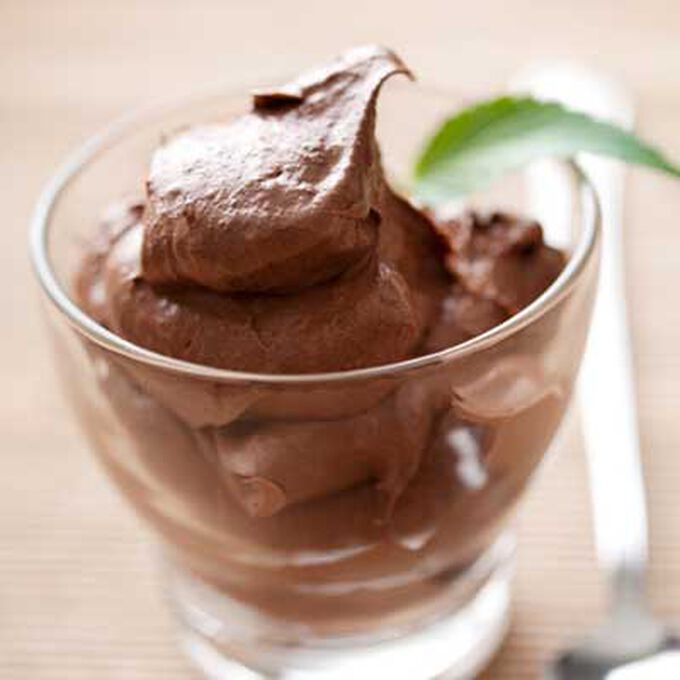 Beat remaining 1¼ cups cream in a bowl with an electric mixer until it just holds stiff peaks. Whisk a quarter of the cream into the chocolate custard to lighten, then fold in the remaining cream gently but thoroughly.
Spoon mousse into 8 six-ounce stemmed glasses or ramekins and chill, covered, at least 6 hours. Let stand at room temperature about 20 minutes before serving.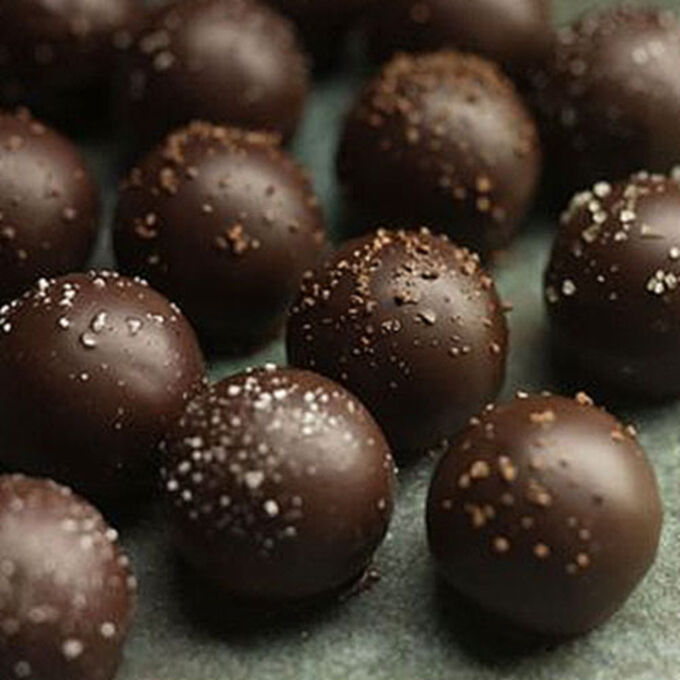 Grand Marnier Truffles
Makes 24 inch-round truffles
Ingredients
1 pound semisweet chocolate
¾ cup heavy cream
¼ cup light corn syrup
Zest of 2 oranges
6 tablespoons unsalted butter, room temperature
¼ cup Grand Marnier or other orange-flavored liqueur
½ teaspoon pure orange oil
1 pound bittersweet chocolate, melted and cooled
Instructions
To prepare the ganache, place semisweet chocolate in a large heatproof mixing bowl, then set aside. Combine heavy cream, corn syrup, and orange zest in a medium saucepan. Heat over medium-high heat until mixture boils. Immediately pour mixture through a fine-mesh strainer over the semisweet chocolate. Stir chocolate mixture with a silicone spatula until thoroughly combined and shiny. Stir in butter, Grand Marnier, and orange oil. Pour mixture into a shallow baking dish or a small rimmed baking sheet and chill overnight.
Use a melon-ball scoop warmed briefly in hot water to scoop balls of ganache (take care to thoroughly wipe off all excess water from the scoop to avoid adding water to the ganache). Quickly roll ganache between your palms to form the truffles into a ball. Place a small amount of melted bittersweet chocolate in the center of your palm and roll truffle to coat. Roll the coated truffle onto a parchment-lined sheet tray. Once the chocolate sets, coat the truffles a second time. Repeat process with remaining truffles.
Chocolate Madeleines
Makes 12
Ingredients
8 tablespoons (1 stick) unsalted butter, plus 2 tablespoons more for greasing pans
¾ cup granulated sugar
3 large eggs
1 teaspoon vanilla-bean paste
¼ teaspoon kosher salt
1 cup all-purpose flour
2 tablespoons of high-quality Dutch process cocoa powder
½ teaspoon baking powder
4 ounces bittersweet chocolate, chopped
Powdered sugar for dusting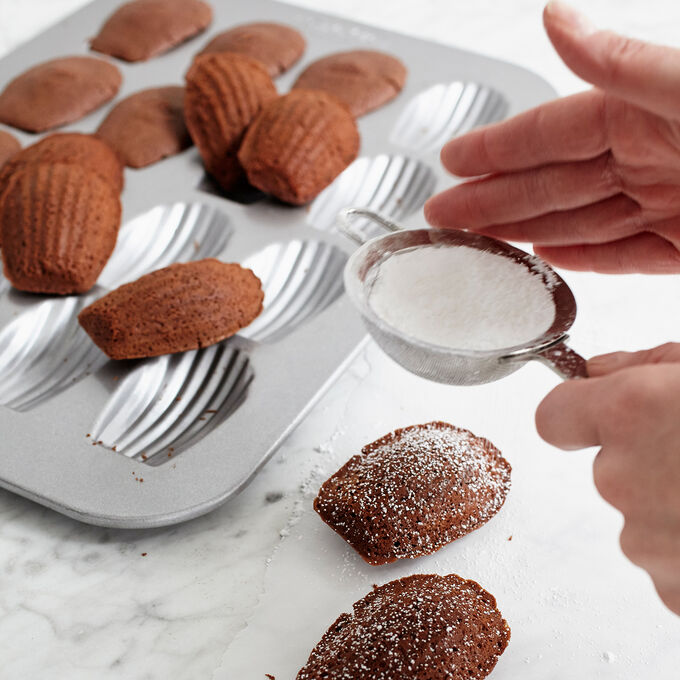 Instructions
Preheat oven to 360°F and position an oven rack in the middle of the oven.
Melt 2 tablespoons of butter in a small saucepan and generously brush the wells of a madeleine pan with butter. Place the pan in the freezer. After a few minutes, once the butter has hardened, repeat the process with another layer of butter and leave the pan in the freezer to chill until you're ready to use .
In a stand mixer fitted with a paddle attachment, beat the stick of butter and the sugar until light and fluffy, about 3 minutes. Add the eggs, one at a time, mixing until each is fully incorporated before adding another. Add the vanilla and salt, and mix until combined.
In a medium bowl, sift the flour, cocoa powder, and baking powder together. With the mixer on low speed, add the flour mixture, about a third at a time, to the egg mixture, mixing just until all the flour is incorporated.
Melt the chopped bittersweet chocolate in a double boiler, then let it cool slightly. Fold the melted chocolate into the batter by hand just until incorporated.
Remove the buttered pan from the freezer, and spoon enough batter into each shell until filled, then smooth the tops. Place the filled mold back into the freezer until batter is chilled, about 15 minutes. Bake for 12-15 minutes until risen and just set.
Remove from the oven and flip the madeleines out onto a wire rack to cool. Dust tops with powdered sugar.