One Kings Lane DIY guru (and resident Weekend Decorator) Megan Pflug is back with some crazy-cool holiday solutions.
When decorating for the winter holiday season I've always been a fan of an unexpected touch, especially when it comes to greenery. Whether you're faced with a lack of space or just searching for something new, these holiday greenery ideas are fresh, simple, and chic. I've cooked up an idea for spaces of every size, since a bit of holiday cheer isn't just for those with generous square footage. Keep reading to discover more.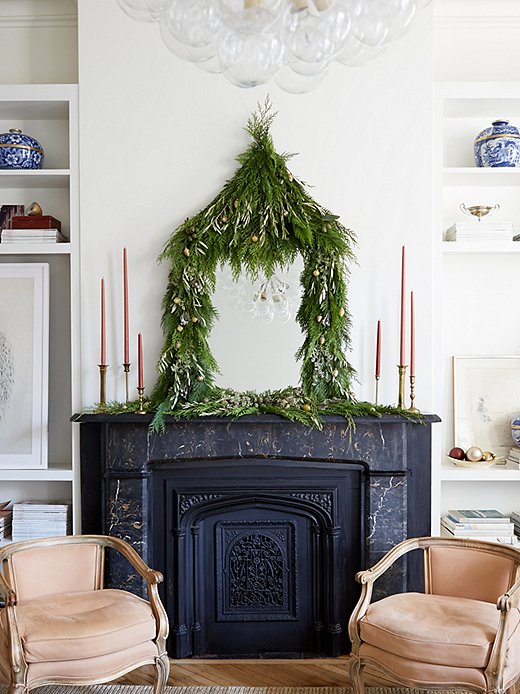 Idea #1: A Festive Frame
To make this pagoda-inspired garland to frame a mirror, I used some floral wire and a few bundles of cedar, plus a sturdy pair of floral clippers. I got my cedar boughs from a local flower market, but you could also just clip some from a nearby tree or even use the extra boughs trimmed from a Christmas tree. Soft, drapey evergreens work best for this.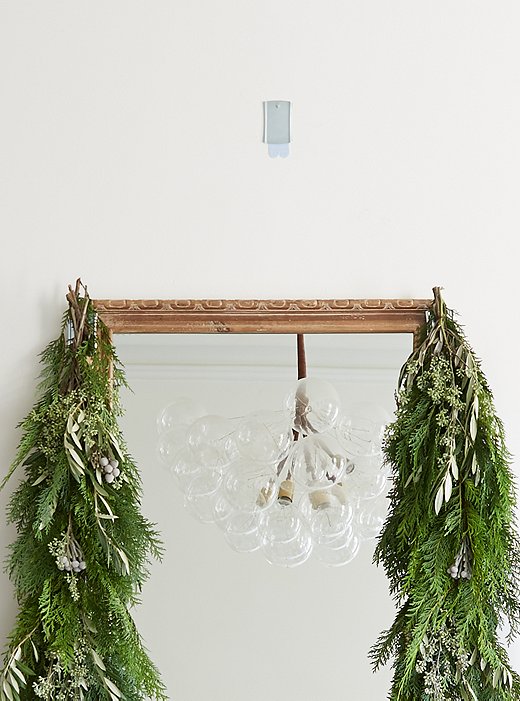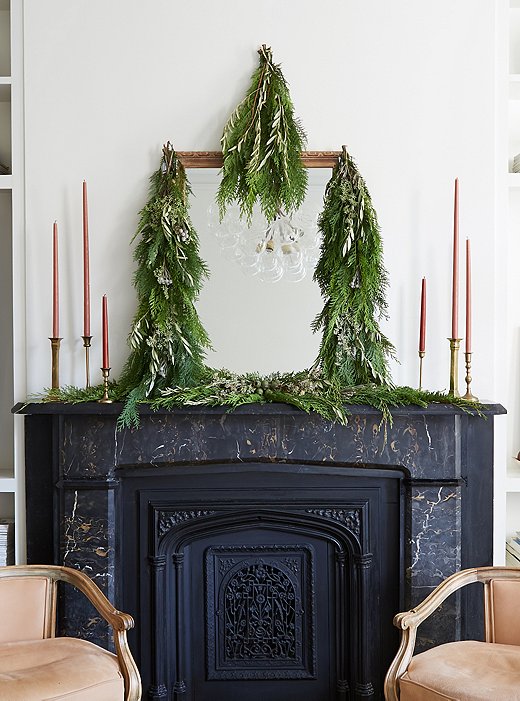 Step 1: Craft Your Bundles
Working on a flat surface, I trimmed seven equal lengths of cedar and layered a few sprigs of olive greens and eucalyptus berries on top for texture.  I secured the stems of each bundle using thin floral wire. Trim off any excess stems so that the bundles are all the same size and fullness.
Tip: Each bundle should be 5-6 inches longer than half of the height of the mirror. This ensures that your greenery bundles will overlap, creating a seamless effect.
Step 2: Apply Your Hooks
To secure each of the greenery sections to the mirror I attached Command hooks directly to the frame of the mirror. These hooks can be applied to a variety of surfaces and removed without damage. I placed two hooks at the top of the mirror, one in each corner, and another two hooks on each side, halfway between the top hook and the bottom of the mirror. I used a small length of floral wire to attach one bundle to each hook.
Step 3: Create the Top
To create the top of the pagoda I centered and secured one Command hook to the wall about 16 inches above the mirror. The remaining three bundles will all hang from this single hook. To create the angled sides of the pagoda, I hung two bundles from the top hook and wired the bottom edge of each of the bundles to the stems of the side bundles. To finish, hang your final bundle between the two angled bundles. I clipped a few sprigs of cedar and tucked them into the top of the center bundle to conceal the stems and create a feathery topper.
Step 4: Finishing Touch
Along the bottom, I used a few sprigs of cedar to finish off the look. I didn't bother wiring them together because they were just lying on the surface of the mantel. For texture I wired a few eucalyptus pods (small pinecones would also work) and some small metallic ornaments to the greenery.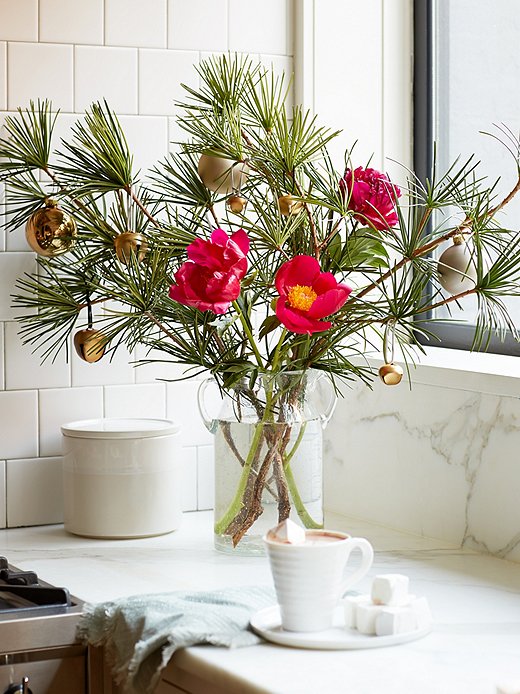 Idea #2: Branch Out
To create this simple arrangement, I used two small umbrella pine branches. For a pop of color I added some large fuchsia flowers and a few metallic ornaments. This look makes a long-lasting formal arrangement and is the perfect alternative to a Christmas tree if space is an issue.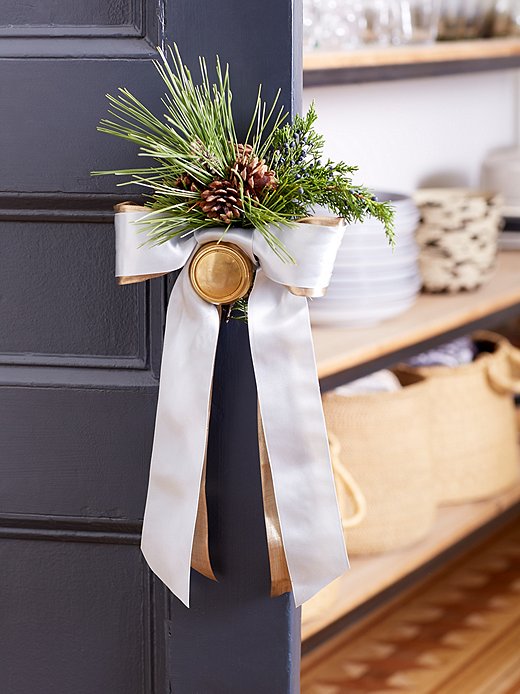 Idea #3: A Welcoming Flourish
Two sprigs of black pine and cedar wired to a doorknob (with floral wire) and finished with a bow is the perfect low-effort, high-impact holiday statement. I love this idea for a powder room, a guest room, or any other place you're looking to infuse a little holiday cheer.
Tip: For added dimension, I layered a gold and a gray ribbon together to complement the brass hardware.