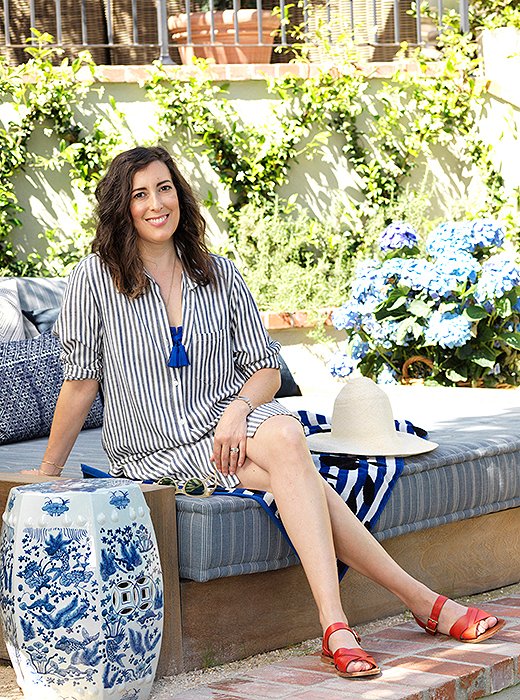 Whether you're lounging poolside, camping out on the beach, or jumping from a tire swing into a nearby lake, a stylish beach towel is a summer essential. When we decided to produce a new beach towel collection, L.A.-based handbag and apparel designer Clare Vivier—an expert on chic accessories that make life's moments all the more grand—was a shoo-in for the job. We're thrilled to unveil a new array of beach towels in collaboration with Clare V., which will catch eyes wherever life takes you this summer.
We caught up with Clare poolside in Los Angeles to talk summer must-haves, entertaining tips, and the world's best beaches. Read on below, and don't miss her recipe for a favorite poolside cocktail!
What inspired the designs of your beach towels?
"The beach towels came from our current spring/summer collection of handbags, which is inspired by my family travels to France every summer. For example, le grand départ is what they say every summer in France when basically all the cities, like Paris, empty out, and everyone goes to the countryside.
"Then there's one that says Cervezafría, which is taken from a building near my house in Echo Park in Los Angeles. That was a hand-painted sign that I always loved. I was so happy to reuse the graphic."
What's your favorite design from the collection?
"I think I'm going to get a whole bunch of Le Grand Départ ones—the black-and-white ones. That's my favorite."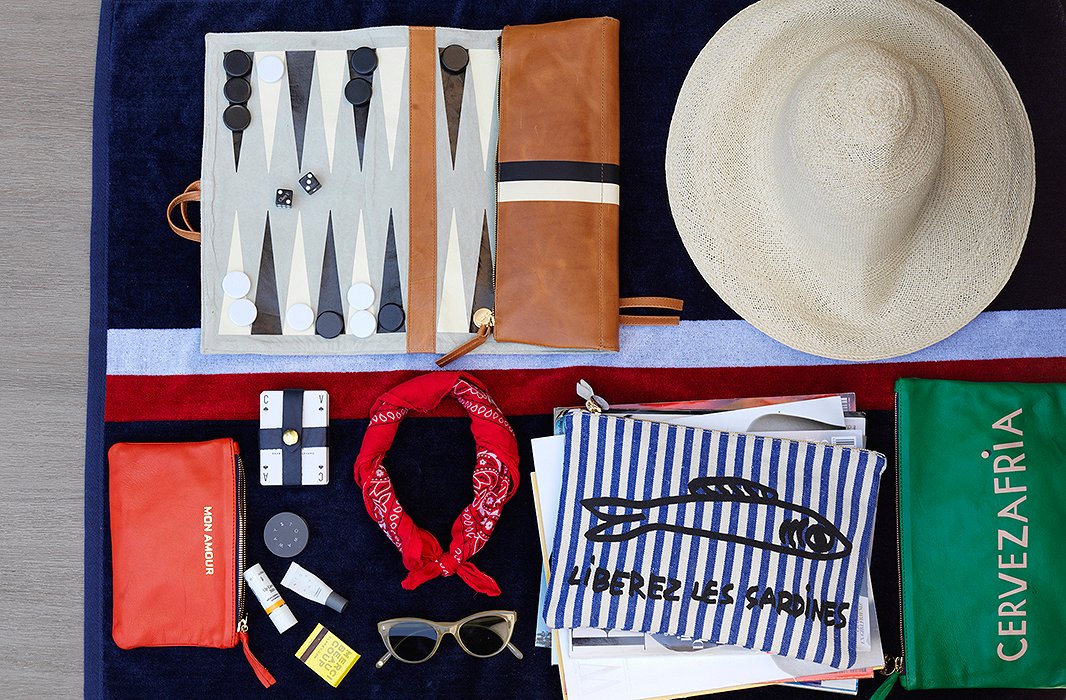 What must-haves do you always keep in your summer bag?
"A baseball hat or a bandanna, because I'm constantly needing to cover my head. I guess probably sunglasses too. I would say Garrett Leight sunglasses."
What are you looking forward to this summer?
"I'm excited about going back to France. I'm going back to Île de Ré, which is where we went last year. We go every summer to France, but I love going to Île de Ré."
What are some of your favorite beaches around the world to spend a summer day?
"Malibu beaches—Point Dume. Beaches in Tulum, Mexico. Oh, and in France, in Île de Ré, the secluded beaches there. And Hawaiian beaches are wonderful!"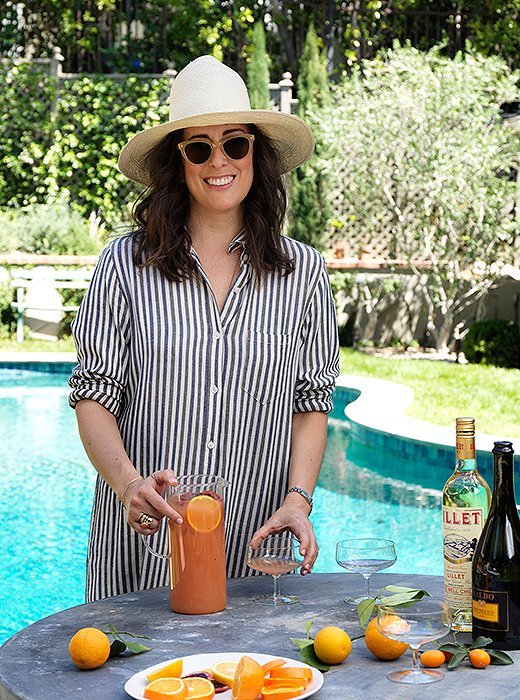 What are your top three tips for summer entertaining?
"One, have chilled rosé—or a nice cocktail like the one we made. Two, always have enough towels on hand for your guests, because they won't bring them. Three, make a killer guacamole."
Tell us about your favorite poolside cocktail.
"This sparkling citrus, Lillet, and prosecco punch is just extremely refreshing. And it's a great color… It's a very happy color. It's a good thing to serve at the pool!"
Clare V.'s Sparkling Citrus Cocktail
Ingredients
1 cup citrus juice (such as grapefruit, blood orange, or tangerine), strained
1 cup Lillet Blanc
1.5 cups of prosecco
Citrus rounds, for garnish
Directions
Combine the first three ingredients in a large pitcher filled halfway with ice. Stir. Garnish with citrus rounds.
Serve over ice. Top with a dash of prosecco for extra punch.
Shop Clare V.'s Handbag Collection