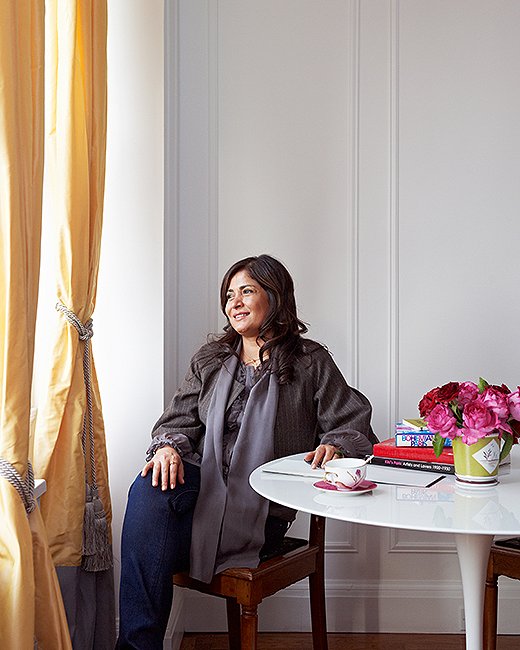 Perfumer and couture designer Shalini fell head over heels for her apartment in Manhattan's Greenwich Village as soon as she entered it. Well, almost. "When I saw the kitchen I knew I had to tear it out. It was renovated in the '70s, and the cabinetry was awful. It just felt really sad and generic." Inspired by the famous Parisian patisserie Ladurée, she teamed up with architect Don Cantillo and set about transforming the space into a Francophile fantasy, perfect for entertaining. "I wanted it to be a room you could enjoy and linger in over a drink," says Shalini.
Discover how she distilled her favorite design elements into a  jewel box of a kitchen that packs all the elegance of Parisian style into the tiniest of spaces.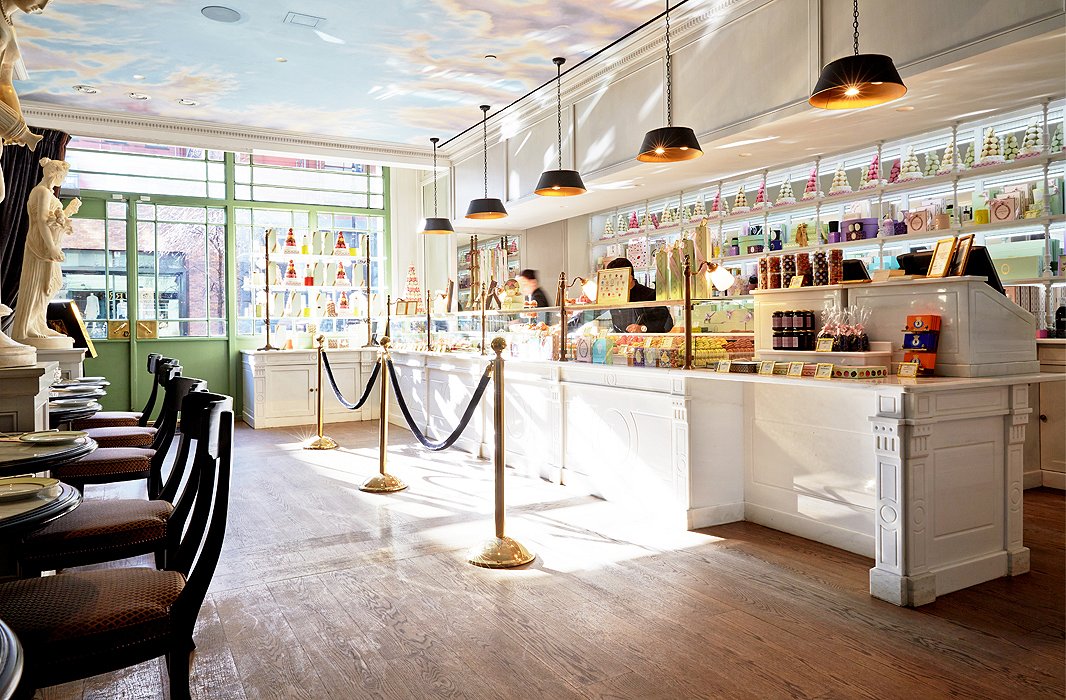 The Inspiration
"I've always loved going to Ladurée in Saint-Germain-des-Prés in Paris," says Shalini. "You feel surrounded by beauty and color, and there's the most wonderful sense of luxury. Even though my space is small, I wanted to recreate that feeling of Paris." Ladurée's new location in NYC's SoHo means inspiration is even closer to home.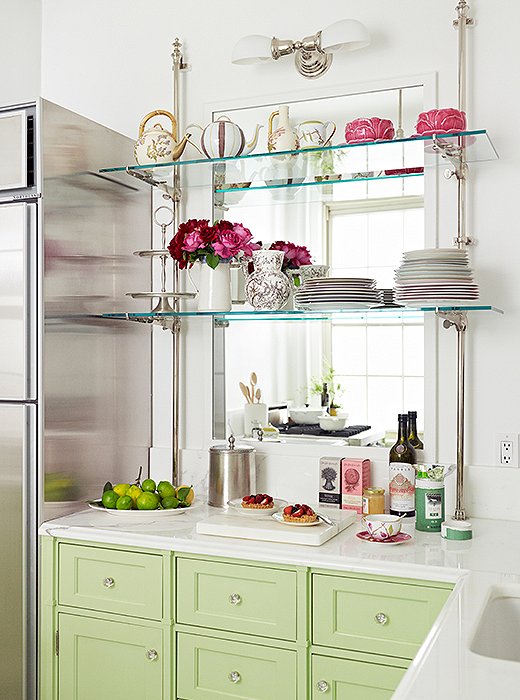 The Translation Process
Cabinetry
To recreate the Ladurée look, Shalini had the cabinet color custom-mixed to perfectly match the brand's trademark mint-green tea tins and boxes. "We went through so many variations to get it just right." The kitchen knobs were swapped for crystal cabinet knobs with the perfect vintage feel. "I remember seeing something similar in an old hotel in Paris," says Shalini.

Countertops
The marble countertops perfectly channel a classic French bistro, as does the tiered glass shelving, which creates additional storage in the small space. Strategically placed mirrors make the small space feel bigger. To maximize the amount of light provided by the room's lone window, Shalini had a mirror installed behind the shelves to reflect light around the room. 


Appliances
The 24-inch Viking range was purchased in white to match the walls, countertops, and floors. "I would have loved to have a little old-fashioned French stove, but they didn't make any small enough to fit the space."
Decorative Extras
Shalini hung a decorative mirror on the wall opposite the shelving-unit mirror to help further maximize the light and, like the Louis XVI stool, to add a sense of grandeur to the petite space. The stool also serves as a place for friends to sit and enjoy a glass of wine while Shalini whips up dinner.
The End Result
The kitchen is now a space where Shalini loves to linger, whether it's with a guest over a cocktail or just a quiet morning by herself. "The moment you start putting your creative energy into a space you start feeling something for that space that you didn't feel before," says Shalini. "Even now I feel the thought and energy I put into my kitchen, and it brings me so much joy every time I walk into it. I hope other people can feel that when they walk into my home."
Shalini's Tips for Bringing Paris Home
1. Flowers to me are very reminiscent of Paris. My personal favorites are tuberose, which also happens to be the primary note in my fragrance, and lavender and sunflowers, which remind me of the South of France.
2. Macaroons, à la Ladurée.
3. Music by Erik Satie reminds me of floating down the Seine. He is well known for his collaboration with Picasso.
4. Mariage Frères Earl Grey French Blue, which is the most magnificent tea with blue flowers—a true delight you could imagine drinking in a little patisserie in Paris.
The moment you start putting your creative energy into a space you start feeling something for that space that you didn't feel before.