Corey Damen Jenkins is nothing short of an inspiration. If you've ever come across his work, you've undoubtedly been struck by the vibrant colors and joyful lines that have become his signature. You have probably also encountered the inspiring story of his career, which rose like a phoenix from the ashes after the crash of 2008. (You can read more about it here in our interview with Corey from his Tastemaker's Edit.) What you might not know, though, is how that love of color and eye for design got started. In his just-published debut book, Corey shares the story of his upbringing and how influential the city of Detroit is to his style. The book also does something very few other design books do: teach.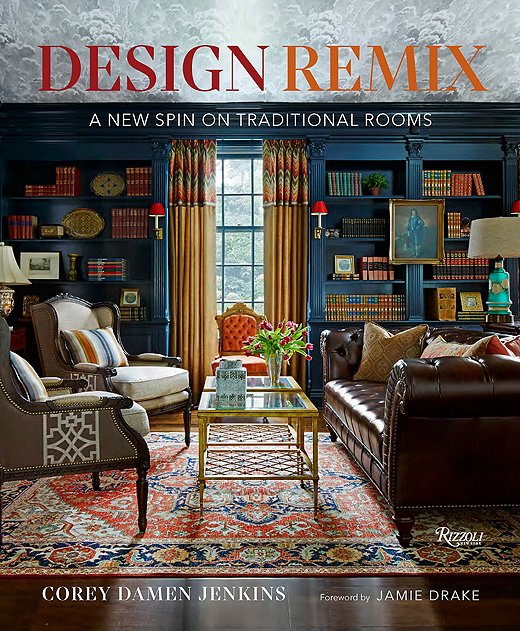 Design Remix: A New Spin on Traditional Rooms is, among other things, a love letter to Corey's fans. He wanted it to be useful. "A lot of times coffee table books are known for being tomes full of beautiful photography," he says. "I wanted this book to speak to something more than just pretty rooms. I wanted it to be a go-to resource for design students, designers, and design enthusiasts." His fashionable approach to traditional design brings with it a stream of questions from his devotees. Everyone is intrigued with how he makes an aesthetic feel fresh. He saw Design Remix as a way to answer all of them at once. "We compiled a list of the most popular and most frequently asked questions," he says. Each chapter tackles one of them. The "Bold Standard" chapter covers how to mix patterns. The chapter on age-appropriate design helps readers understand how to take a child's room from elementary to high school. These teachable moments are what make Design Remix such a good read. "I didn't want the book to talk over the reader," says Corey.
Each section, bookended by Corey's lessons, comes complete with a sketch by Corey. As a designer, he is used to sketching for clients, contractors, builders, and painters. It is second nature at this point. "We thought, Why not use the same concept for the book? I can show you better than I can tell you." Throughout the book, he shows us exactly how to style a shelf, where to take inspiration from fashion, and how to hang a gallery wall. These personal sketches are just another way Corey shares an inside look into his process. 
Corey's signature style and voice are perfectly interwoven throughout the book. His love of bold colors and stately whimsy is as intrinsic to who he is as his Detroit upbringing. You get a glimpse into that life in small snippets of the book. We're blessed with sweet anecdotes about his relationship with his mother and his love of color from a young age. In between the lessons on form and function, we get to see the implications Detroit has had on his design philosophy. Before Corey was a designer, he worked as a purchasing agent for one of the big automotive companies in Detroit. Like so many others in the auto industry, Corey was laid off after the 2008 economic crash. He took this as an opportunity to reinvent himself. As his title suggests, it was time for a remix. "There's a lot of play on words in that title," he says. If traditional design is Dolly Parton's "I Will Always Love You," then Corey is Whitney Houston. "Both songs were hits," he says, "but one is probably more successful than the other." This is how Corey's magnetic design and personality flourish. "Traditional can be sexy; it can be cool; it can be hip; it can be vivacious. How do you do that? Well, you remix it."
Want a chance to win Corey's book? Head on over to our Instagram for more details. You can also purchase a copy of the book here. 
Want to learn more about Corey and shop his style? Read our Tastemaker's Edit here.