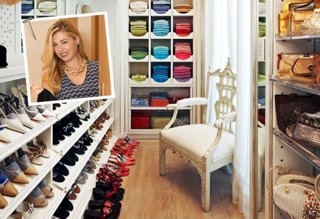 Determined to combat closet clutter, we turned to an expert for her secrets. The first rule of Melanie Fascitelli, founder of the organizational design firm Clos-ette: Edit! "I tell my clients to do this at least twice a year." Here, get the tidying tips she shares with clients like Beyoncé and Drew Barrymore.
Courtesy of Clos-ette
Portrait by Douglas Friedman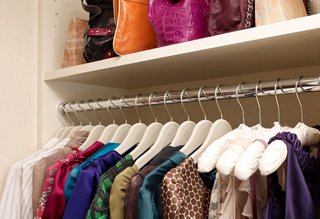 Hang 'Em High
To achieve a custom look without the expense, Fascitelli suggests matching hangers. "Hangers are by far the most important tool for organizing your closet, and using all the same color results in a cleaner look. I like nude or basic black hangers best for showing off clothes."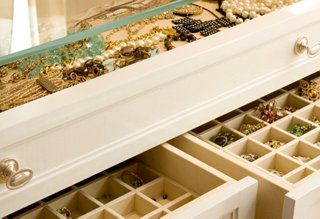 Jewelry Central
Another weapon in Fascitelli's arsenal are jewelry drawer inserts. "Clos-ette makes custom ones for clients all time, but you can buy great ones at The Container Store. I also love my travel jewelry case. It has visible jewelry storage, and the individual pages snap together."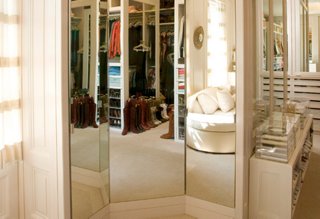 Mirror, Mirror
"I say mirror any closet area where you can't add a shelf or hanging rod, including the backs of doors," says Fascitelli. "Full length is best, and install the ones that don't make you look skinny or fat. Your mirror installer can help adjust the magnification."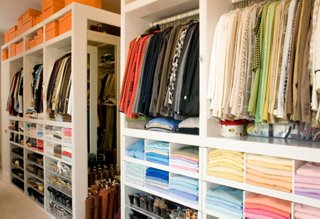 Your Own Boutique
Create your own in-house boutique by stealing a trick from retail stores and visually merchandising your clothes. "A well-merchandised closet looks customized," says Fascitelli. She suggests organizing by type of garment, then additionally by color going from light to dark and from left to right.
"A well-merchandised closet looks customized."
—Melanie Fascitelli, founder of Clos-ette