Sister act Danielle Snyder (right) and Jodie Snyder Morel discovered their love for jewelry design in an unlikely place: their father's medical kit. "We've been designing jewelry since we were kids," Snyder, one half of boho-meets-rock-and-roll brand Dannijo, tells us. "We actually taught ourselves how to make jewelry on our father's medical tools, so we're self-taught. It's something that we always did together." Since launching their company in 2008, the pair have seen record organic growth and garnered an A-list following (ahem, Beyoncé).
Through the years, the designing duo have developed a deep love of vintage jewelry, regularly hunting for inspiration at estate sales and antiques shows. From techniques (such as silver oxidation) to materials (including velvet and vintage distressed pearls), Dannijo's designs have a nostalgic vibe with a modern spirit. We popped into their studio to discuss all things vintage and garner a few lessons about styling and collecting. Read on to get to know these talented sibs and shop their curated vintage-jewelry picks.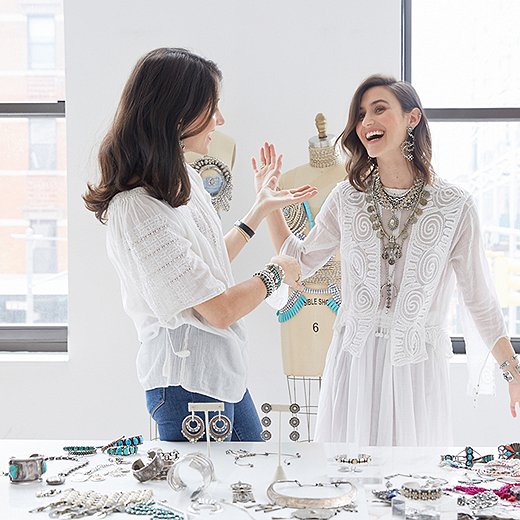 How would you describe your brand in three words?
Danielle Snyder: "Statement, eclectic, and timeless."
Where do you find inspiration for your designs?
Jodie Snyder Morel: "We really find inspiration everywhere. We travel a lot, so definitely through travel, music, movies… I think even living in New York City inspires us. The best part is every season we really treat it as a true fashion label, and we have completely different things that inspire us. Our last collection was inspired by Cuba. We actually went to Cuba after designing it, which really made the collection come to life."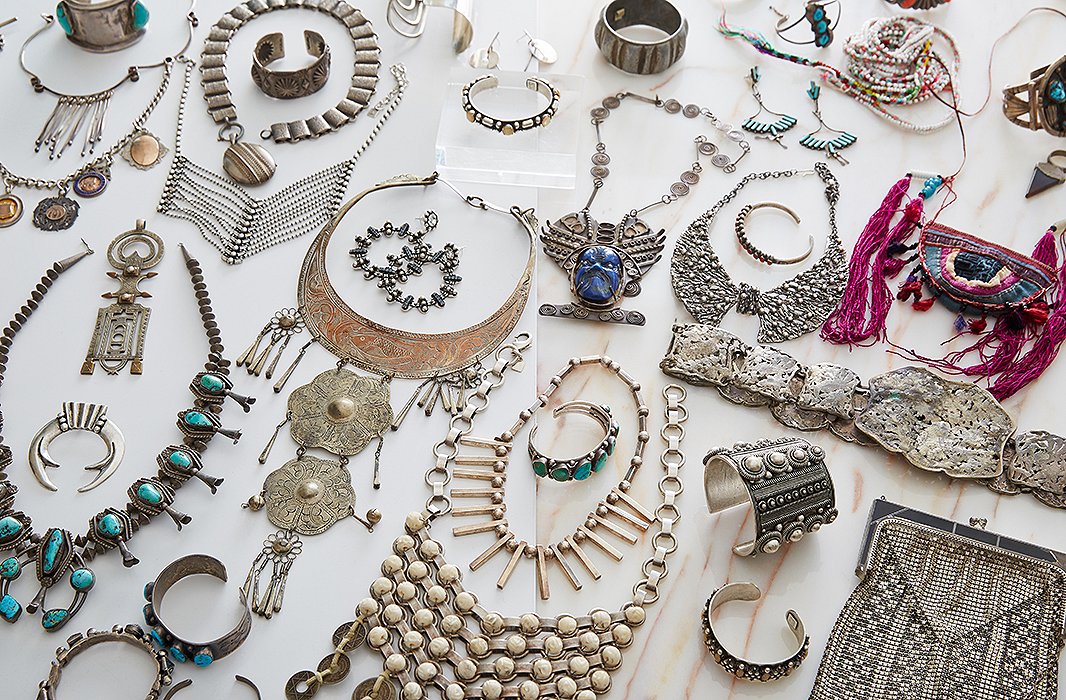 What do you look for when you shop for vintage jewelry?
JSM: "I think the best part about vintage is just finding a piece that's unique and that you are emotionally attached to. You can't go in looking for something particular like a silver cuff with balls on it… You need to be open because you never know what you're going to find. We do love a lot of Native American jewelry, though. We collect really cool turquoise cuffs that we can layer in with our own, so that's one thing we always look for."
What do you think everyone should have in her vintage "starter" collection?
DS: "Jodie and I are big into stackable rings. I think the beauty of them is that they're timeless, and each is a reminder of a person, place, and time. We wear our 18-karat-gold-and-diamond Amadora rings every single day. Whether it's a day at the office or a black-tie event at night, we never really take them off. Also, any sort of layering necklaces, anything that sort of feels like second skin, something you live in. Those pieces work well day into night and casual into dressy."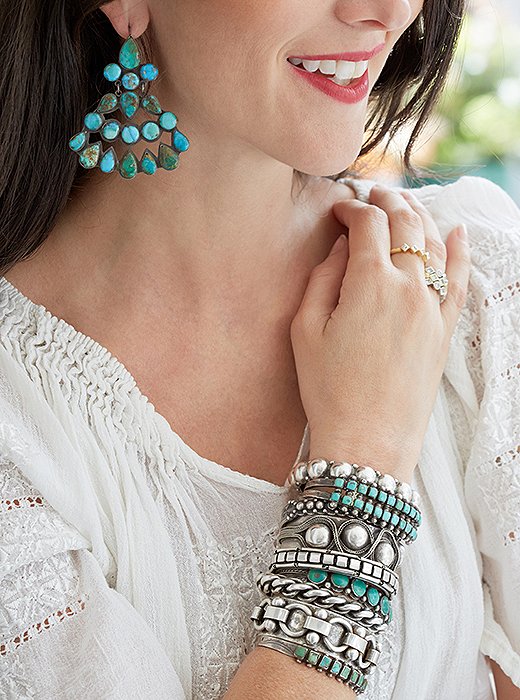 What are some dos and don'ts of wearing vintage jewelry?
JSM: "The beauty of it is there really are no dos and don'ts. Most people who buy vintage jewelry are looking for something unique and different. I always say with jewelry, for some people their less is more, and for some their more is more. We're always inspired to see how two different women could take the same piece and look completely different."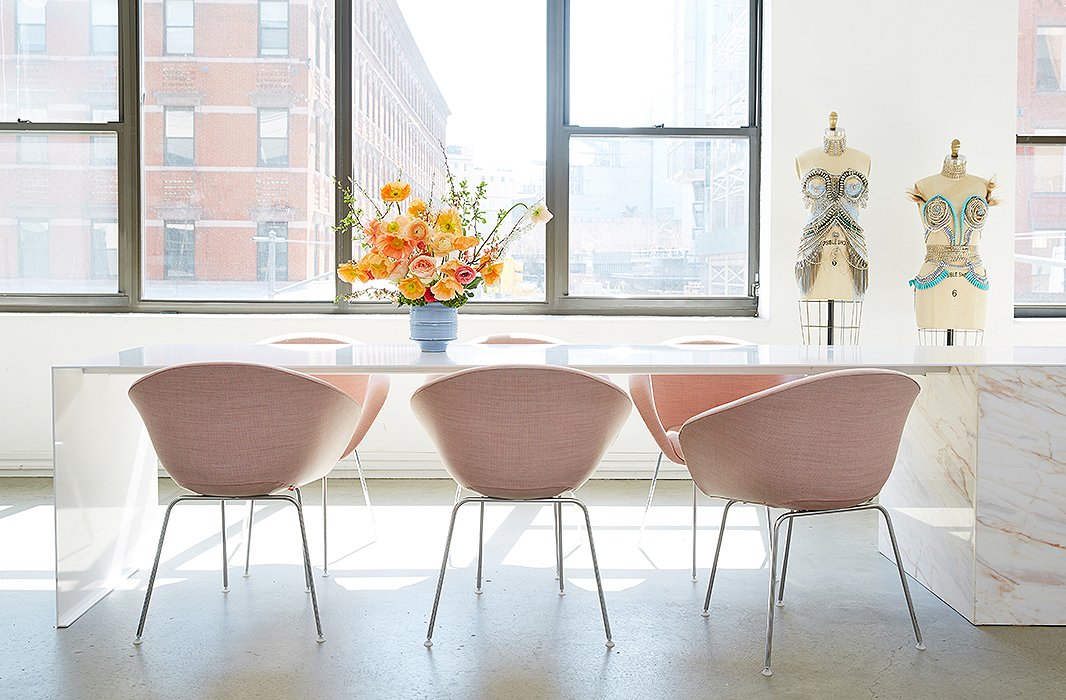 How would you describe your personal jewelry styles? Do you have a certain go-to look?
DS: "We both have overlapping taste and are inspired by each other's styles, but I tend to be a little bit more bohemian, rock-and-roll inspired. And Jodie tends to be a little bit more classic. I typically wear a choker or a tied bandana around my neck and stackable cuffs, and I'm more often wearing a statement earring than a statement necklace."
JSM: "Something that I never take off is my ring. I have my Dannijo Amadora ring that I literally sleep in. I mix it with vintage rings that I never take off—they're kind of like my second skin. And then every day I usually have an arm party—I love stacking a bunch of cuffs up my arm. Those are my signatures, and then I usually rotate between either strong statement earrings or a choker."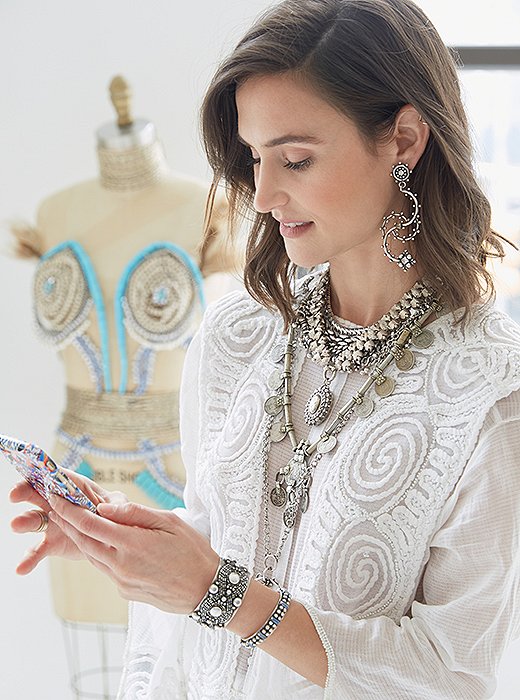 Is there any piece of jewelry that "got away" that still haunts you?
DS: "I go to a lot of vintage and antiques shows and estate sales, and once there was this insane pear-shape diamond ring that was probably an engagement ring, and I wanted to wear it on a different finger because I was just so obsessed with it. I didn't buy it, because there was no reason to have an engagement ring. Every once in a while as a jewelry designer, you find a piece of jewelry that you don't necessarily have a need for but that you fall in love with. For me, it was that ring."
What jewelry trends are you most excited about right now?
DS: "Jodie and I are both really obsessed with the choker. I think that the choker is something easy to wear whether you're young or older. It's ageless and timeless. We also love the trends of asymmetrical earrings and wearing just one statement earring. I think those are sort of the high points of things we're loving right now. Oh, and also belly jewelry!"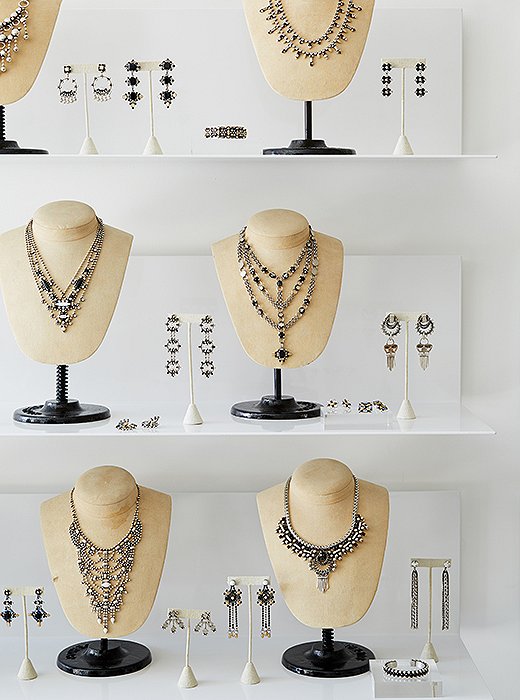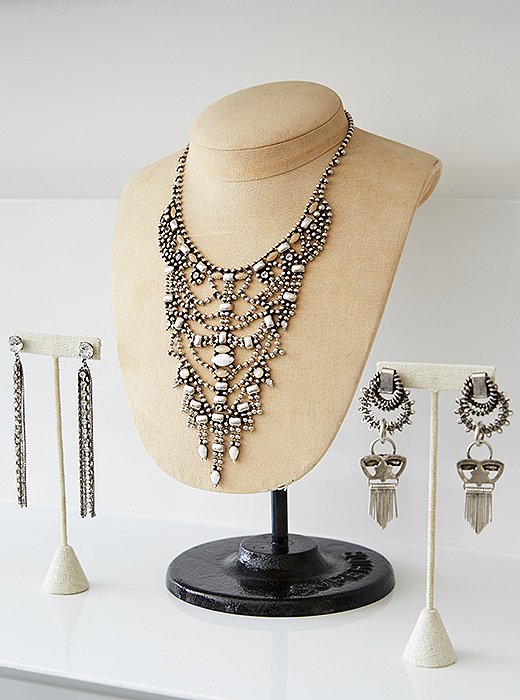 What colors or materials are you excited about these days?
JSM: "We always mix up materials, but velvet is having a really big moment, especially velvet chokers."
What's the secret to successful layering?
JSM: "Layering is really all about individualizing your look. I think layering is a personal thing, but it's about starting off with one piece that you love or that you never take off and then adding from there."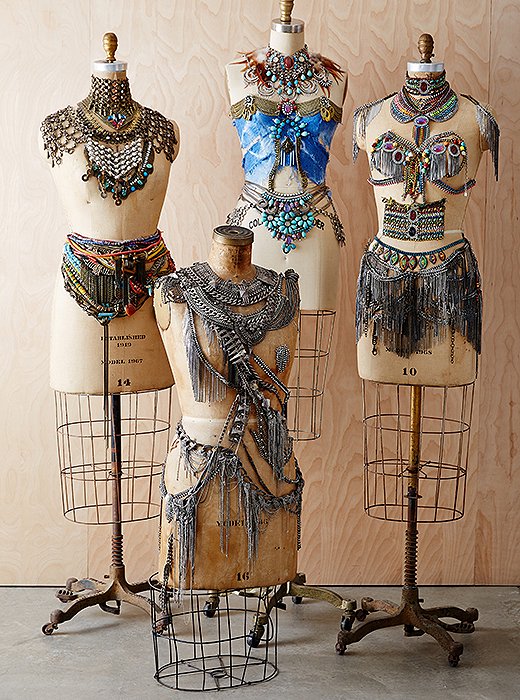 What are your top tips for jewelry styling?
DS: "If it feels good, it looks good, so I think the thing with that is just comfort. If you feel good in it, you'll exude confidence, and obviously if you're trying to wear a trend that doesn't feel right for you, you'll feel uncomfortable, and you'll look uncomfortable."
JSM: "If you're wearing jewelry at night, I think it's finding the one statement piece that really brings your outfit together. So that statement necklace, the amazing bag, one single earring—adorning one body part and making a statement with that."