Ashley Rodriguez of the blog Not Without Salt shares some of the date night secrets featured in her book, Date Night In. 
My husband Gabe and I started doing date nights at home nearly 5 years ago. I used to simply long for those date nights of the past. You know, the ones before we had three children and an evening at a restaurant didn't require booking a babysitter a week in advance. But then I realized that we couldn't wait for it to be easy, we just needed to make it happen. So we set aside one evening a week for a date night at home. I unfold a clean tablecloth from the closet and replace the mismatched dishes and cartoon-decorated cups with intricate blue-and-white plates, glasses adorned with gold, and candles stand tall in the center of the table. These are the details that make our date nights at home feel like just as much of an occasion, if not more, than our date nights in the past.
The whole point is for these evenings to feel different than a typical weekday meal. This usually starts with a cocktail. Gabe pours us each a drink before he heads downstairs to put the kids to bed and I tuck into the kitchen to make a meal that won't be met with the groans of disgust at the sight of anything green. We linger at the table for hours and leave the dishes for the next day. It's comfortable, relaxed, and a great time for us to reconnect in the midst of our busy schedules.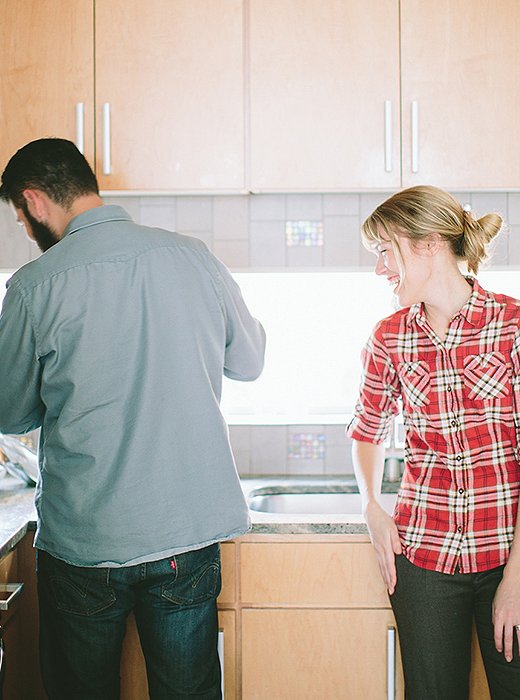 The Perfect Date Night Menu
The menu for this evening is what you get when you bring together an American steakhouse and Middle Eastern spices. It uses the best of what this season has to offer and adds to it exotic flavors in the form of toasted cumin and coriander, fresh mint, creamy tahini, preserved lemon and tamarind. It's just the sort of menu that helps make this date night feel as special as it should be.
Gabe on Date Night Music
Usually when it comes to music for our date nights, I'm looking for a variety of chill tracks that bring some energy to the mix. I like to throw in a few nostalgic tracks as well to queue good memories. The goal is to have great music playing in the background that spurs on conversation but doesn't get in the way or steal the stage.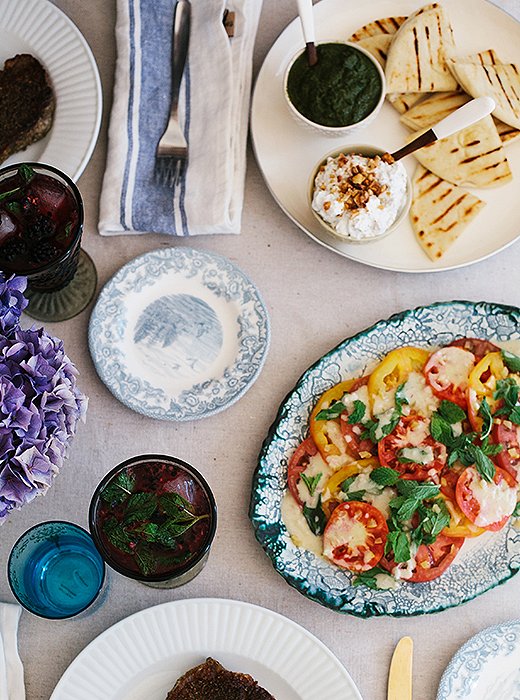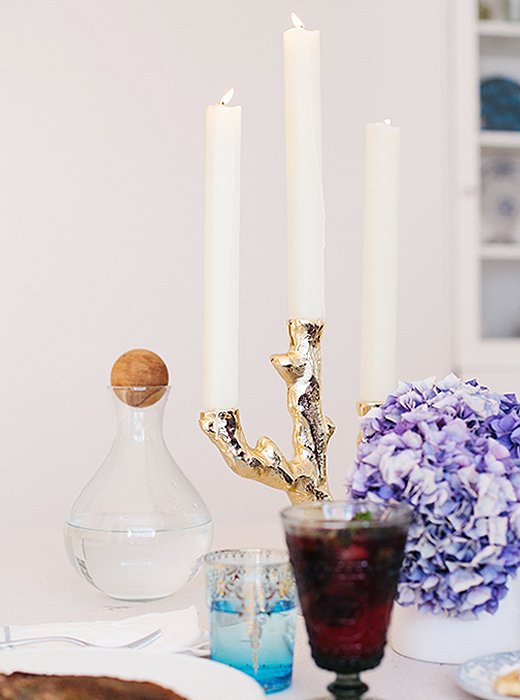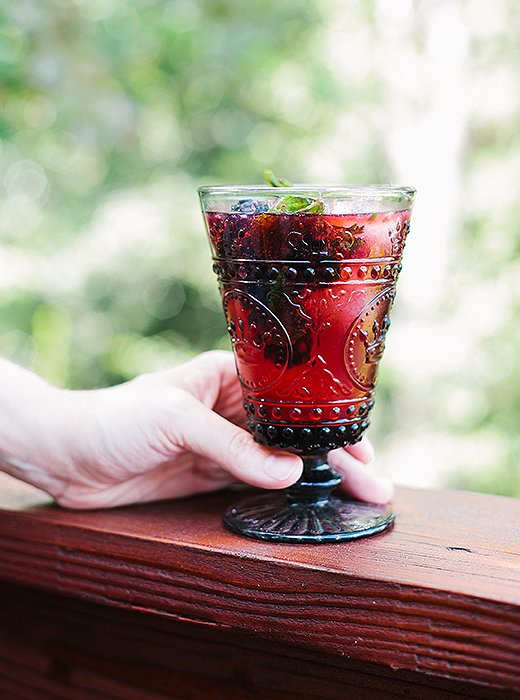 Blackberry Mint Gin and Tonic
Serves 2
16 fresh mint leaves
20 blackberries
½ cup gin
1 ½ cup tonic
half a lemon
Set out 2 glasses. Add 8 mint leaves and 10 blackberries to each. Muddle them slightly. Fill glass with ice. Add ¼ cup gin per glass and fill with ice. Top with ¾ cup tonic and a squeeze of lemon. Stir.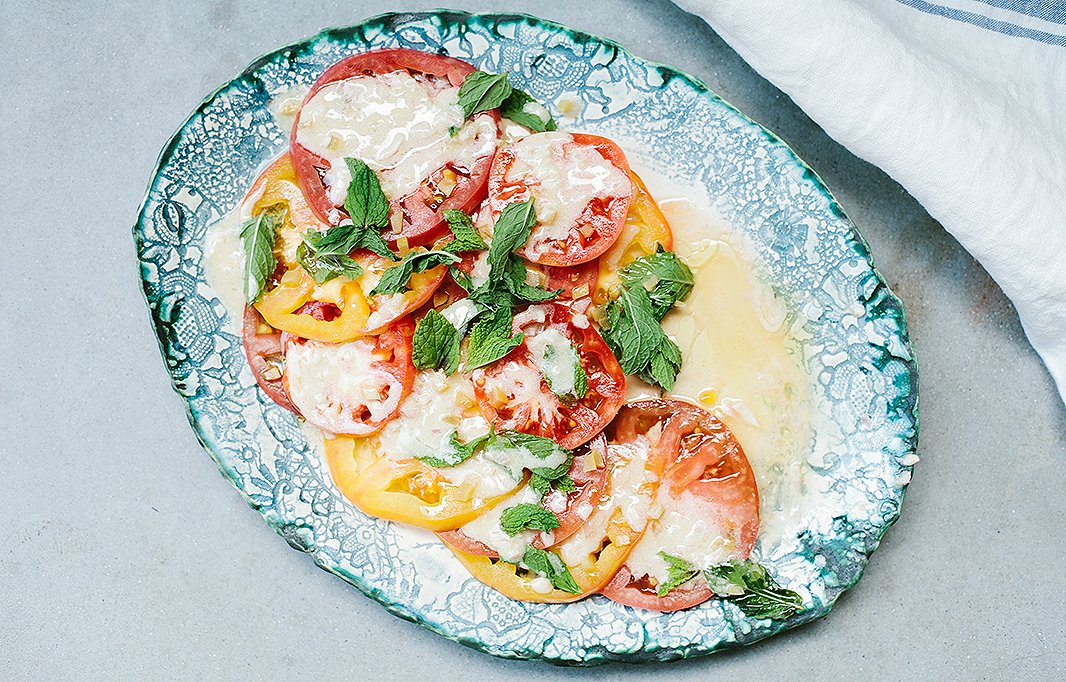 Tomato Mint Salad with Tahini Vinaigrette
Serves 2
12 oz heirloom tomatoes, sliced
2 teaspoons finely diced preserved lemon peel
Fresh mint leaves
¼ cup tahini vinaigrette
Flaky sea salt
Arrange the tomatoes on a platter and scatter the preserved lemon and mint leaves. Drizzle with the vinaigrette then finish with flaky salt. Serve right away.
Tahini Vinaigrette
1 tablespoon tahini
2 tablespoons rice vinegar
1 tablespoon minced shallot
¼ cup extra virgin olive oil
¼ teaspoon salt
1 teaspoon honey
In a medium bowl whisk together the tahini, vinegar, shallot, olive oil, salt, and honey. Taste and adjust to your liking. Drizzle over the tomatoes or refrigerate until ready to serve or up to one week.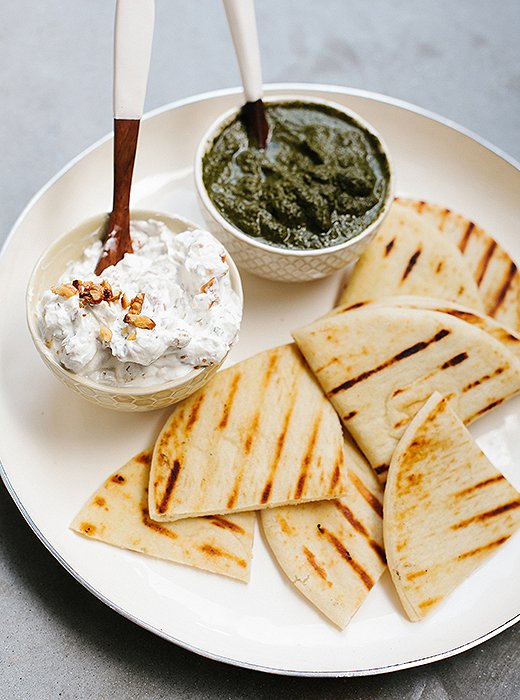 Walnut Labneh Dip with Grilled Pita
Makes 1 generous cup
1 cup labneh
⅓ cup toasted walnuts
2 teaspoons dried mint
1 very small or ½ a medium garlic clove, grated
¼ teaspoon kosher salt
Pita, to serve
In a medium bowl, mix together all ingredients. Cover and refrigerate for 1 hour or up to 2 days. The flavor will deepen as it rests.
Preheat grill pan. Brush pita with olive oil and grill on each side until nicely marked and warm.
Spice-Rubbed Steak with Green Sauce
2 NY strip or other favorite steaks (about 1 – 1 1/4 lb)
1 teaspoon cumin seeds, toasted and ground
1 teaspoon coriander seeds, toasted and ground
1 teaspoon dried parsley
pinch of chile flakes
1 ½ teaspoon kosher salt
Mix the spices and salt together in a small bowl and rub all over both sides of the steak. Allow to rest for 15-30 minutes. Preheat a cast iron pan over high heat. Add oil to coat the bottom. Once pan is smoking hot, sear 2-3 minutes per side, turning once and not moving otherwise, so you have a nice crust. Allow to rest for 10 minutes and serve with spicy green sauce.
Spicy Green Sauce
Makes 1 cup
1 jalapeno, seeds and veins removed, roughly chopped
5 cloves of garlic
2 teaspoon cumin seeds, toasted and ground
2 teaspoon coriander seeds, toasted and ground
1 teaspoon mustard seeds
1 ½ cups each, fresh parsley, mint and cilantro
1 teaspoon kosher salt
1 tablespoon tamarind paste
1 tablespoon olive oil
1 teaspoon rice vinegar
¼ cup water
Add all ingredients to a blender. Blend until very smooth, about 2 minutes. Serve right away or refrigerate for up to one week.