Every Sunday in our #DearOKL Q&A column, our expert style team and designers at The Studio at One Kings Lane are here to answer all your decorating questions.
In this installment our in-house designers tackle some decorating questions people often ask us when they've just moved (or they're about to move) into a new home and are starting fresh: What's the best white paint to use? Is there a coffee table that's family-friendly but pretty? How do you make a laundry room look cute? and more.
Read on for helpful answers from our design gurus at The Studio at One Kings Lane—and don't miss our video tutorial with in-house designer David Bazner on how to mix throw pillows like a pro (it's on all our minds!).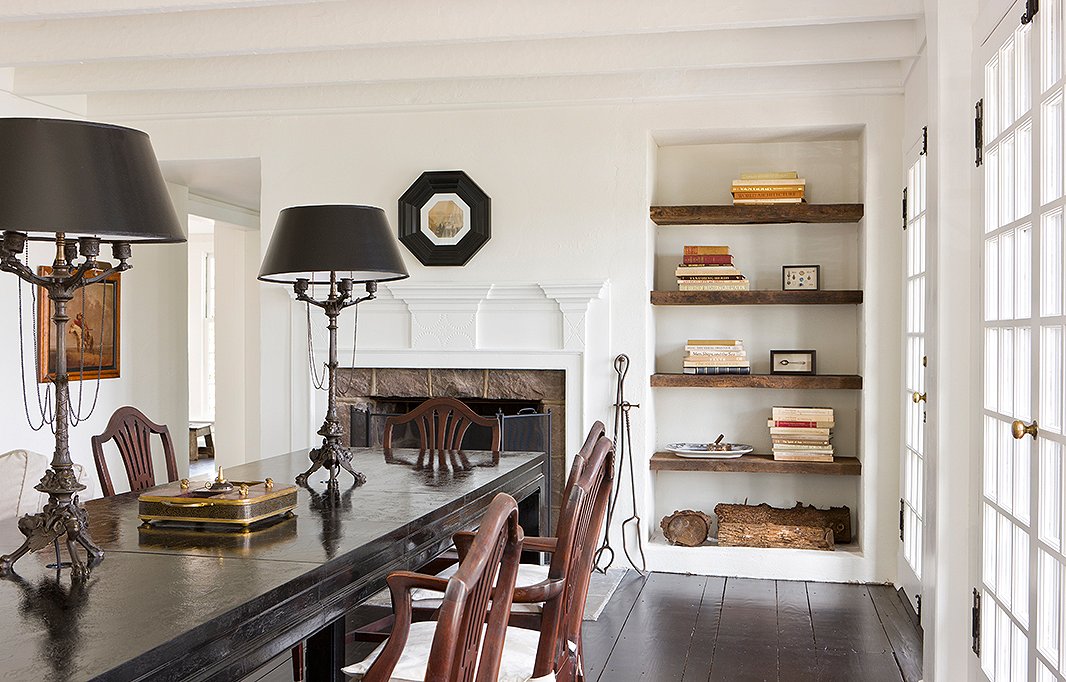 Q: #DearOKL: What's the perfect white paint for any room if you're doing the same color and you have wainscoting and baseboards?
—@carolinecynn (via Instagram)
Q: What are your favorite neutral or white paint-color choices for the whole home (trim and walls)? I want a neutral look but am having trouble not making the whole house look bland and white! Thanks!
—@ymanno (via Instagram)
A: Nothing makes a room feel new again like a coat of white paint. Though there are a ton of great shades out there, Ralph Lauren Home's Cove Point (RL 1063) is a One Kings Lane favorite, as it brightens a room without making it feel stark—and it'll never go out of style!
Paint the walls and trim the same shade for a contemporary monochromatic look. Think of it as a blank canvas primed for displaying your favorite pieces of art, family photos, and even antlers if you like.
Here's more helpful inspo from our story "What's the Perfect White Paint? 6 Designers Share Their Picks."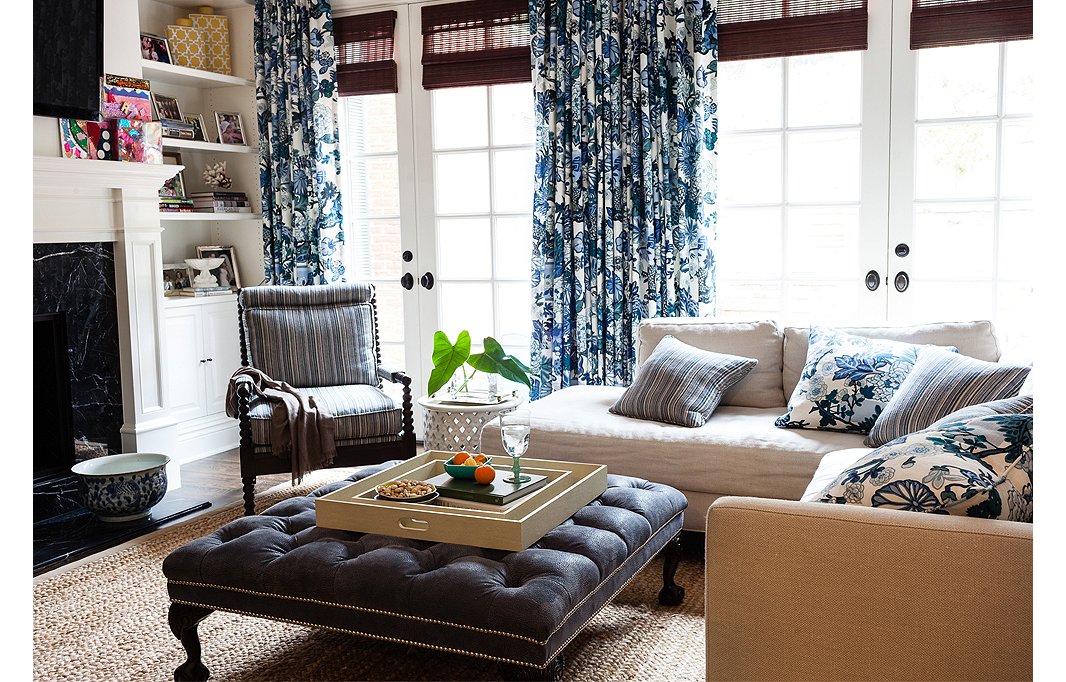 Q: Can you suggest coffee tables that are family-friendly but pretty as well?
—@czbow
A: An oversize ottoman topped with a tray, and trunks and old suitcases are all great coffee table alternatives. Don't shy away from vintage either—an old piece adds instant character to even the newest of spaces.
See how these two family homes in L.A. get creative with their coffee table choices—from a big tufted ottoman to an heirloom table.
Q: Needing a great dark gray/navy paint color for my front door—help please!
—@lcrisp
Q: I need a recommendation on a light gray paint color. There are so many grays that it's hard to choose! Also looking for a medium gray as well for an accent wall. Thank you!
—@damesness
Q: How do I incorporate his Persian rug into my more feminine industrial-glam style?
—@jlpd07
A: Use his rug as a base, then layer something more feminine, like a Mongolian sheepskin, on top. Persians also pair well with pale blue, a shade easily pulled in with artwork and accessories to lighten any space. 
For more ideas, see our story on decorating with patterned rugs.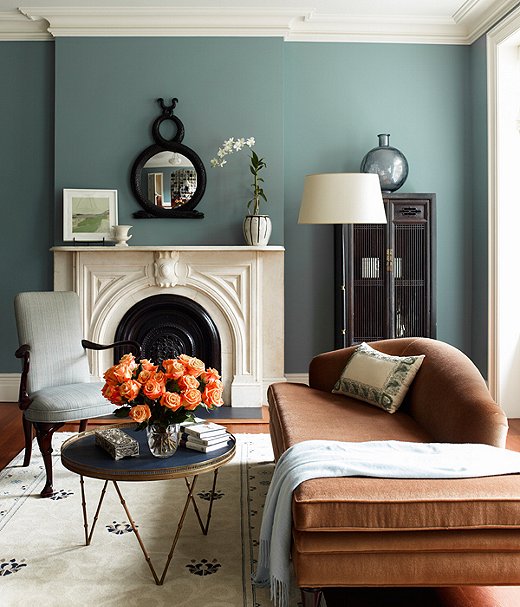 Q: I love the bright white/neutral living room look. Are there comfy sofas with fabrics that won't stain?
—@holamariaaa
A: Maria, you are in luck! We've got tons of comfortable sofas upholstered in a high-performance Crypton fabric. They're a resilient match for young families, red-wine drinkers, and St. Bernard owners alike.
Q: I'm getting married! My fiancé and I have NO furniture or anything. We are getting a bed, but what should our second new purchase be?
—@hcenaojI
A: After a bed, the next most important thing is a sofa. You'll no doubt invite your friends over to see your new digs, but etiquette says you've got to be able to offer them a seat.
Also check out our story "The 10 Things in Your Home That Deserve a Post-Wedding Upgrade."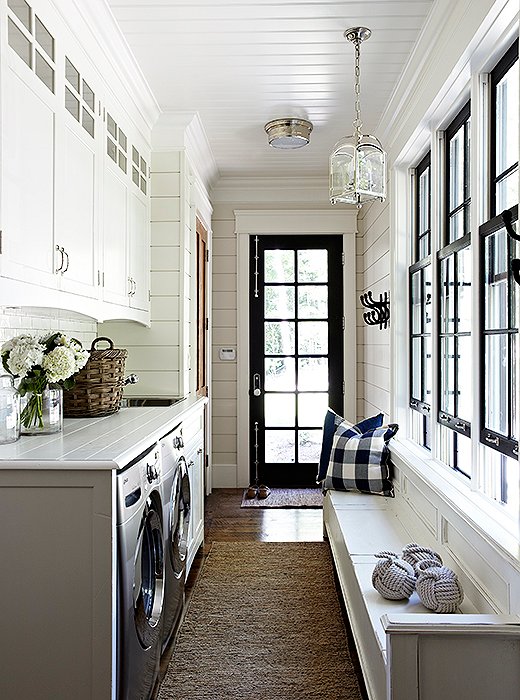 Q: How do I make a small laundry room/second entryway look cute?
—@jacqueline.pak
A: Add a console table with a storage shelve underneath—it's always nice to have an extra spot to take off shoes and a place to put those detergent bottles you got on sale. Then toss in a buffet lamp (or two), a dish for keys, and a tall mirror for dramatic effect.
Check out our story on delightful laundry room decorating ideas for additional inspiration.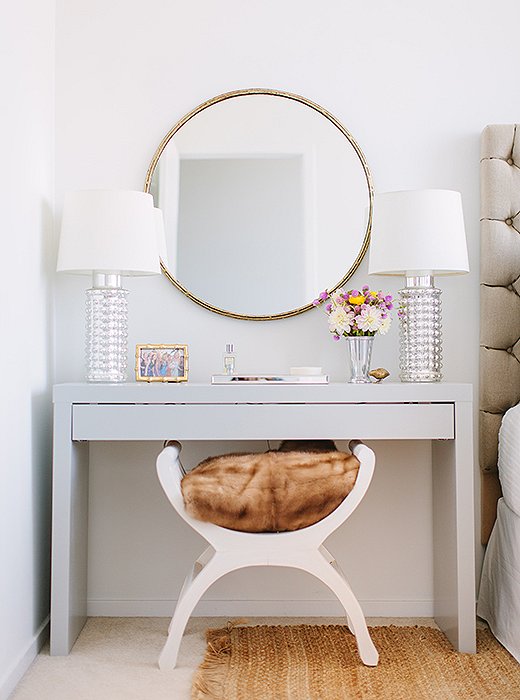 Q: Any suggestions for a study/guest room? How can you make it a multifunctional room yet comfortable for guests?
—@dauren.iris
A: Hey, Dauren! Try a desk in place of a nightstand, and hang a mirror above it. Pair it with a Chippendale chair or a vanity stool and you've just created a comfortable spot for freshening makeup and catching up on emails.
Also read our stories on ideas for small home offices and designer guest rooms for more decorating tips.
Q: Mixing patterns with throw pillows is "throwing" me off. I know you can mix and match, but I want it to look young, vibrant, and cohesive. Any suggestions?
—@allie_yongue
A: Watch the video above for easy pillow mixing tips from our in-house designer David Bazner. The short answer: When choosing throw pillows there are really two things to keep in mind—color and scale.
First, start with picking the right-size pillow. For instance, with a roomy sofa, small pillows will get dwarfed, so go with pillows that are at least 22 inches square.
Then turn your focus to color. Pillows in muted neutrals can lead to a staid look, so add a pop of color with an accent pillow. Balance the smaller size of an accent pillow with larger pillows in the above size and there you have it—a perfect mix!
Set up a complimentary one-on-one consultation with one of our talented designers at The Studio at One Kings Lane.
You can also email us at DearOKL@onekingslane.com or use the hashtag #DearOKL on Twitter or Instagram to post your question there (extra credit for pics!).