As the weather warms, the full spectrum of stripes—from bright cabana to quiet ticking—comes into brilliant focus. And while it's hard to go wrong with stripes, we've often underestimated their power to instantly transform a room. "Stripes create an illusion that can change the look and size of a space—visual trickery is what stripes can do for a room," says Adam Glassman, resident style guru and creative director of O, The Oprah Magazine. We tapped Adam for expert tips on how to bring stylish stripes into our spaces, whether it's a cozy bedroom or an expansive outdoor patio. Read on for his genius ideas.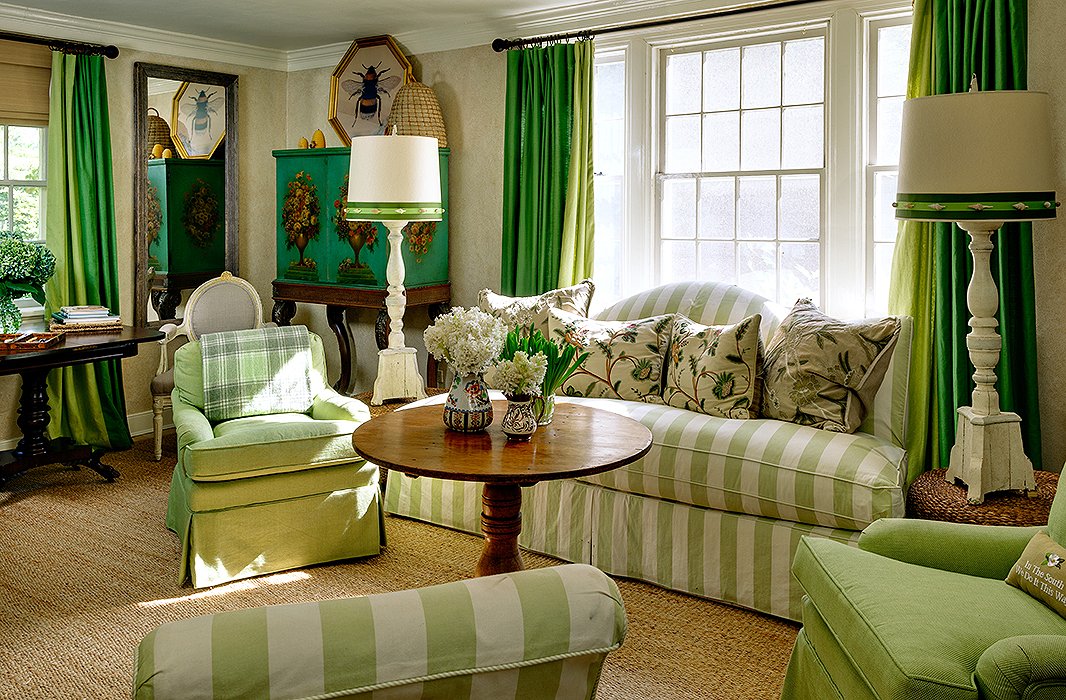 Ground Them in a Color Scheme
Striped furnishings can often overpower a room, so use them as a jumping-off point for color, then add patterns and accents in darker and lighter shades of their hues. "There's nothing more chic than mixing stripes with florals or polka dots or animal prints, but you need to choose one color palette that is the thread," says Adam. "It's about finding one theme color throughout."
Adam's tip for striped furniture:
"When you're doing colorful stripes on a sofa, mix it with some solids so that the stripes don't end up overwhelming each other. Stripes are more dramatic with a hit of solid mixed in."
Try Adding Striped Furniture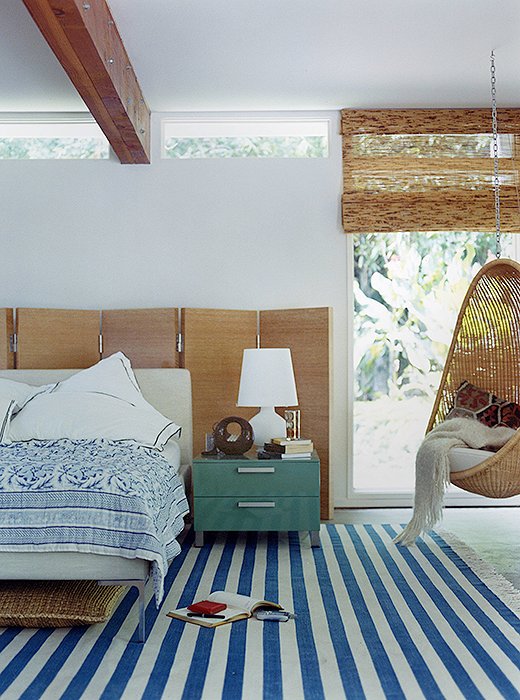 Make Them the Main Focus
"Stripes can really become an instant focal point in any kind of room," says Adam. "They act almost like a magnet for the eye." Consider covering large surfaces with a dramatic two-tone stripe to widen or elongate a room. For instance, the rug in this bedroom guides the eye to the bed, the headboard, and the outdoor space. "When you're thinking about a room, you put stripes on the floor and the walls to almost promote some sense of order in the space," Adam adds.
Adam's tip for striped rugs:
"A striped rug leads your eye right where it wants, horizontally or vertically. It's an architectural power that redirects the eye and reshapes a space."
Use Them in Small, Vibrant Touches
If you're not one for bold strokes but love the pops of color stripes offer, start with small striped accents. Trays, lamps, and throws that reiterate notes of a bright color, such as the violet pillows in this living room, can spread impact as well as tie together a space. "I like stripes in small ways—pillows, decorative accessories, throws," says Adam, who adds that accents boasting bright stripes in a range of colors can "bring harmony to a busy space and help hold together many colors in a room."
Adam's tip for striped accents:
"A little goes a long way. Start with a thinner stripe over a wide stripe with small accents. It's less of a commitment."
Mix in Colorful Striped Accents
Keep Them Cohesive for Impact
"If there's a stripe pattern that you really love, keep that same pattern throughout your space in many different kinds of pieces so you have continuity and flow," says Adam, who favors wide stripes in one consistent color story for adding major impact to outdoor spaces. "Pick one color and commit to it, whether it's all navy and white or black and white. Massive stripes add a sense of harmony."
Adam's tip for outdoor stripes:
"Cabana stripes are the chicest way to decorate any outdoor living. It just evokes a sense of a faraway place."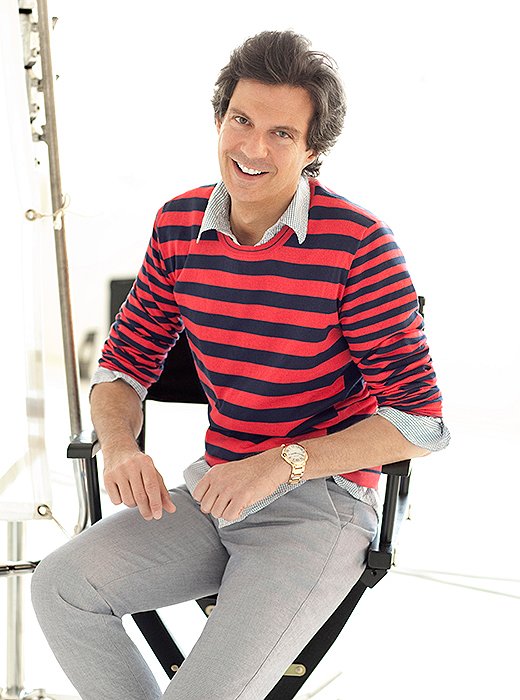 More Style Tips from Adam
Broad stripes…
"… can help set the tone and become the starting point for decorating your space. It's a real commitment, whether you're doing it on the wall or the floor."
Multistripes…
"… always add whimsy and real personality. They're very bold and much more of a statement than they appear in a way, be it on a pillow or bath accessories."
Ticking stripes…
"… just work with everything, truly. If you're a little more eclectic you could have a ticking stripe, same if you're more classic. There's an elegance and timeless quality to it—it almost brings you back to another place."
Vertical stripes…
"… draw the eye up and down, and they make a room, a wall, a bed, a sofa, look larger. So if your ceilings are low, do vertical stripes—I call it visual trickery."
Horizontal stripes…
"… make everything look wider. If you're living in a small space and you have a queen-size bed but you want the drama of a king-size, get a horizontal-striped bedcover or bench at the foot of your bed. Or imagine an area underneath the staircase; horizontal-striped walls will make that little odd space seem more like a room."
What's great about stripes is they work in all decor, whether you have a traditional, transitional, or modern home. There's something very unalienating about them; they're friendly in a way. They're the great mediator.