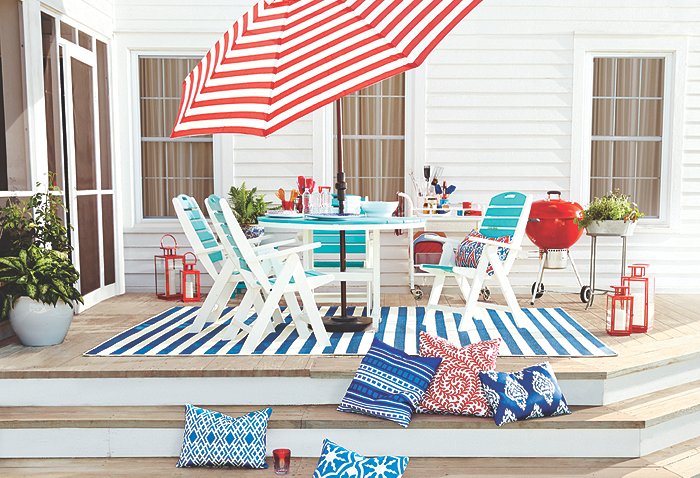 Look for Clean Silhouettes and Bold Colors
Have you been debating what style of outdoor furniture to buy since last summer? If you don't have a specific look in mind, keep it simple and keep it bright. Pieces with modern lines help an outdoor space feel calm and uncluttered, while bright primary colors have an upbeat appeal that never goes out of style.
Define with a Rug
A crisp floor covering carves out and dresses up an outdoor space. Most outdoor rugs can be left out for the season and require rolling up and storing only during extreme weather.
Pick the Right Materials
If your outdoor space gets heavy use all season, choose accessories that are both sophisticated and highly functional. For tableware, stick to melamine dishes. For pillows and cushions, pick weatherproof fabrics that can take a beating and look as good at the end of the season as they did at the beginning.
Add Lights and Lanterns
Durable lanterns light up the space even before the sun goes down. In lieu of the sometimes harsh glare cast by traditional outdoor fixtures, string outdoor lights for a soft glow that will encourage lingering long after dusk.
Jump-start Your Deck Do-over!