Whether it's a set of fish prints or a gallery wall of seascapes, adding coastal art to your spaces is sure to usher in instant whimsy, charm, and big inspiration. Coral prints provide major visual interest and texture; beach scenes invite the eye and the mind to travel; and ocean paintings are wonderfully arresting by nature.
But what we love most is that coastal art works beautifully in almost any setting. Here, we've gathered a few of our favorite ideas for showcasing coastal art that are easy to translate to your own home.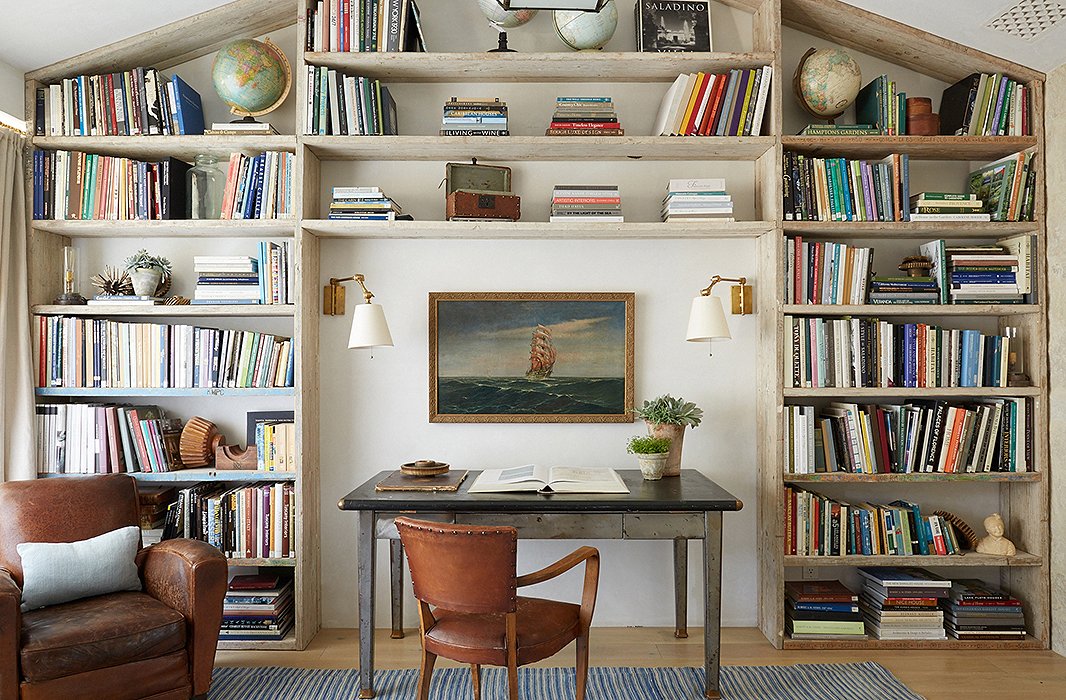 Frame an Ocean View
Create a mesmerizing view in any room by hanging an ocean painting in a prominent spot. It's guaranteed to be an instant focus and spark imagination. What's more, the more refined nature of an oil seascape has the power to formalize any setting, such as this rustic library office. Consider a painting set within a gilded or dark wood frame to play up a sophisticated look, and don't be afraid to go big (one large statement piece) or plentiful (multiple small paintings grouped together).
Display Deep-Sea Beauties
A school of prints depicting sea life always adds up to a cohesive visual story. Look for prints in sets, such as the fish prints in this symmetrical guest room, or mix pieces that each feature a different subject for a more curated display. Either way, a grouping of these prints in matching frames will provide a hint of whimsy perfect for lightening up heavy tufted upholstery and dark woods.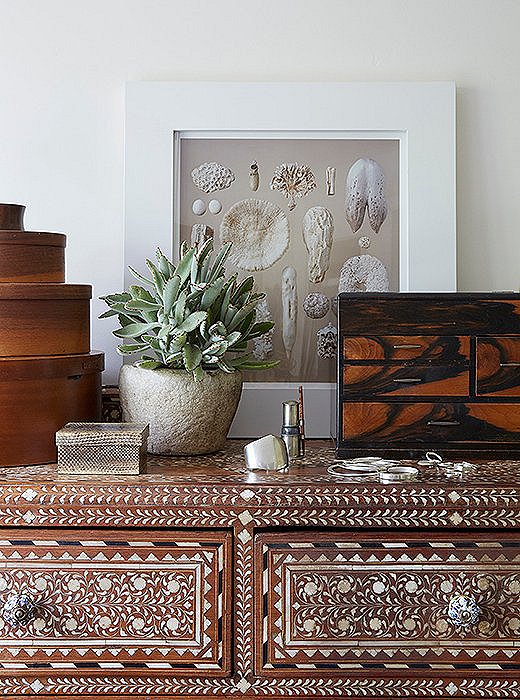 Showcase Marine-Life Studies
Take a more scientific approach to coastal art by framing biology and anatomical prints of shells, jellyfish, and other marine life. Here, a shell print makes for a fresh and unexpected accent atop an elaborately inlaid dresser and vanity; it's the perfect contrast to all the global elements around it.
Toast to the Tropics
Set a tropical scene for a bar by hanging a trio of coral and flamingo art just above. This tropical-meets-coastal mix is an easy way to create an eye-catching statement display, and this particular grouping of art also provides a delightful nod to preppy and polished Palm Beach style. Just keep scale in mind and make sure smaller pieces are grouped so that they aren't overshadowed by larger ones.
Set Sail with Nautical Style
For a traditional coastal look, consider a series of framed sailboat prints and photos in black-and-white and sepia tones. As seen here, it brings crisp focus to any living area and pairs seamlessly with other seaside touches, such as the striped sofa, the woven chairs, and the sea-foam glass and coral accents. Since large boat prints with their dramatic sails can bring a sculptural element to a space, they'll appear sophisticated in any setting.
Inspire Beach Wanderlust
Instill a sense of travel in an otherwise practical space with evocative beach pictures and photos. In this seriously chic office, we love how the sharp images offset the dark wood desk and tailored designs. Whether it's of the Amalfi Coast, the French Riviera, or Miami, beach pictures of any kind will provide a vivid dose of color and fun along with major wanderlust. Try hanging up a pair or a grouping for vibrant and lighthearted finishing touches in a room.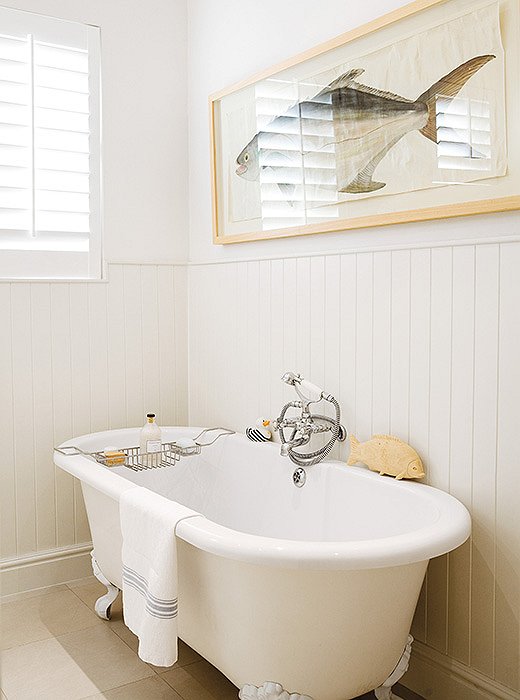 Think Big Fish
If you're looking to make one simple statement with coastal art, consider an oversize fish print, which adds straightforward seaside style. Try showcasing one large piece for a big focus in an unexpected space, such as this charming white bath, where the look feels fresh and far from imposing or theme-y.