Few color combinations rival timeless blue and white. The classic palette has stood the test of time and history in decorating—from Chinese porcelain to delftware and Wedgwood to chic cabana stripes. So it's no surprise that designers such as Bunny Williams, Mark D. Sikes, and Amanda Nisbet have long sworn by blue and white in many of their interiors. It's also the one color pairing that always feels fresh, looks effortlessly stylish, and is endlessly versatile, as it complements virtually any decor and works in just about any space.
We've rounded up 14 gorgeous spaces that celebrate—and in some instances, rethink—the crisp duo. All are certain to inspire you to refresh your home with touches (or lots) of blue and white.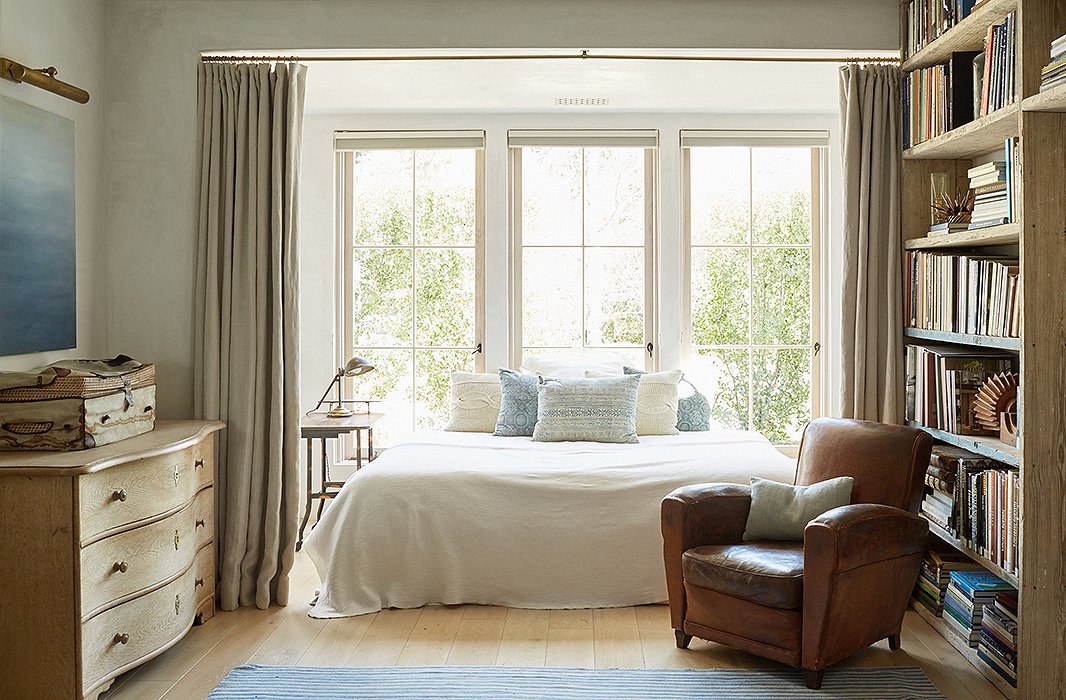 Infuse a Little Calm
If you're looking to bring in a light touch, lean into coastal blues, as in this serene-rustic bedroom and reading nook on Brooke and Steve Gianetti's Ojai farm. The evocative ocean painting, the striped rug, and the faded pillows make for soothing accents, and they help break up the room's palette of neutrals, browns, and wood tones. Spread accents in coastal blue and white around a room to play up a calming atmosphere.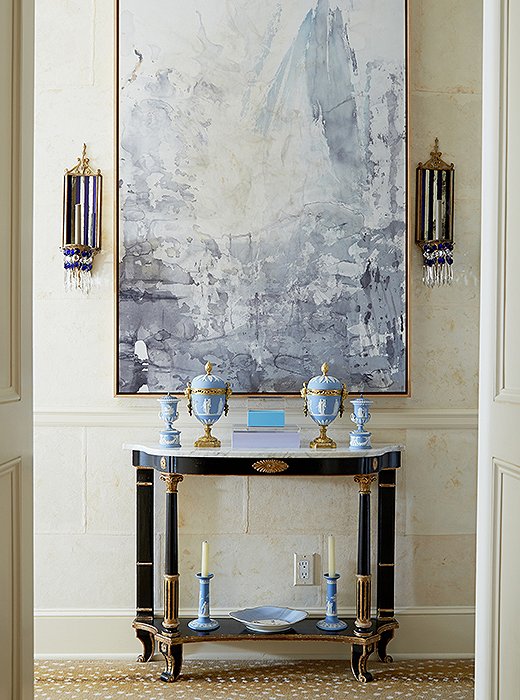 Display Some Wedgwood
There's no denying the timeless elegance of Wedgwood tableware, candlesticks, and accents in blue and white. The porcelain looks especially radiant when arranged in matching pairs or as a collection. Designer Amanda Nisbet displays her collection—heirlooms from her great-grandmother—in the front hall of her Upper East Side apartment. For contrast, Amanda paired it with a modern abstract with swathes of blue-gray for a complementary backdrop; it also helps keep the Wedgwood from appearing too precious. Consider placing Wedgwood pieces alongside modern blue-and-white pieces for a stylish balance of old and new.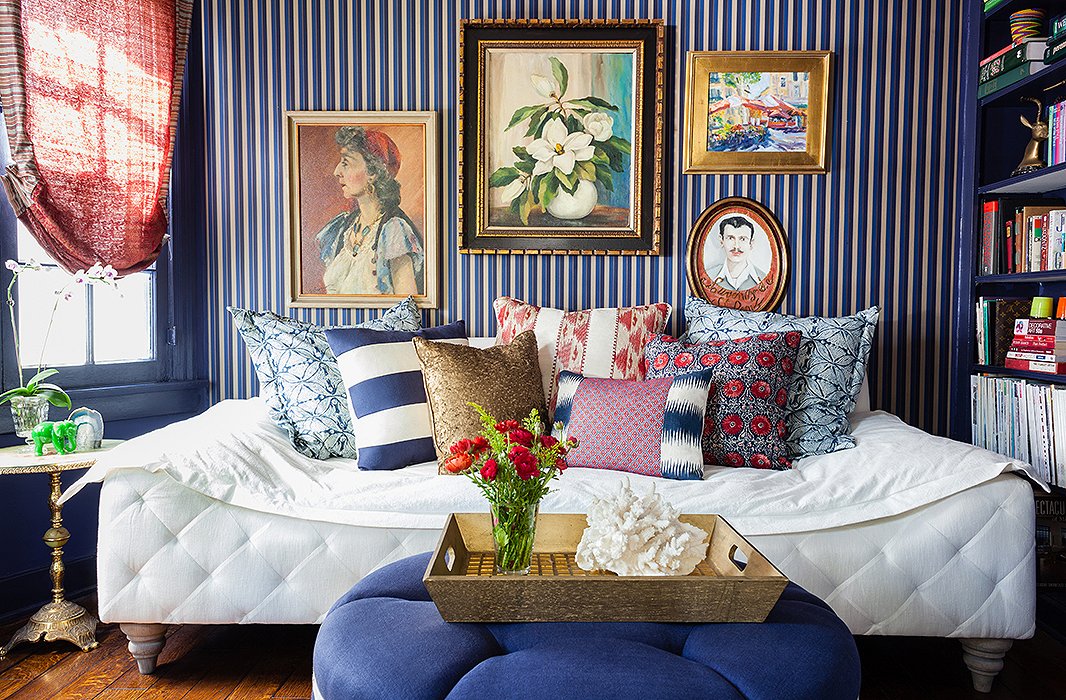 Make a Statement with Deep Blues
Teaming navy and indigo with white is an easy way to create sharp focus in any room—especially if it's a small space. The deep blue shades will make the white appear more crisp, and this rich color combo has the power to add bold style without overwhelming a space. Case in point: L.A. designer Kim Salmela uses this navy-and-white palette in her guest bedroom, from the wallpaper and the mix of pillows to the ottoman and the bed, creating an oasis that's big on eye-catching boho style as well as comfort. Consider continuing a deep-blue color scheme in your accents to stylishly ground a room.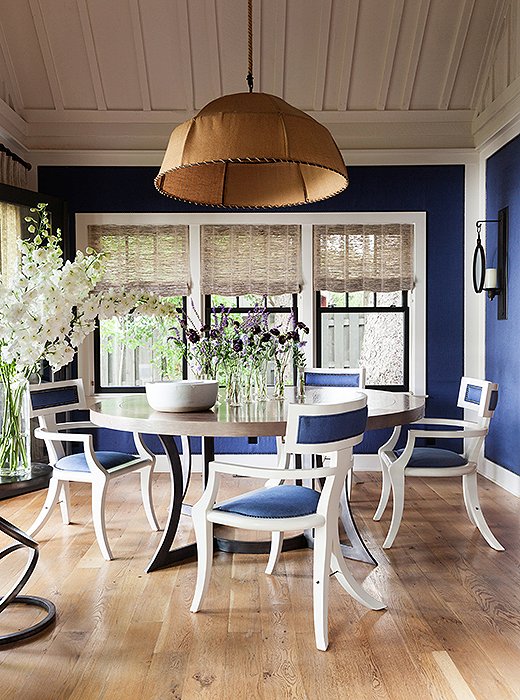 Bring in Chic Classic Chairs
Traditional chairs with elegant silhouettes (think klismos and Louis XIV- and Chippendale-style seats) look undeniably modern in classic blue and white. At his summer lake house, designer Thom Filicia rings his dining room table with chairs upholstered in the same blue as his wallpaper, which lends a sophisticated air to the space. Try pulling in blue-and-white chairs for seating that always looks polished, and repeat the hues on your walls with a large piece of art that will entice the eye to travel.
Go Big with Global Patterns
When mixing bold textiles such as ikats, batiks, medallions, and trellises, keeping to a blue-and-white palette helps streamline what could easily become a visual frenzy. One trick we love? Consider a darker blue with white for furnishings that have a smaller pattern (so they seem less busy from afar) and lighter blues for pieces with oversize patterns (to accentuate their details).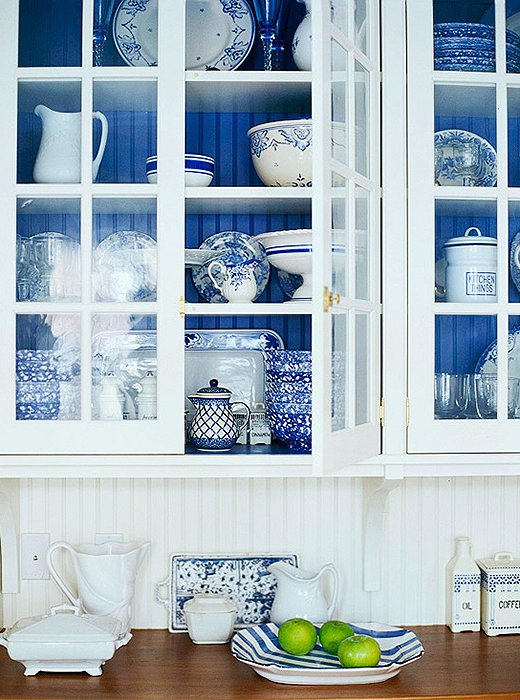 Showcase Timeless China
Blue-and-white ceramics have an ease and classic beauty that makes them fabulous showpieces in any cabinet. Store and group collections of blue-and-white dishware—whether it's delft bowls, chinoiserie plates, or striped pottery that evoke the South of France—to create your own instantly charming display.
Settle In with Crisp Stripes
Universally chic (and kid-friendly) stripes in blue and white make a great foundation for a family home. The palette and pattern are both versatile enough for casual living as well as for stylish entertaining. With the need for uncluttered, open, and flexible spaces in mind, our Studio team made over a Nashville couple's home just in time to welcome their newborn son. The varying stripes in this high-traffic family space carry relaxed appeal through the flat-weave rug, the pillows, and the armchair while maintaining a fresh and airy feel.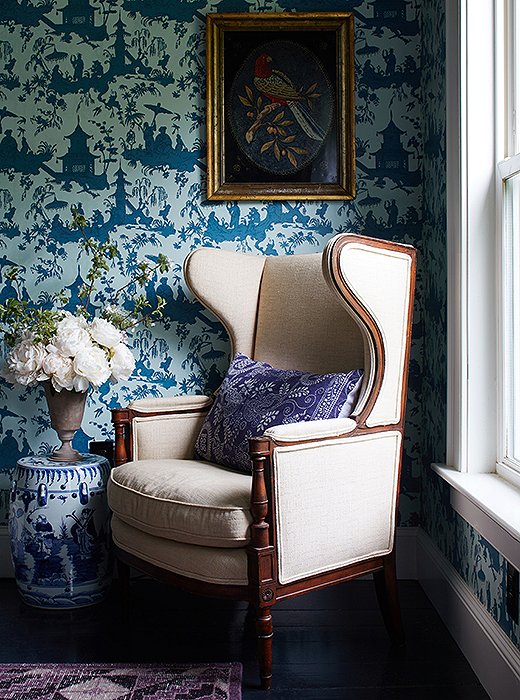 Play Up Florals and Chinoiserie
Adding chinoiserie is a surefire way to usher in drama and romance. Blue-and-white chinoiserie wallpaper can set the stage for fanciful floral flourishes, such as a blooming pillow, a garden stool, or still-life art tinged with subtle notes of blue. Look to blue-and-white chinoiserie and toiles printed with follies and lush sceneries for adding garden-inspired touches that tie back to the palette for a collected look.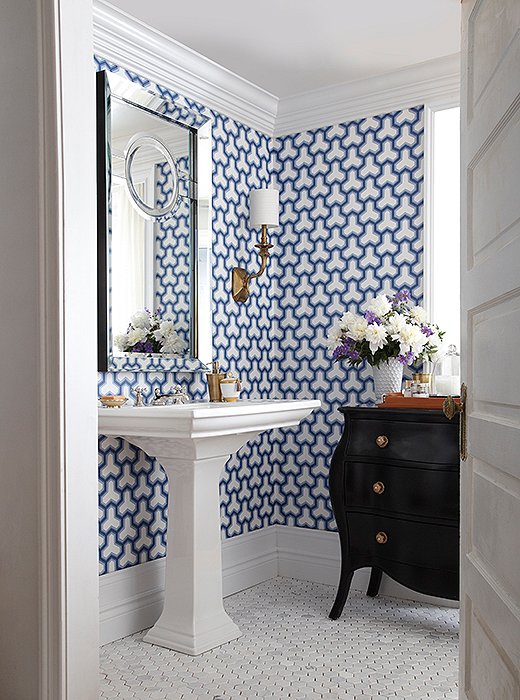 Try a Bright Modern Backdrop
If chinoiserie isn't your aesthetic, blue-and-white wallpaper in a graphic geometric provides just as much visual impact without the trad formality. You can instantly brighten up walls in a small space, like this powder room, with a strong modern design; for chic contrast, gleaming gold and brass will offset the blue-and-white wall pattern with shine and panache. Look for furnishings and accents that have sculptural shapes and details that reiterate the wallpaper's bold design.
Layer on Luxe Bed Linens
Blue and white works wonderfully in a bedroom given that the palette—particularly lighter shades of blue, as in renowned designer Bunny Williams's country house—instills a sense of breeziness and calm. And layering bedding in blue and white is an easy refresh that adds instant charm—whether you're going for a crisp and preppy look with striped bed linens or something more along the lines of florals and batiks for a touch of whimsy.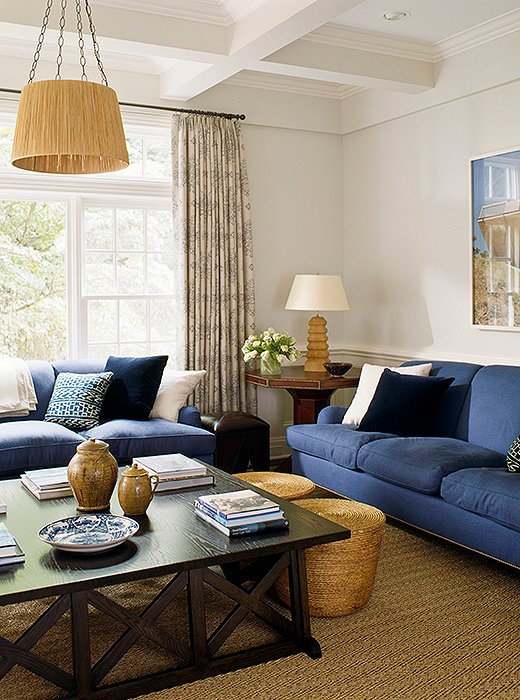 Combine with Woven Accents
Natural fibers with blue-and-white furnishings is a foolproof formula that will add major relaxed appeal to any of your living spaces. Rather than start with color, begin by bringing in your natural-fiber pieces and then adding blue and white. With heavy natural tones and textures, such as the sisal rug and the woven pendant, lamp, and ottomans here, opt primarily for solids over prints to keep the ambience casual yet composed.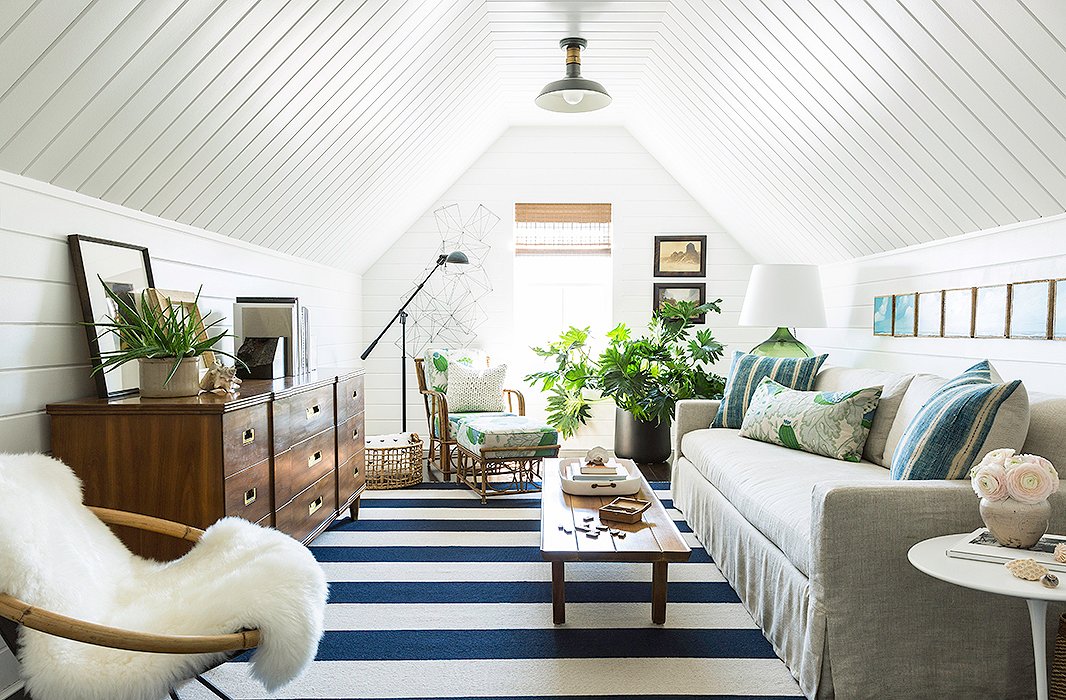 Mix in Lush Greens
You need only a little lush greenery to take a blue-and-white palette from beachy to tropical. For proof, check out this attic living space of decorator Matthew Caughy's Delaware beach house, where a brilliant blue-and-white striped rug is punched up with leafy plants as well as pillows and other accents in sea foam, turquoise, and pure green hues. It also goes to show that sometimes less is more when it comes to blue and white—the striking blue-and-white rug here goes a long way as a foundation for the room's palette.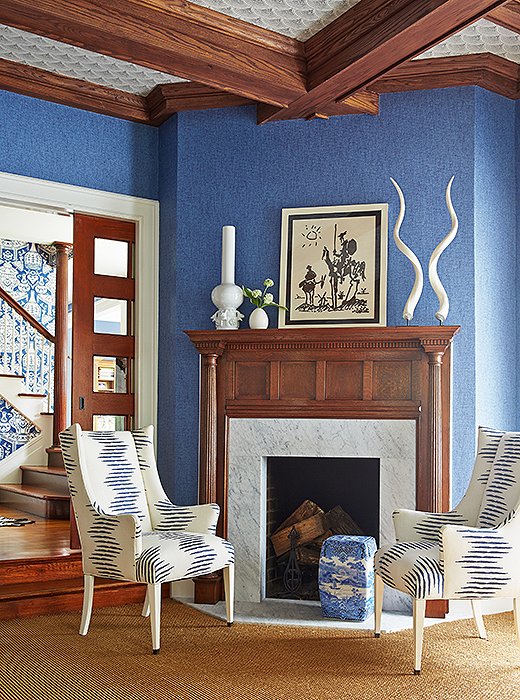 Contrast with Carved Wood
If you live in an old home with existing millwork, using blue and white in a large-scale manner can help to soften the ornate architectural details without distracting from them. Where other color combinations may prove too heavy on the eyes, blue and white relaxes a space both visually and spatially. Designer Patrick Mele homes in on that airy quality in this weekend escape with a sky-blue wall covering and equally captivating white chairs and accents, which complement the wood fireplace and beams.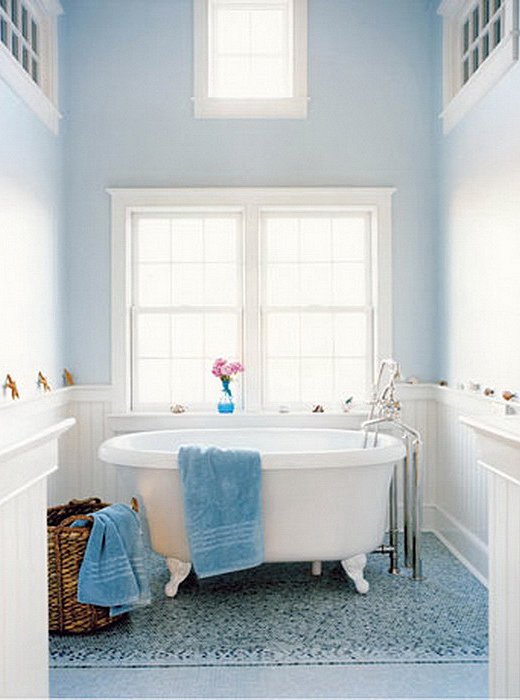 Freshen Up Your Bath
You might not have terrazzo-tile floors and high ceilings, but simple luxuries, such as plush towels in rejuvenating blues and a few seaside accents, are all you need to transform your own white bath into an absolute oasis. Go the extra mile by painting your walls a barely there soft blue.