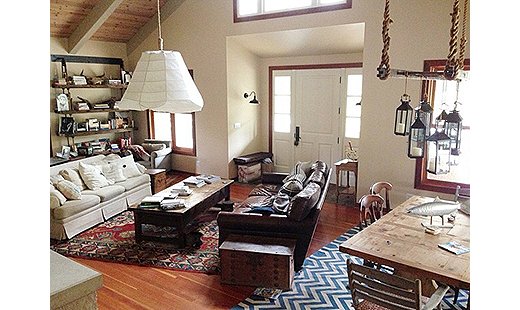 Q: How can I make our living room [left] more inviting? It lacks warmth and energy. Any advice would be greatly appreciated.—@lail38
A: Dear @lail38,
Warm and welcoming should definitely be the goal for a living room, so bravo on that! As for the how, I cornered the amazing Windsor Smith at a recent gathering with your question. "First of all, you want to unify the space to create one big, cohesive room rather than breaking it up into little areas," she said. "One large, neutral rug as opposed to multiples will help with this and creates a feeling of warmth and calm. On that note, square off your furniture to the walls; angles just feel too chaotic."
The weightiness of the furniture may also be an issue. Windsor suggested a layout swap. "Simplify down to one couch, or two in an L-shape, then add a pair of chairs across from the couch to open up the walkways into the room. It's like Axel Vervoordt said, 'Get simple right. Nobody does.'" On a sidenote: Windsor was a big fan of your hanging paper pendant, so definitely keep that in the mix.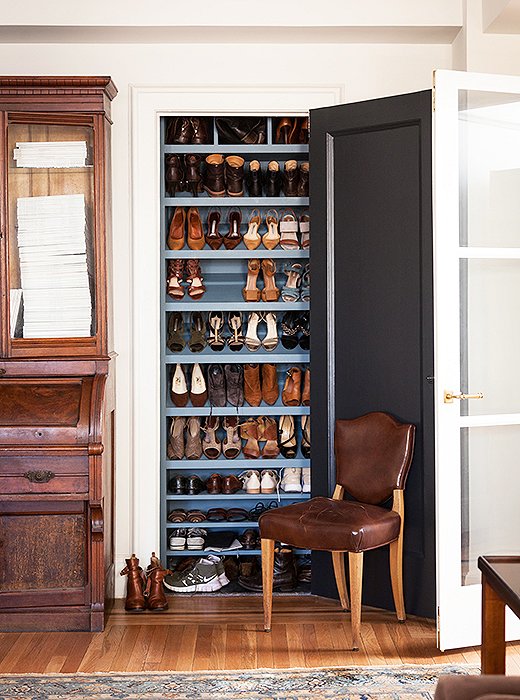 Q: #DearOKL, please help!!! The shoe storage situation by our back door is a hot mess!—@afholland
A: Dear @afholland,
"Nothing can look pretty unless it's clean and organized—that's first," said NYC designerMichelle Smith when I reached her on the phone. Her own living room shoe closet (pictured above) is nothing short of inspired. "I'd suggest using a boot tray, since it's made for storing shoes and easy to clean, which makes it more sanitary than other options." Sage advice given the onslaught of wet and muddy shoes winter brings with it. That covers clean, but what about organized? "You need a house rule!" pronounced Michelle. "You can only put as many shoes as fit in the tray—no piling. Once you've reached the limit of the boot tray, you just have to take one pair off and put it away in the closet."
Have a question? Leave a comment below.
On Twitter or Instagram (@onekingslane), and use the hashtag #DearOKL to post your question there (extra credit for pics!).