In the Entryway
Beckon your visitors with a dramatic grouping of reflective decorative accessories on a sideboard or table in your foyer. Unify the tableau with white candles and wheat stalks for a seasonal yet restrained look that will make a thoughtful first and last impression. (Just don't forget to blow out the candles at the end of the night!)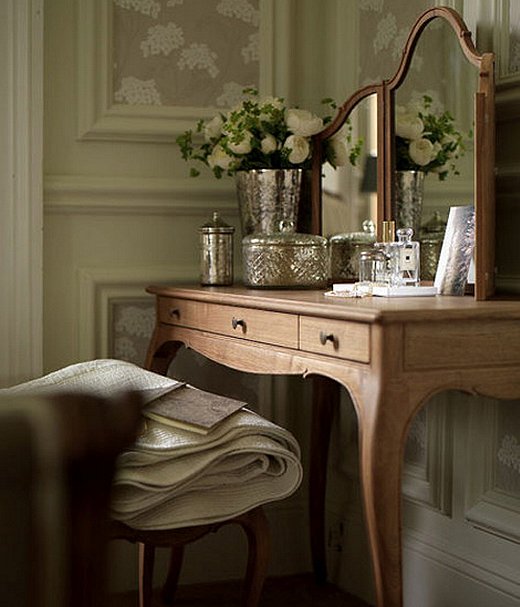 In the Guest Room
Your guest room most likely gets much more action during the holiday season, so why not razzle and dazzle a bit with a tall mercury-glass vessel full of your guests' favorite flowers. Add a few lidded storage boxes to give visitors a place for their jewelry and essentials that is out of the way yet easily in reach.
On the Table
The luster of mercury-glass vessels makes them a perfect accent for a table with a neutral palette. Keep your arrangements fairly low in two or three vessels set down the center of the table, peppered with votives of the same material. Add white and silver place settings for a consistent look that will allow the silvered glass to really shine, especially when the candles are lit and the ambient lighting is set low.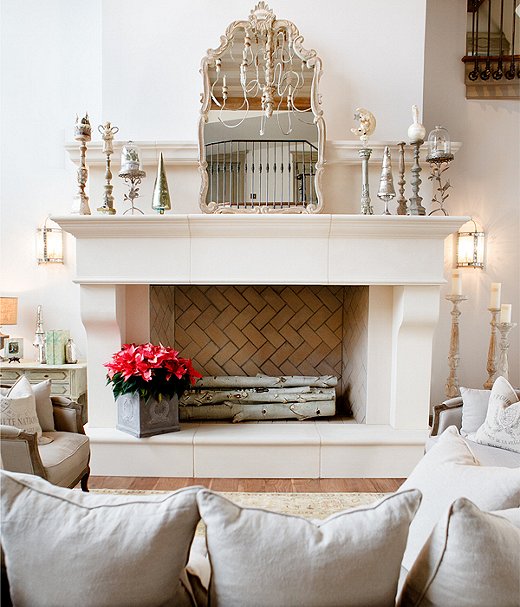 On the Mantel
Because mercury glass comes in many shapes and is often etched, enameled, or engraved with intricate detailing, the mantel is the surface to let your most prized pieces shine. Play with the scale and size of the items, making sure the eye travels up and down (think mountain peaks) as it looks across the plain.
BTW: Mercury glass (aka silvered glass) gets its look from a silvered liquid solution between the double-walled layers. Now you've got a bit of knowledge to drop at your next dinner party!
There's something about the simplicity of white candles and mercury glass that feels romantic in an Edith Wharton kind of way. I use different bowls and sticks in various sizes and group them all on a simple tray or, better yet, a mirror.