When it comes to decorating with patterns, there's no denying the simple drama (and ease) of using one large presiding motif. At times, though, decorating with one dominant pattern can be a challenge: Placed too prominently, it can easily overwhelm a room; set amid a sea of other bold prints, it recedes into a madcap mix. To find that perfect balance when working with a singular captivating motif, read on for a few stylish ideas (although the possibilities are truly endless) as we put our new crane print to test.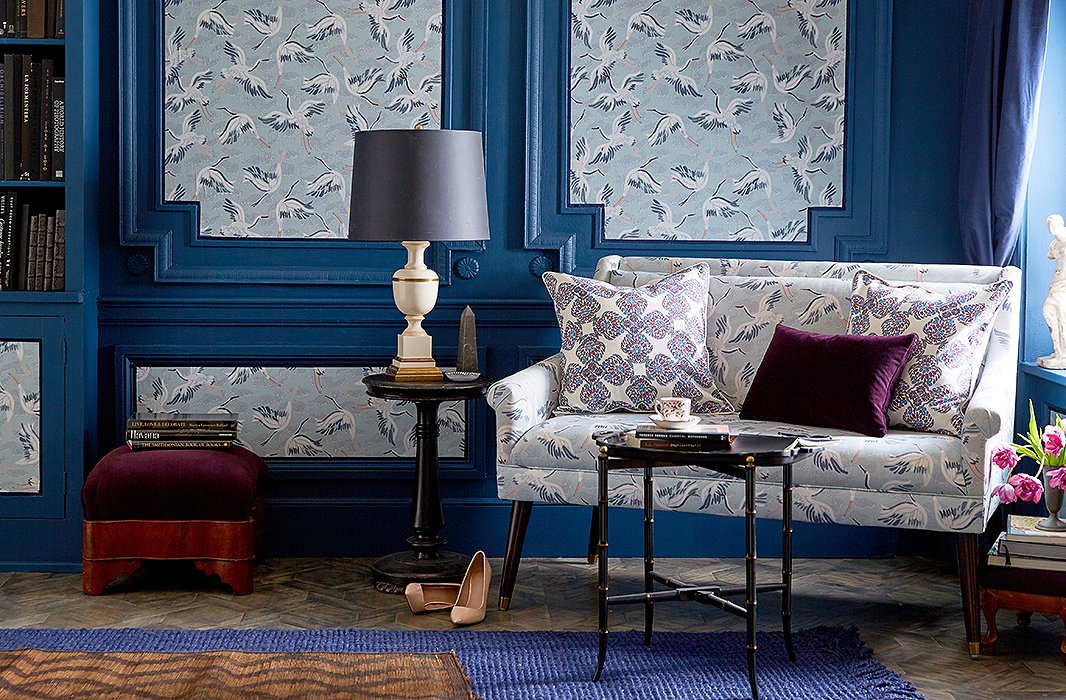 Go Big in a Corner
If you're one for beautiful patterned upholstery but wary that an elaborate print might overpower a space, try setting a settee or chair upholstered in the print slightly askew in a quiet corner of a room. Corners can be tricky areas to make functional, and they can always use a little color and life. By filling it with an armchair or settee in a lavish or whimsical motif, you'll solve for both. Choose a print with a movement—blossoming branches, painterly swirls, or a flurry of birds as in our cranes pattern—to lure the eye from afar.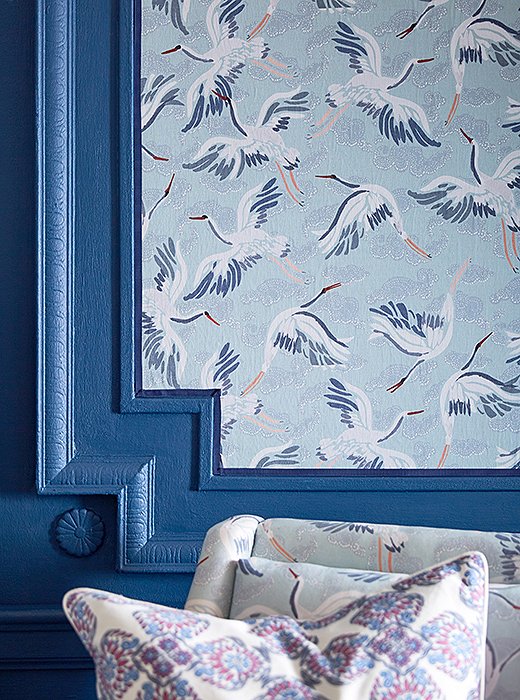 Whimsy Up the Walls
So many times we've seen a print that has us dreaming of ways to work it into our spaces beyond just seeing them on upholstery. If your home is blessed with gorgeous panels and interior architecture, consider bringing one large eye-catching motif to your walls. Here we've placed our cranes motif, a whimsical repeat, to create fabric wall insets with a touch of Far Eastern flair. Not sure where to start with applying fabric? Here's our easy step-by-step video.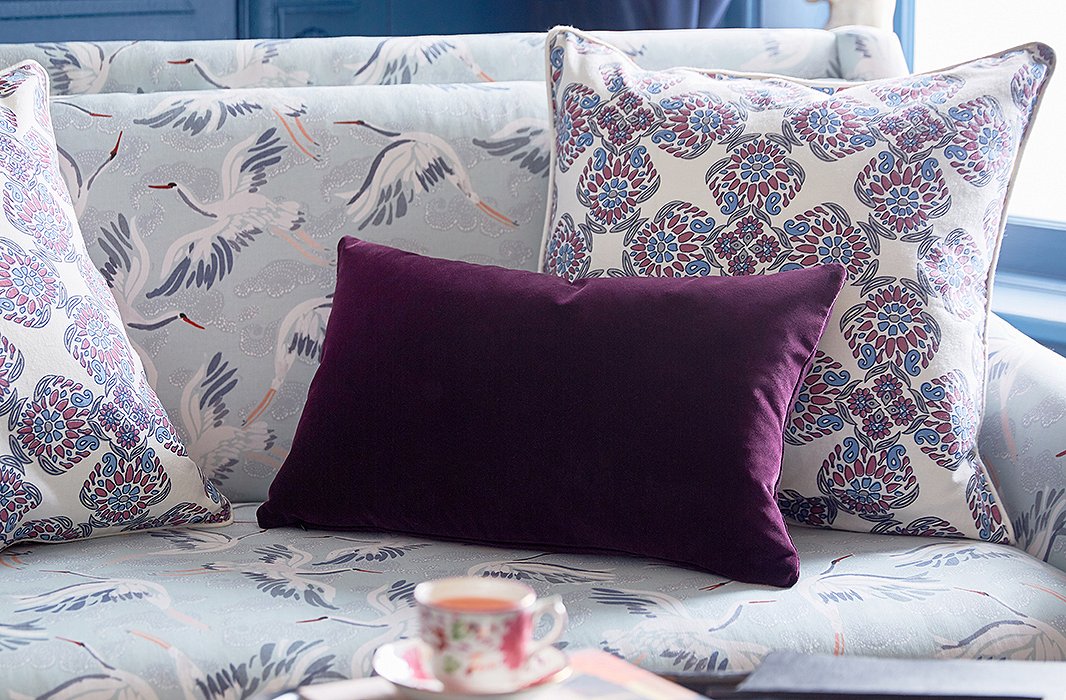 Mix Patterns Purposefully
When it comes to mixing prints on top of an already impressive design, finding a common thread is key. Here, we looked to the small touches of darker gray in our crane fabric—which draws from chiyogami, Japanese paper with colorful block prints, similar to those seen on kimonos—to guide our picks for patterned pillows to layer onto the settee. First we chose pillows with block-printed floral medallions in notes of gray, purple, and blue. Then we added a velvet purple pillow for pretty panache that referenced the violet in the other pillows. Another (foolproof) mix-and-match approach is to pair an intricate print with a classic motif, such as stripes or checks, in varying shades of the predominant color (as we did with blue below).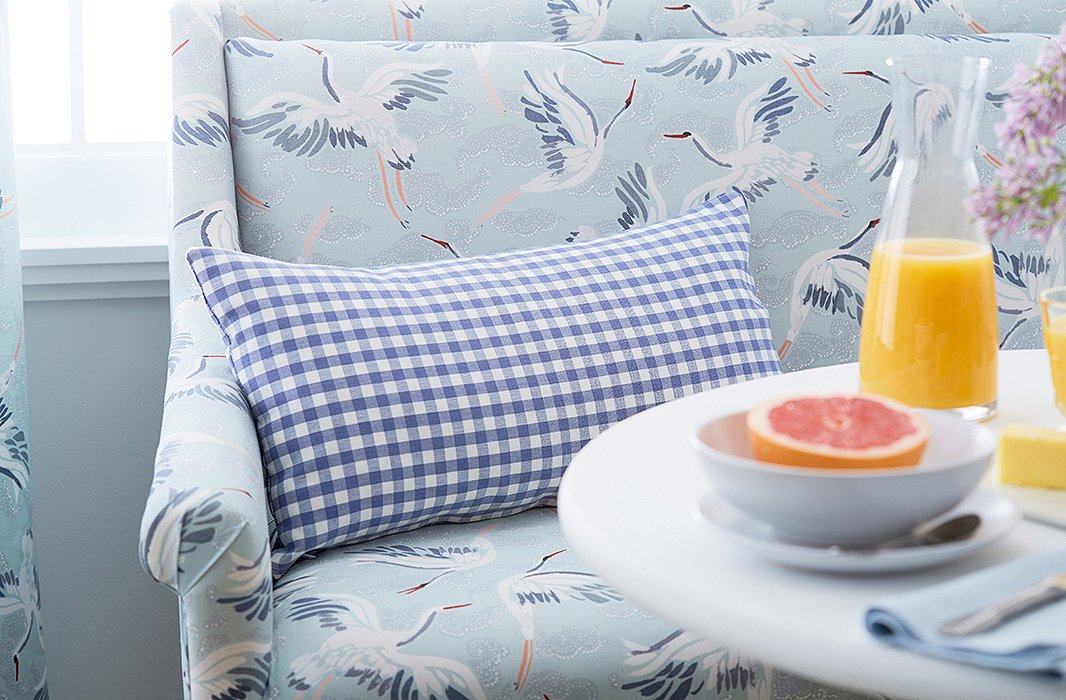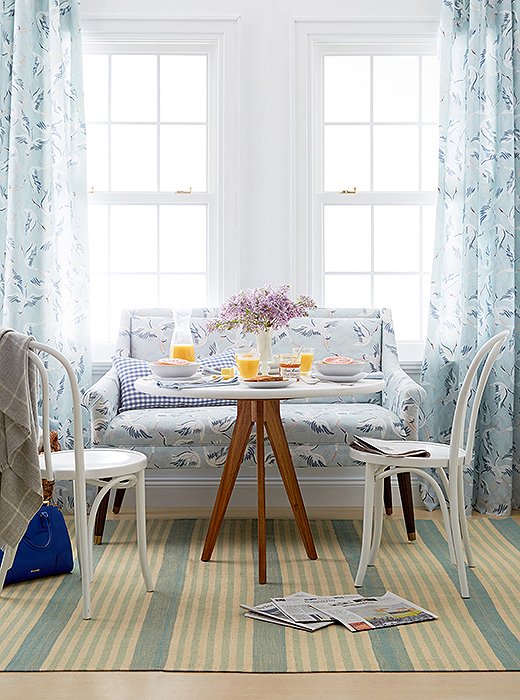 Pair Elaborate with Modern
An upholstered piece swathed in a large pattern makes for the perfect counterpoint to more-modern streamlined designs. The pattern's flourish can beautifully balance and offset the strong lines of sleeker contemporary furnishings. Try pairing the print with a simple table and sculptural chairs in a nook or a small seating area, as in this breakfast corner, to create an elegant spot with a pretty focus; we also love the elevated look of a settee pulled up into a place for light meals and gathering with small groups.
Let It Hang
There's no reason to hold back when it comes to a print you love, so consider extending it to your windows with custom drapery. We designed our crane print with a pale blue backdrop to give a little lightness and levity to the flurry of birds. Here, the tall windows in the breakfast nook provide the perfect frame for curtains that allow the pattern to take flight.