Time and time again, we see how designers make decorating with patterns seem utterly effortless. But figuring out how to work in big, colorful patterns at home is a design dilemma for many of us—and an intimidating one at that. All too often, it seems the moment we veer away from patterns in neutral tones, the myriad options for colorful prints put us at a decorating loss as to where and how best to start. Don't worry—we've all been there.
Here, we share a few tried-and-true tricks for adding big color and pattern—just in time to help you enliven your spaces for spring and summer.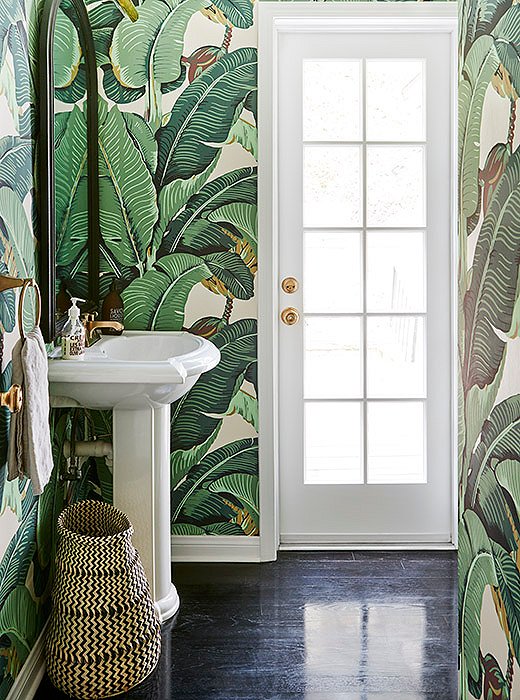 Try Fruity and Tropical Motifs
Be it punchy pineapples, zesty lemons, or large leafy palms, fruits and tropical patterns are often packed with spirited color and whimsy, which makes them perfect for adding major visual impact.
Where we love to use them: Consider lavishing a small bathroom with a tropical palm wallpaper or outfitting a bedroom with upholstery in a charming fruit print; this allows the print to take center stage and helps to divert the focus away from a room's compact size.
What to pair them with: Given their fun, lighthearted nature, pair these motifs with a little shine and heft (think brass fixtures, gold touches, and even dark woods).
Pattern tip: Stick to one pattern when it comes to bright tropical designs. Too much of a mix—coral meets banana leaf meets flamingos—and it can easily appear theme-y rather than sprightly.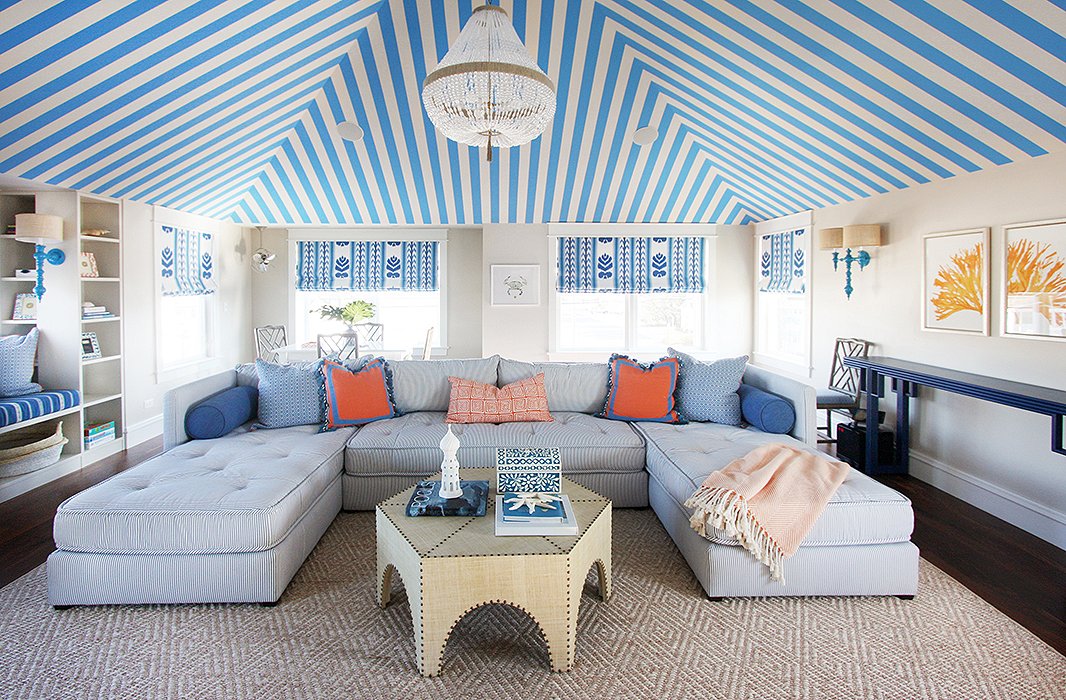 Try Stripes and Geometrics
Decorating with stripes and geometric shapes seems straightforward enough—they're bold, clean, and guaranteed to pop. Try taking it to the next level by layering multiple designs (subtle ticking, intricate patterns in rows that appear as decorative stripes) to truly set a room apart.
Where we love to use them: Strong broad shapes (cabana stripes, large triangular repeats) can unify large spaces. Work them separately or combined into a spacious living room or an airy indoor-outdoor space to create sharp focus.
What to pair them with: Solids in bright sunny colors, such as the coral and pink in this vaulted room, are always great companions for mesmerizing stripes and geometrics.
Pattern tip: Alternate between solids and bold colorful patterns from the ground up. For instance, if you start with a bright rug, go with neutral patterned upholstery on top, then colorful pillows; it ensures visual consistency and a cohesive look.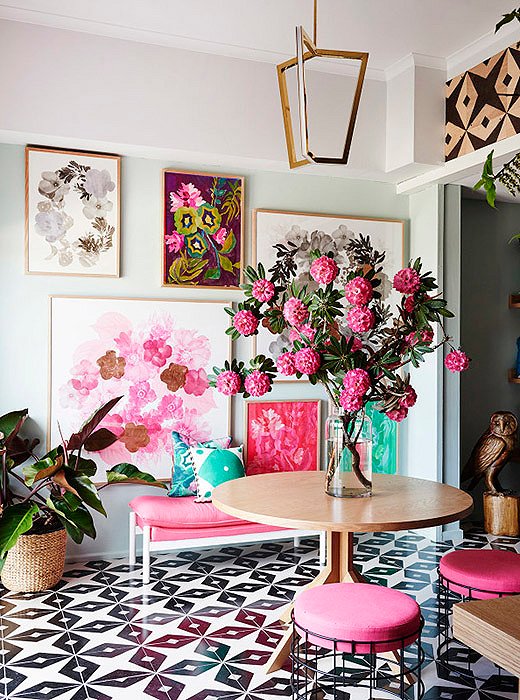 Try Graphic Florals
Look beyond chintzes and try florals in more-saturated forms, such as bright painterly prints and graphic blooms, to play up color and a modern aesthetic in a room.
Where we love to use them: Give your entry or a passageway a bold dash of color and florals in the form of a gallery wall made up of modern and abstract prints. As a high-traffic area that generally doesn't invite pause, it's a perfect place for introducing extra color. The addition of an equally mesmerizing floor pattern (or rug) makes for eye-popping balance.
What to pair them with: Art imitates life; complement big bold floral prints with colors and fresh flowers in the same vein, as in this arresting pink, black, and white foyer.
Pattern tip: Look closely at pieces beyond pillows and upholstery when decorating with patterns. Art can showcase patterns as well; just be sure to group them en masse for a collected look.