When superstar chef Suzanne Goin (above left) and sommelier Caroline Styne (above right) moved their lauded restaurant, A.O.C., to a new space, they enlisted designer Claire Stansfield (above center) to make sure the decor was as amazing as the food and drink. Together the majorly inspiring trio created an airy, sophisticated space we never want to leave.
Tour the restaurant and snag some of Claire's top tips for your next decorating project. Plus, don't miss a delicious recipe, courtesy of Suzanne, perfect for your next turn as hostess, complete with Caroline's expert wine pairing!
Tip #1: Start by Simplifying
When figuring out what to do with a space, Claire suggests taking away as much color as possible, which is exactly what they did at A.O.C. "Once we painted the walls a lighter shade, we could see what other colors to peel away and what colors worked. When you are renovating, don't demo everything. You never know what will work once you simplify."
Tip #2: Discover Your Muse
Think about the vibe you want by giving your space a story. "I like to give every project a personality," Claire says."The A.O.C. woman is a sophisticated hippie mom. She lives in Big Sur, her kids are grown, she's rediscovering her love of '70s pottery. The cabinet is an ode to her. We have wine upstairs galore, so we made these cabinets art pieces by filling them with pottery I thought she'd love."
Tip #3: Opt for Outside-the-Box Arrangements
We spotted herb bouquets used as decor on the bar at A.O.C., a useful and pretty idea we're totally stealing for our next party. Claire selected simple, clear mason jars as vases to keep things feeling casual.
Tip #4: Take a Mirror Outside
Hanging a mirror is a great way to reflect the greenery opposite a wall, giving you more beauty to look at. Claire's tip: "I would err toward the bronze-toned mirrors with a patina and hang them high so that you're not staring at yourself when you eat."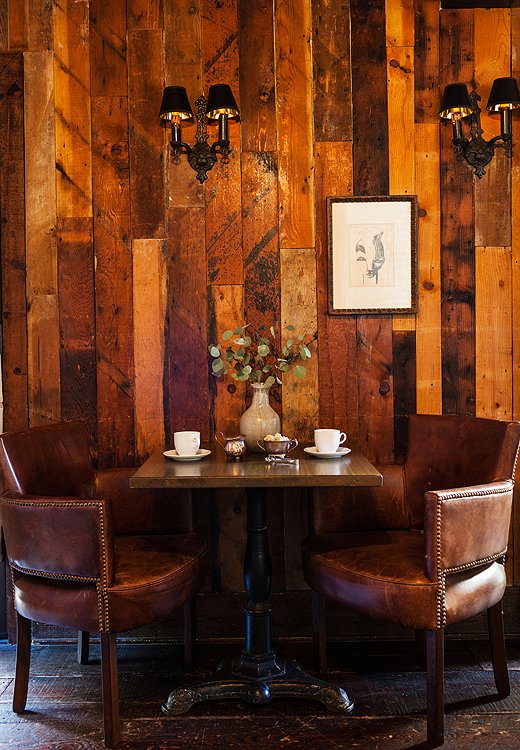 Tip #5: See Fixtures in a New Light
Not loving your lighting? Sometimes all it takes to refresh it is a new shade. On these sconces, Claire swapped out "old lady" shades in favor of clean, simple black ones. "Don't go out and buy something cheap," she adds."Keep something beautiful and update it."
Tip #6: Let the Food Take Center Stage
No need to be fussy when entertaining. The team chose simple white plates and rustic wooden cutting boards for A.O.C., which make for a beautiful and elegant presentation.
Tip #7: Give Furniture a Facelift
The outdoor seating that came with the restaurant didn't match the laid-back vibe of the space. Instead of replacing the chairs, Claire had the cushions reupholstered in a soft and earthy slate-blue fabric.
Tip #8: Mix Your Seating Styles
When Claire took stock of the indoor seating, she realized there were a number of mismatched chairs. Rather than swap them all out, she had them painted black to help the varying styles feel more uniform.
Tip #9: Choose Flowers That Last
When creating floral arrangements, Claire suggests using flora that dry beautifully, which extends their shelf life. Her favorites include eucalyptus, reeds, wildflowers, and pussy willows.
Chef Suzanne Goin Shares a Classic A.O.C. Recipe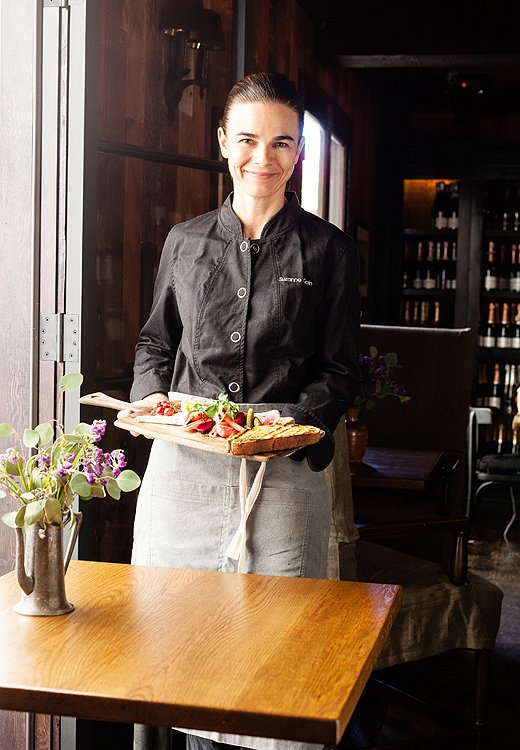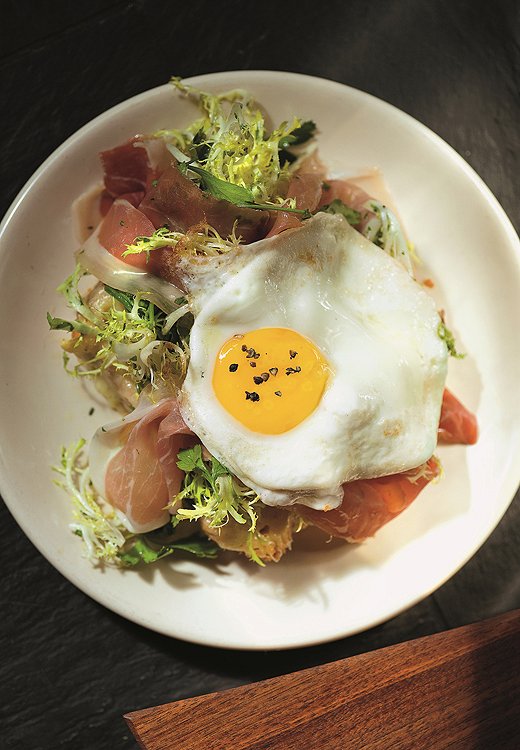 Brioche with Prosciutto, Gruyère, and a Sunny-Side-Up Egg
Note: Home broilers really vary. Make sure to keep your eyes glued to your brioche so that it doesn't go up in flames if yours is particularly powerful.
6 ounces cleaned frisée (from 2 large or 4 small heads)
¼ cup whole flat-leaf parsley leaves, plus 2 tablespoons chopped
2 tablespoons diagonally sliced scallions
5 tablespoons unsalted butter, softened
6 one-inch-thick slices brioche
1 pound Gruyère cheese, sliced about ⅛-inch thick
6 extra-large eggs
2 tablespoons extra-virgin olive oil
2 tablespoons freshly squeezed lemon juice
6 ounces prosciutto di Parma or San Daniele, thinly sliced
Kosher salt and freshly ground black pepper
Place the frisée in a large bowl with the whole parsley leaves, chopped parsley, and scallions. Cover with a kitchen or paper towel, and refrigerate.
Preheat the broiler to high.
Arrange the oven rack at the top position, closest to the broiler. Lightly spread ½ tablespoon of butter on one side of each brioche slice. Arrange the slices butter-side up on a baking sheet, and toast them under the broiler for about 1 to 2 minutes, until golden brown. (If necessary, rotate the brioche slices halfway through, so that they brown evenly.) Turn the slices over, and toast the unbuttered side until just golden.
Cut the sliced Gruyère, if necessary, and arrange it to fit exactly on top of the toasted brioche; any exposed brioche will burn. Set aside.
Heat two large sauté pans over high heat for 1 minute, and then add 1 tablespoon of butter to each pan. When the butter foams, gently crack three eggs into each pan, being careful not to break the yolks. Season the eggs with salt and pepper, cook 1 minute, and then turn off the heat. Meanwhile, toss the frisée with the olive oil, lemon juice, ½ teaspoon salt, and a pinch of black pepper. Gently mix with your hands, and taste for balance and seasoning.
Place the brioche slices under the broiler for 3 minutes or so, until the cheese melts. Transfer one brioche slice to each of six dinner plates. Mound the frisée salad atop the brioche, and weave 1 ounce of sliced prosciutto through each salad. Using a metal spatula, carefully place the eggs on top of the salads, making sure that some of the herbs and frisée peek out from underneath the egg and prosciutto.
*Excerpted from The A.O.C. Cookbook by Suzanne Goin. Copyright © 2013 by Suzanne Goin. Excerpted by permission of Knopf, a division of Random House LLC. All rights reserved. No part of this excerpt may be reproduced or reprinted without permission in writing from the publisher.
For me, this dish is the perfect decadent single-diner meal. It's the combination of the melty cheese on top of the buttery brioche, the generous amount of lemony frisée salad spiked with parsley, the ribbons of prosciutto, and of course, that crowning glory of a sunny-side-up egg that seals the deal.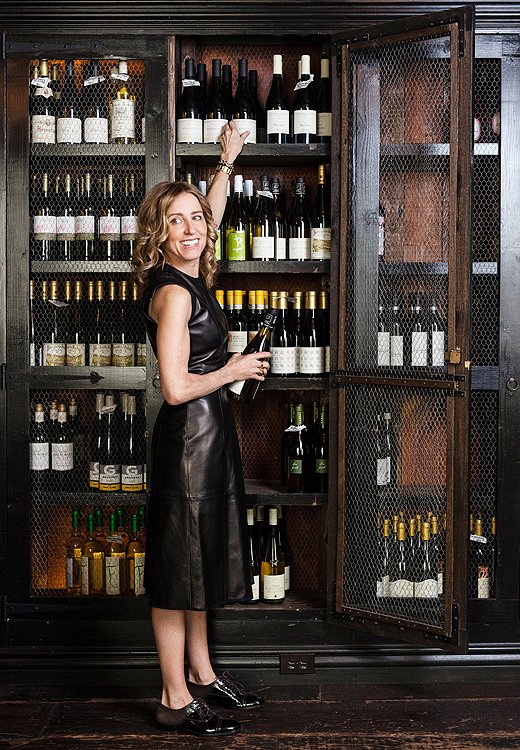 Bonus! Caroline Styne's Wine Pairing Tip
"I'm always envious of guests when I see them diving into this ode to the croque madame. When pairing a wine with it, I look to its main ingredients for inspiration. The Gruyère from Switzerland and the prosciutto from northern Italy take my mind and palate to the wines of the Alto Adige and the region's crisp, high-acid sauvignon blanc. This wine shows just enough citrus fruit to highlight the sweetness of the brioche and soften the saltiness in the prosciutto, while its acidity cuts through the richness of the cheese."