Radiant flower beds and walkways lined with colorful potted blooms are surefire ways to up your curb appeal each season. But if you're looking for a more lasting update, refresh your home's facade with a coat of paint.
We'll be the first to admit that selecting a color from the vast range of choices can be a big (and expensive!) decision. After all, it's one home upgrade that's guaranteed to leave an impression on visitors as well as passersby. So here are two key points to keep in mind. First, consider how the color will appear on as large a scale as your house; it may look lighter or darker than it would on a single wall. Second, take your home's architecture into consideration—a charcoal black might modernize a cottage but look completely out of place on a Greek Revival house.
For expert guidance, we looked to top tastemakers and designers for their ideas (and tips) on exterior house paint colors that are just right.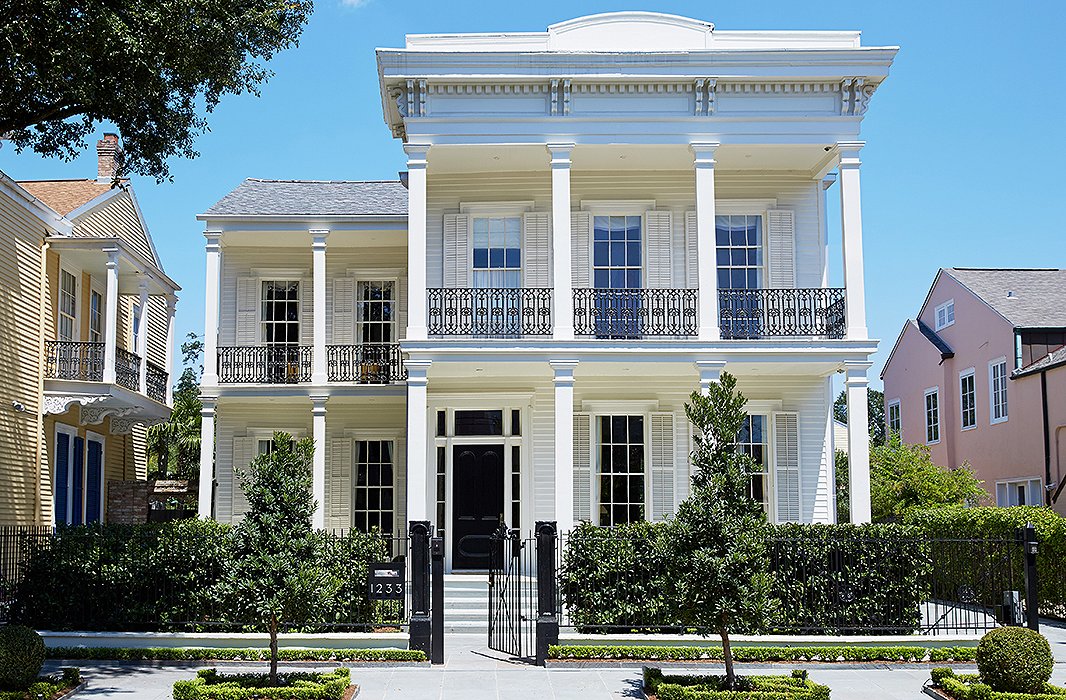 The house: an 1869 Greek Revival home in New Orleans
The paint color: James White by Farrow & Ball
Why it works: Leontine Linens founder Jane Scott Hodges chose the airy white paint for her Garden District home's facade as a nod to its 19th-century roots and to accentuate the house's unique architecture. "Homes of that time were typically painted white to allow the bold details and moldings to stand out," she tells us. The pristine white not only sets the house apart from the more colorful homes in her neighborhood but also sets the stage for what's inside. "We chose the color to create a clean palette on the exterior of our home knowing the bold mix we would incorporate on the inside."
Paint tip: For a home with beautiful columns and moldings, consider pure white as a way to draw the eye to the ornate flourishes.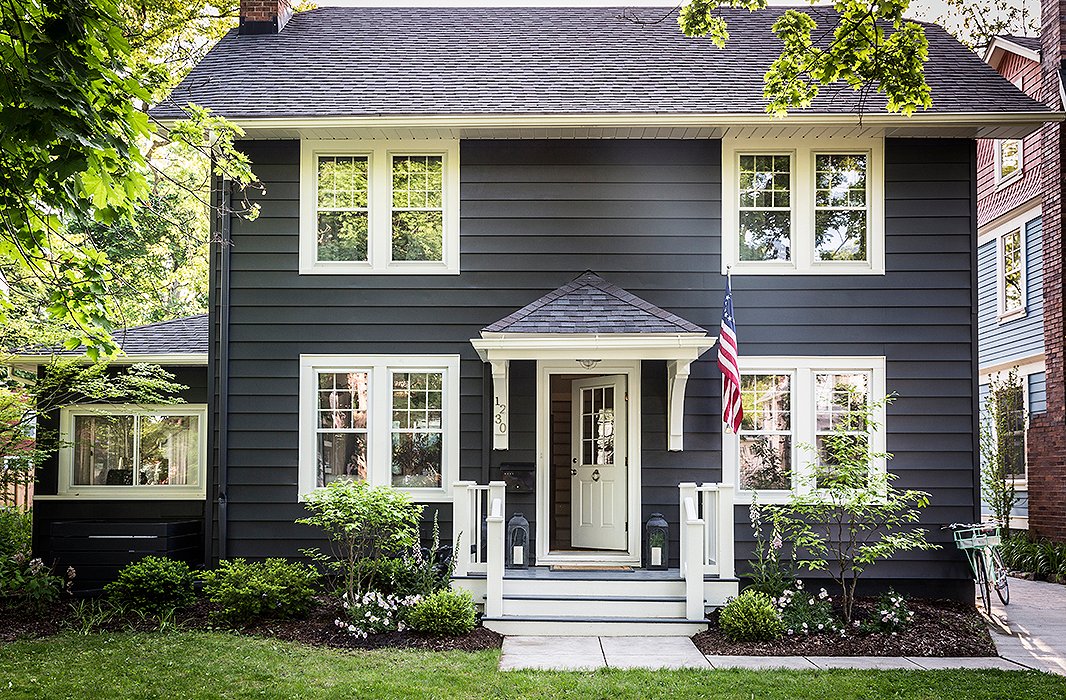 The house: a 1920s Colonial Revival cottage in Ann Arbor, MI
The paint color: Railings by Farrow & Ball
Why it works: With double-hung windows, a small porch, and a simple pediment above the door, the home of Michelle Adams, designer and editor of the blog The Maryn, has all the charms of the perfect cottage—but only after she nixed its original hue. "When I purchased the house it was painted in a light beige color, which made the oversize black pediment stand out like a giant nose," she says. "Painting it a dark charcoal helped blend in the pediment and create a new focal point with white windows and a white door. The dark paint also helped disguise the many dents in the metal siding, which was unfortunately added on top of the original wood at some point in time."
Paint tip: Opt for a darker hue to mask any imperfections that lighter hues might magnify.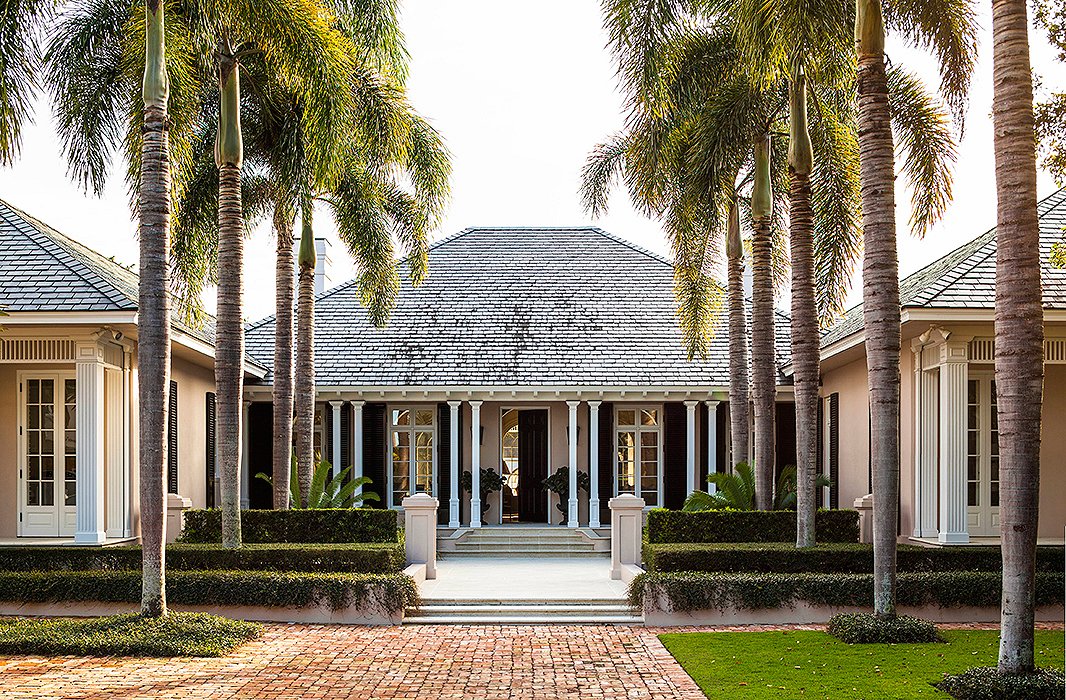 The house: a Colonial Carribean-style estate in Bermuda
The paint color: Pink Dust by Pratt & Lambert
Why it works: "The home had been a paler shade of pink when the homeowners purchased it and was lovingly recognized on the block as 'the pink house,'" says Jesse Carrier of Carrier and Company, who designed this estate with architect Kasimir Korybut. "In the spirit of its Colonial Caribbean roots and respecting its local heritage, we decided it should remain pink but with a bit more punch. Historically, bright pinks and yellows are appropriate for this style of architecture, and we believe that a home should reflect where and what it is. Just as cedar shingles might harken a New England vibe, pink stucco should give a clue that you're likely somewhere south of the Mason-Dixon line."
Paint tip: Jesse's rule of thumb is to narrow down to two or three colors, then look at each at different times of day, in different light, and on different sides of the house before making the final decision.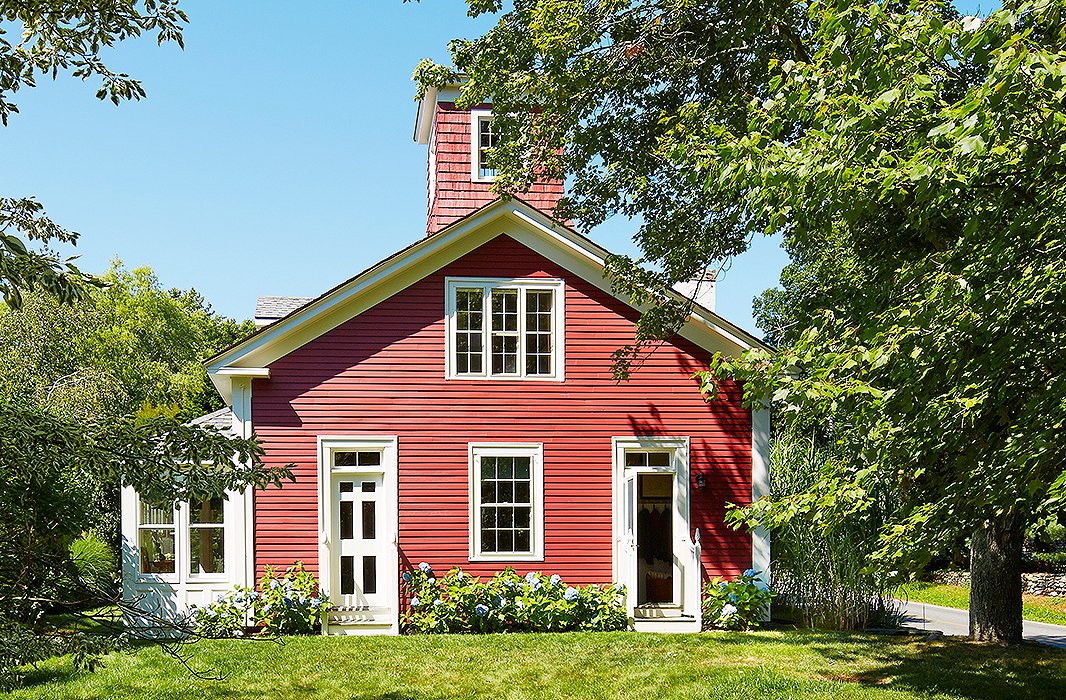 The house: an 18th-century schoolhouse barn on the coast of Rhode Island
The paint color: Country Redwood by Benjamin Moore
Why it works: When refurbishing a circa-1790 barn house into his home, one of the first things designer and antiques dealer John Peixinho did was update the one-room structure's 1980s red paint color, which had strong blue undertones, to this warmer shade, which nods to the home's history as a schoolhouse.
Paint tip: Red paint was once a more cost-effective option to white. For the perfect red that references farmhouses or barns from those days, opt for one with brown or orange undertones.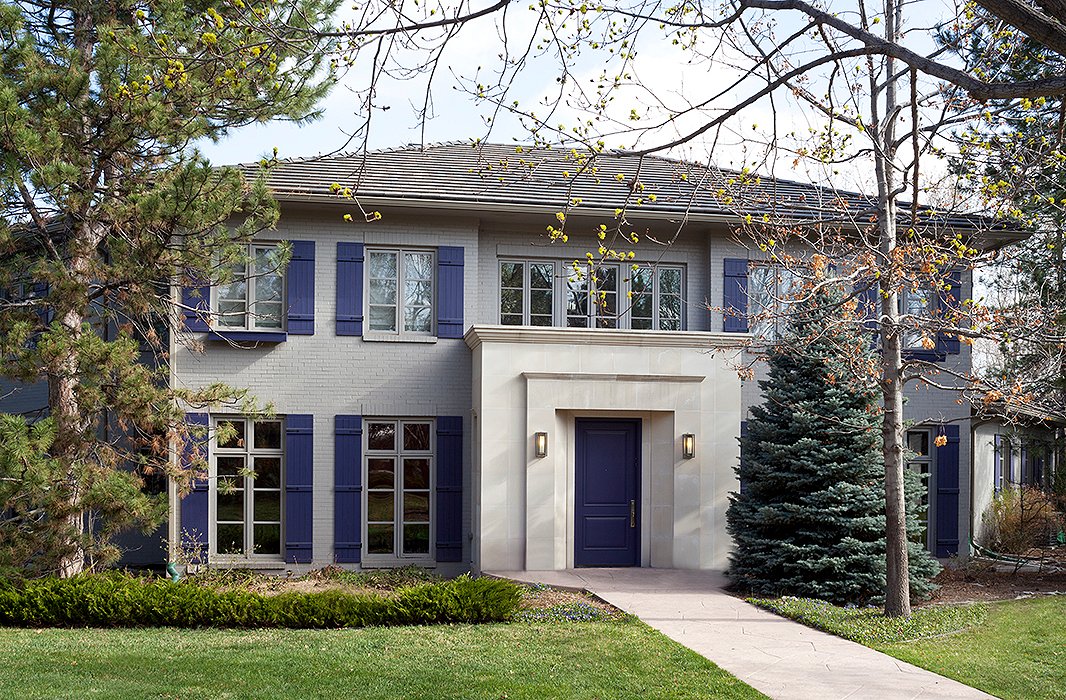 The house: a French country-style manse in Colorado
The paint color: custom gray and purple mixes
Why it works: Designer Petra Richards drew inspiration from the South of France for this family home's traditional brick facade and shutters. The light gray (typical of French houses) and vivid purple (reminiscent of the region's lavender fields) help to accentuate the details of the brick as well as modernize the overall architecture of the building.
Paint tip: When painting brick, be sure to first clean the stone and the grooves thoroughly to ensure that the paint adheres.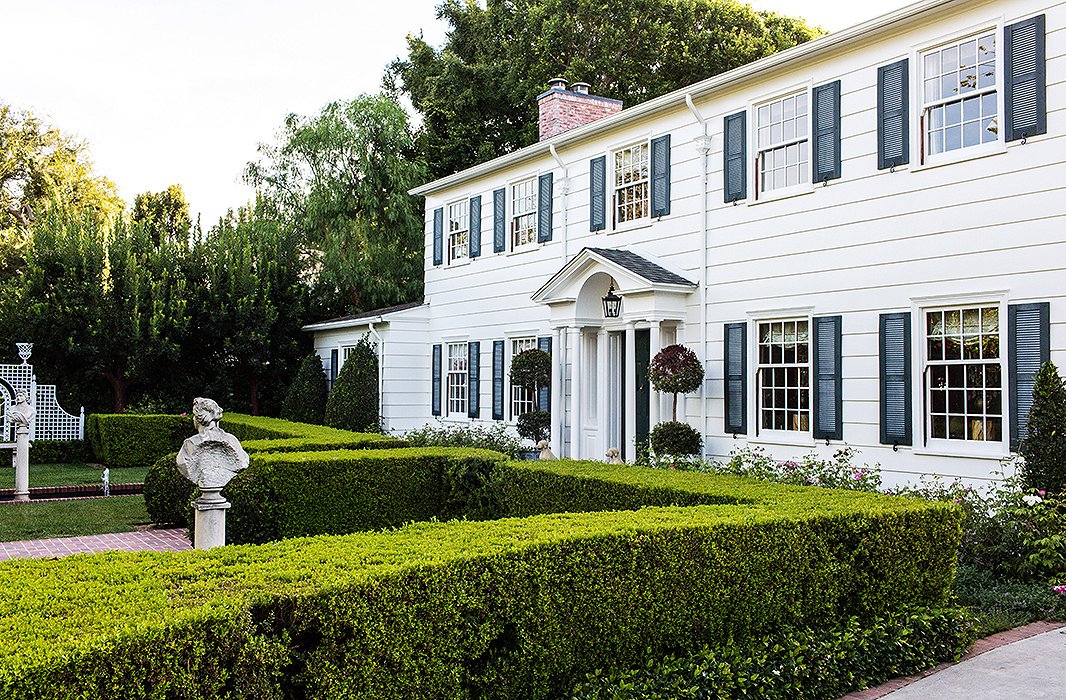 The house: a traditional Georgian house in Los Angeles
The paint colors: Benjamin Moore's Brilliant White and Essex Green
Why they work: "Symmetry, balance, and proportion are the classic hallmarks that comprise the stately exterior of a Georgian-style home," says decorator Timothy Corrigan of his own house. To play up the structure's beautiful framework, he opted for what he deems "a classic color combination" for this style of architecture: crisp white and deep green. "White is the perfect choice for the clean lines and distinctive architectural features, while the dark green instantly draws the eye to the home's symmetrical design."
Paint tip: Take a cue from your home's surroundings when deciding on a paint color for features such as the front door or shutters. For Timothy, "This shade of green is not too yellow, nor is it so dark that it appears black. It's a welcoming shade that nods to the lush green foliage surrounding the house."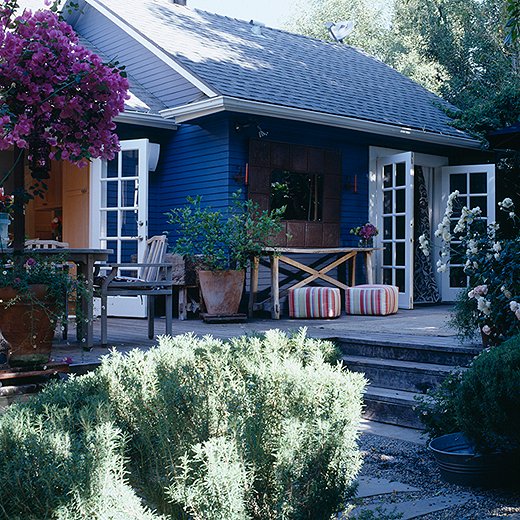 The house: a Craftsman bungalow in Los Angeles
The paint color: custom Ralph Lauren blue mix
Why it works: Colombian designer Moises Esquenazi went for a bold blue that's just the right balance of bright and cool. "It was a bit of a risk although it just seemed appropriate. I thought this shade was a perfect mix of strong, elegant, and unique," he says, adding that the color also helped to more sharply define the home's silhouette and white trim.
Paint tip: Be bold, but also be mindful of your home's surroundings and the effect of light when it hits the color. Bright colors will appear extra vibrant, while muted colors may appear more faded.