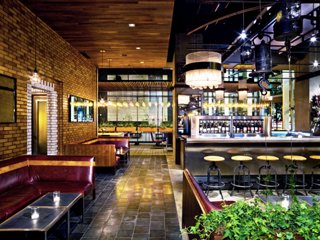 The designer: Martha Angus
Her pick: RN74, San Francisco
Where to find it: On the main level of the Millennium Tower at Mission and Beale streets.
Vibe: Energetic and friendly. The crowd covers 20-somethings and 60-year-olds alike. The design is nostalgic of Europe, with the big train board flipping info that shows wine specials instead of train destinations.
What to order: Martha's a fan of the shiitake mushroom tempura, brussels sprouts, and grilled octopus, while her son digs the hamburgers. "And on Sunday nights they serve a prix fixe dinner in the owners' lounge on the Club Level, which is always a super bargain, and you can get an inexpensive bottle of wine to go with it," Martha says.
Why she loves it so: "It's in my building and they'll send up food!" she says.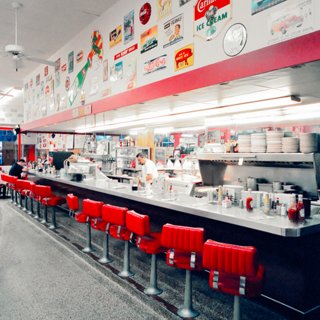 The designer: Steven Sclaroff
His pick: Watson Drugs and Soda Fountain, Orange, CA
Where to find it: Watson is tucked in a Victorian building amid the abundant antiques malls in Orange's historic downtown.
Vibe: It's a genuine old place that has been in operation since 1899. The interior is authentic "old drugstore" down to the long counter, the stools screwed to the floor, and an on-point menu of sundaes, curly fries, and onion rings.
What to order: "The reason to drive the hour from L.A. to Watson's is for its sublime patty melt, a proper, old-school flattened patty on toasted rye bread with American cheese," says Steven. "It is genius for its lack of innovation."
Why he loves it so: "The menu overall is perfectly stuck somewhere in the 1950s—like the whole place, and in fact the whole town," he says. "It is like going to Mayberry for a bite—a really good bite."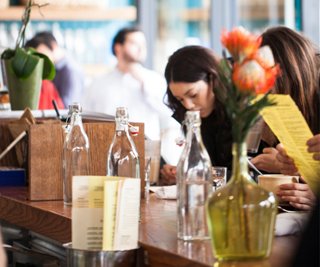 The designer: Ruthie Chapman Sommers
Her pick: Café Gratitude, Los Angeles
Where to find it: There are locations everywhere from Santa Cruz to Venice, but "I go to the one in Larchmont because it's the closest to me," says Ruthie.
Vibe: This sun-drenched space with floor-to-ceiling glass and cheery outside seating is abuzz with "health nuts and people trying to convert their friends to veganism or vegetarianism," she says. No surprise for a 100% organic vegan restaurant.
What to order: Polenta and mushrooms, and smoothies and desserts.
Why she loves it so: "I like the message," she says, "but I love the food."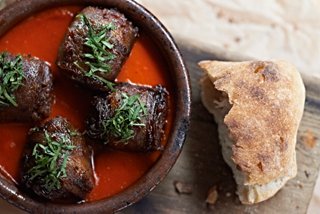 The designers: Sasha Adler and Lauren Buxbaum of Nate Berkus Associates
Their pick: Avec, Chicago
Where to find it: On Randolph Street, home to some of the city's best eats.
Vibe: Completely paneled in cedar, this modern yet rustic Mediterranean-inspired wine bar feels like the inside of a wine barrel. The tables are communal—and generally jovial with this artistic, fun foodie crowd—"and you inevitably end up in conversation with a complete stranger about what they're eating," says Lauren.
What to order: Deluxe focaccia, chorizo-stuffed dates, and hanger steak. "The food is completely addictive," Sasha says. "We want it for our last supper."
Why they love it so: The food and wine never fail to exceed expectations, and you always leave with a story to tell.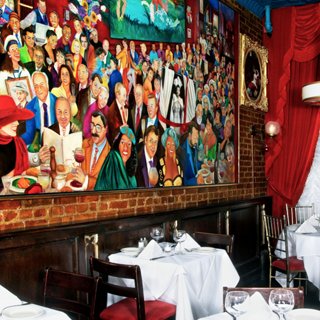 The designer: Jason Nixon of Madcap Cottage
Favorite restaurant: Chez Josephine, New York City
Location: In the heart of the Theater District (and "the only restaurant on West 42nd that I'd ever brave," he says).
Vibe: Everything about it is a throwback classic, from the spot-on service to the fabulous cocktails to the glam decor that celebrates famed entertainer Josephine Baker. It's clubby and sophisticated, but you can dress up or down as you please. Or as Jason puts it, "Wear a blazer or a boa; either way you'll fit right in. Plus, Jean-Claude Baker, the owner/host and adopted son of Ms. Baker, makes everyone feel so welcome."
What to order: Start with a martini and an endive salad, then segue into the fried Blue Point oysters with braised fennel or Elvira's Down-Home Fried Chicken.
Why he loves it so: "It's like being invited to the most glamorous of dinner parties attended by a wonderful cross-section of New York."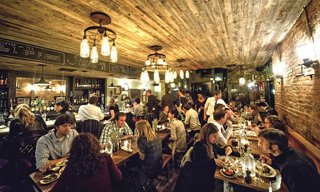 The designer: Erica Tanov
Her pick: Rucola, Brooklyn
Where to find it: A quiet residential block in the Boerum Hill neighborhood.
Vibe: It's warm, cozy, and unpretentious with a neighborhood crowd. Recycled wood was used on the ceiling, the bar, and the bench seats, and the industrial (but not too) light fixtures were made from glass bottles.
What to order: "I always order the arugula salad with shaved parmesan and a pasta," says Erica. "And I almost always try to share one of the delicious sides—brussels sprouts or braised greens—with somebody."
Why she loves it so: "Although it can get crowded and noisy, it still feels intimate and comfortable, like going to a friend's house," she says. "It's my neighborhood spot away from home."