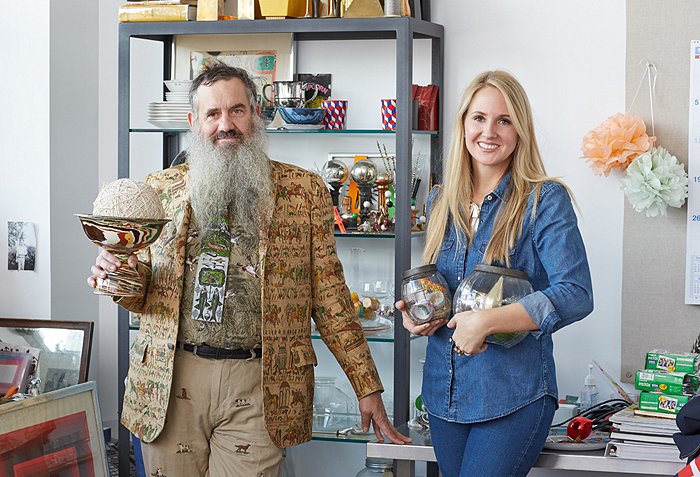 Stylists, designers, and editors Fritz Karch and Rebecca Robertson first met at Martha Stewart Living years ago, where they realized they shared a passion for any and all collectibles—be it five-cent bottle caps or rare English china. Their 15-years-and-counting collaboration (and countless flea trips) has culminated in their new book, Collected: Living with the Things You Love. Flipping through it, we were blown away by how it changed our whole outlook on "collectibles." We asked them to share their favorite tips on finding, curating, and displaying them. Prepare to forget everything you think you know about collecting.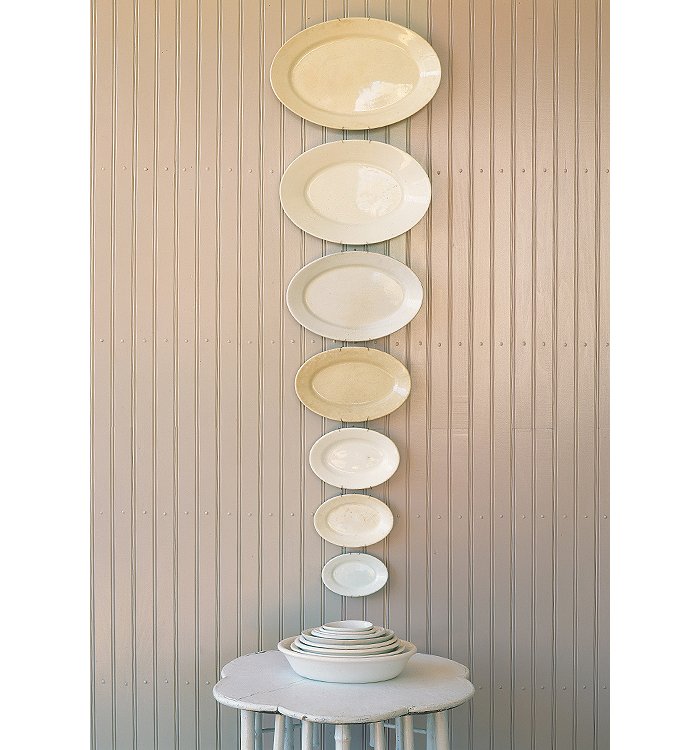 Lesson #1: It's All About the Install
The most traditional of items, like these ironstone platters, take on a different spin when displayed in a fresh way. Fritz and Rebecca suggest displaying them in a telescoping installation from large to small. Boom! They're modern. (And still useful at the table.)
Bonus Tip: "Try neutral items against a deep, dark background. They'll really stand out."—Rebecca Robertson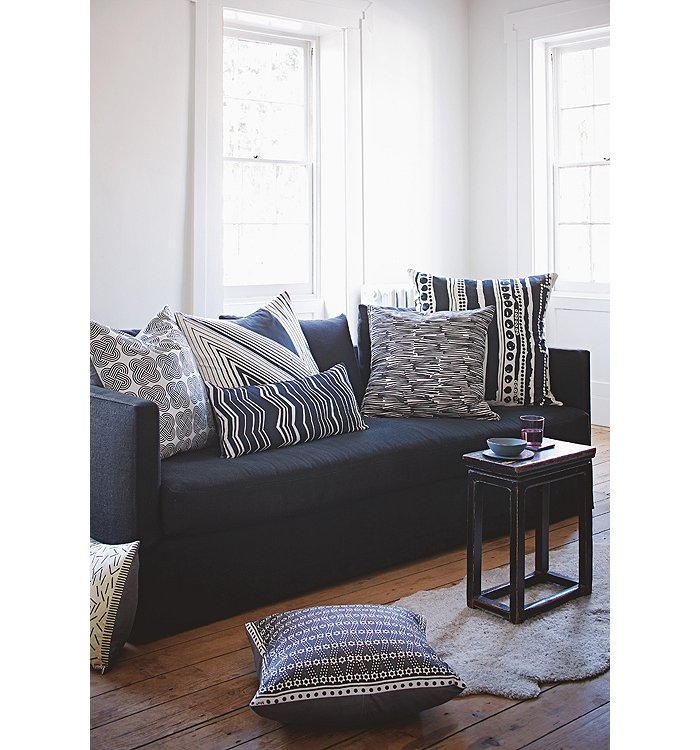 Lesson #2: You Should Actually Use Them
When you think "collectibles," do you picture dainty, fragile things on a glass shelf? No more. Put your vintage gems to work in a space. Fashion scarves are reinvented when backed and sewn into oversize pillows. Result? Instant bespoke pillows. Or a collection of wooden cutting boards can be used as place settings for a fall lunch.
Bonus Tip: "Cluster and mass things all together in one location for the stronger impact."—Fritz Karch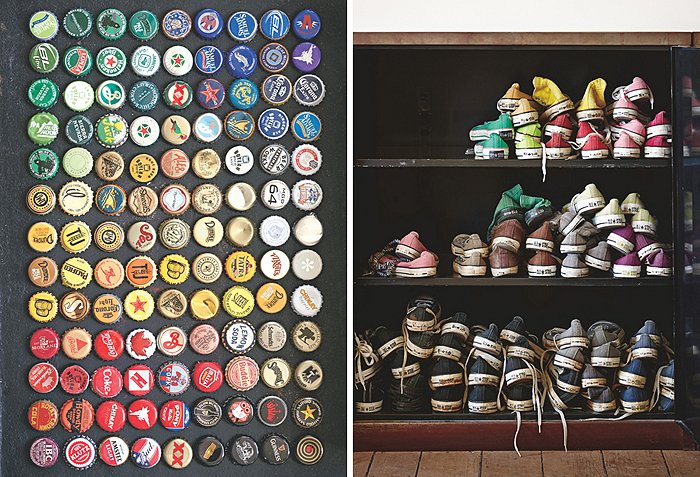 Lesson #3: They're Not All Precious
One man's trash is another man's treasure. Inexpensive and utilitarian items shine in a entirely new way when curated smartly. Bottle caps gathered from around the world or a collection of one favorite object like Converse All Stars in every color instantly becomes a form of installation art on a table or in a closet.
Bonus Tip: "Surround yourself with things you LOVE that make you happy when you look at them."—Rebecca Robertson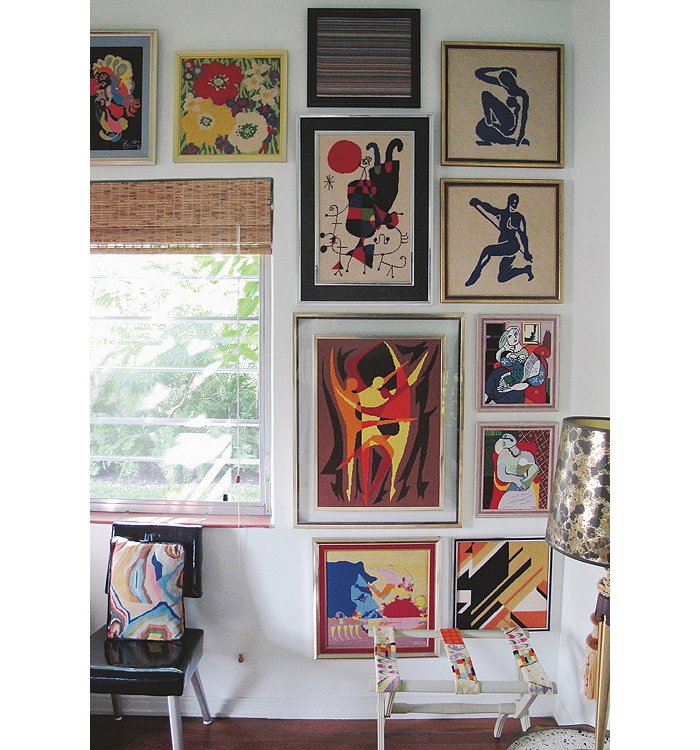 Lesson #4: It's Really, Truly Art
Can't afford a Picasso? Not to worry. A vintage needlepoint based on iconic works of modern art can start a collection of blue-chip "paintings" of pieces by Andy Warhol, Henri Matisse, Peter Max, and Joan Miró. Framed and mounted salon-style on the wall, they're a whimsical nod to the real thing.
Bonus Tip: "Don't be shy, and begin slowly. Remember, you can always edit and upgrade later. Learn your new topic by just looking."—Fritz Karch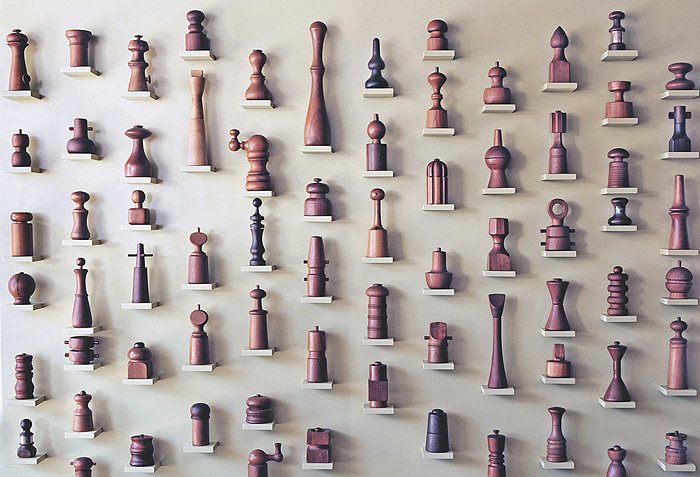 Lesson #5: Elevate the Everyday
Objects you pass by every day can become aesthetic wonders when collected and curated beautifully. Case in point: the pepper mill. With their curvaceous shapes, a collection of Danish mills, each displayed on its own shelf, feels more like a cool gallery wall than mere table seasoning.
Bonus Tip: "Discover the variety and subtleties within one material. Cluster and collect all wood, all metal, or all glass containers."—Fritz Karch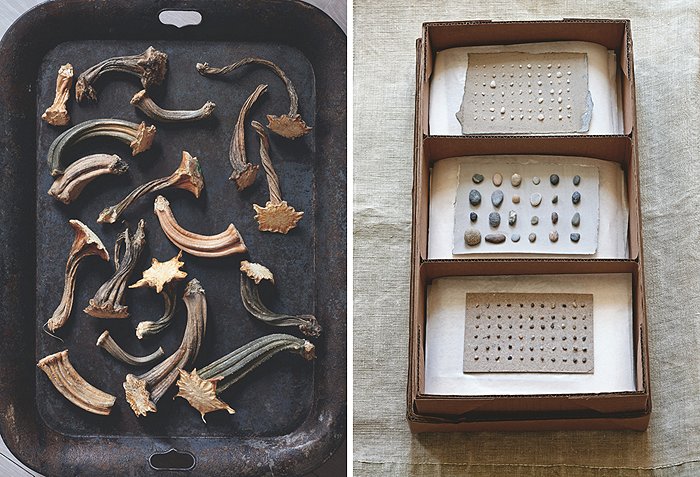 Lesson #6: They're Instant Seasonal Decor
Natural, found elements can be as arresting and of-the-moment as the most intricate of handcrafted collectibles. Whether they're stems from autumn pumpkins (aren't they elegant?) or an array of beach stones (sorted and glued onto paper), they provide a beautiful (and free) way to echo the season in your space.
Bonus Tip: "We always say, 'Put a dome on it.' The minute you put something under a dome it suddenly becomes more important. Try it and you'll see!"—Rebecca Robertson
Start An Instant Collection!