Megan Pflug, style guru behind our "Weekend Decorator" column, is an editor and interior designer based in New York. She's back with her latest crazy-cool DIY solution—this one to give your kitchen cabinets a colorful facelift without breaking out a paintbrush.
When a photo producer friend asked me for some design help with her tiny apartment kitchen, it all seemed simple enough for a weekend project. I was partially right. As soon as I stepped inside the kitchen, one of the biggest issues was obvious: The basic wood cabinets dominated (and cramped up) the already-small space. What I hadn't anticipated, though, were the strict building codes I had to follow: My friend lives in a co-op, which means no painting and no major renovation updates are allowed.
With all that in mind, I had to get creative with my solutions for updating the cabinets—and the backsplash while I was at it— without a lick of paint. The answer to our design dilemma? Removable vinyl sheets. Read on for how I used them to give the kitchen a minty-fresh upgrade.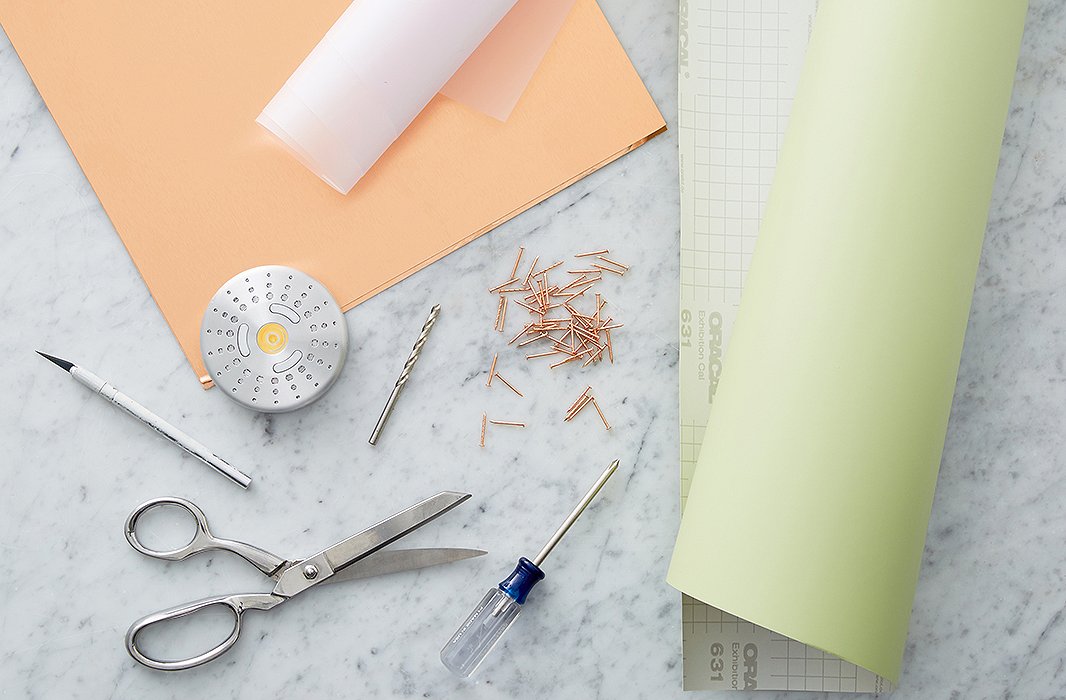 Here's what you'll need:
– Screwdriver
– Removable vinyl (I used 2 rolls)
– Scissors
– X-acto knife
– Double-sided tape or removable glue dots
– Thick Mylar sheets large enough to cover the surface of your cabinet doors (optional)
For backsplash:
– Copper sheeting
– Copper nails
– A hammer
Getting Started
Before getting into the nitty-gritty of this  cabinet DIY, you need to remove all your kitchen cabinet doors and knobs with a screwdriver. Staying organized here will save you from mixing up all your doors when it's time to reattach them. I marked down the position of each door on Post-its and applied them to the back of each door as reminders for myself. You'll also want to find a clean, flat surface to work on this DIY.
A Word on Mylar
If your cabinet doors have insets on the fronts, the above Mylar trick is a great way to transform the look of them. And if you're wary of wrapping your cabinets completely in vinyl, the Mylar sheet approach provides a firm backing for simply covering the surface with any fabric or decorative paper without tarnishing the wood underneath.
A Word on Trimming
Although it seems tedious, taking the time to trim all your corners carefully pays off in dividends at the end. Rather than think of it as simply smoothing out the back, which most people won't see, making sure your adhesive is trimmed to attach flat on the back will also help keep the front of your cabinets looking smooth.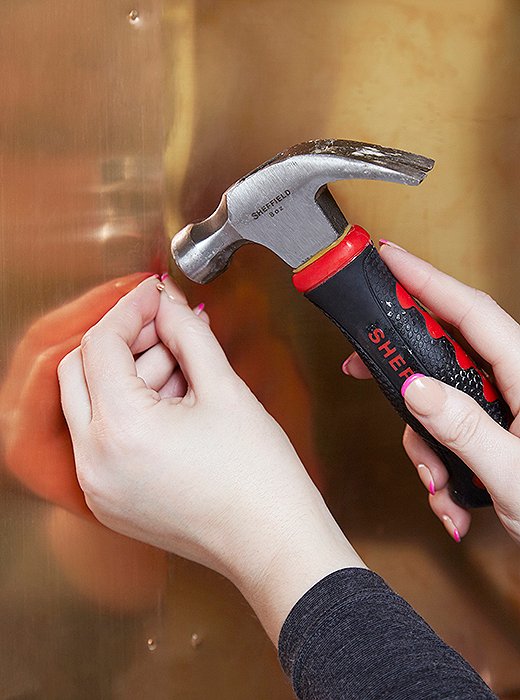 For the Glossy Backsplash
To bring in a little light and gleam, I opted for custom-cut copper sheets for the backsplash. I measured the wall surfaces I wanted to cover and then ordered pieces that were precut to size. I used one piece per wall along with one larger square that I positioned over the stove; to attach the sheets I used a few copper nails that will be easy to remove and simple to patch.