For the last of my DIY updates in a friend's West Village kitchen, I created a couple of shelves to fit into an unused corner, because let's face it, every apartment dweller is in need of additional storage. Using most of the same materials that came into play for her new leather cabinet pulls, I suspended two wood planks from brackets, each of which was crafted from a simple length of leather. Click "play" to see how I did it, and check out the full list of materials and step-by-step instructions below.
Here's What You'll Need
Drill and drill bit
Brass screws
Wall anchors
Brass-finish washers (#10S)
2 lengths of leather strapping
X-Acto knife
Latex paint (I used Ralph Lauren's Rue Royal)
Small paintbrush
Measuring tape
Wood shelf (mine was 24″ x 8″)
Step 1: Measure and Cut
To begin, measure and cut your leather. For each bracket, I cut a 48-inch-long strip of leather using an X-Acto knife. Using extrathick leather is really important for this project, since it needs to be sturdy enough to hold the weight of the shelf. I found strips of leather at Kaufman Shoe Repair Supplies here in NYC. If you don't have access to a store like this, vintage belts are another great option.
Step 2: Mark and Drill
Fold the length of leather in half, lining up the two ends, and mark the spot where the screw will attach the leather bracket to the wall. Use your drill to make a hole for the screw. Predrilling before you install the shelf, rather than trying to make the hole and attach the bracket at the same time, will ensure that your screw is centered.
Step 3: Paint
This step is totally optional, but I decided to paint the outside edge of the leather the same color as the cabinet to give the whole thing a more custom look.
Step 5: Attach
Once the paint is dry you're ready to attach your brackets to the wall. First, decide how much of the wood shelf you want to hang on the sides beyond the brackets once it's hung, and install your wall anchors in the wall according to where you want your leather brackets. I allowed for a couple of inches on either side—enough to make it look intentional and keep it secure. Next attach your brackets to the wall with a screw. Don't forget the finished washers on the front for a more professional look. Once the straps are on the wall, slide the shelf into place. There's no need to attach it to the leather; the shelf's weight will hold it in place. Now all you need to do is style your storage and enjoy.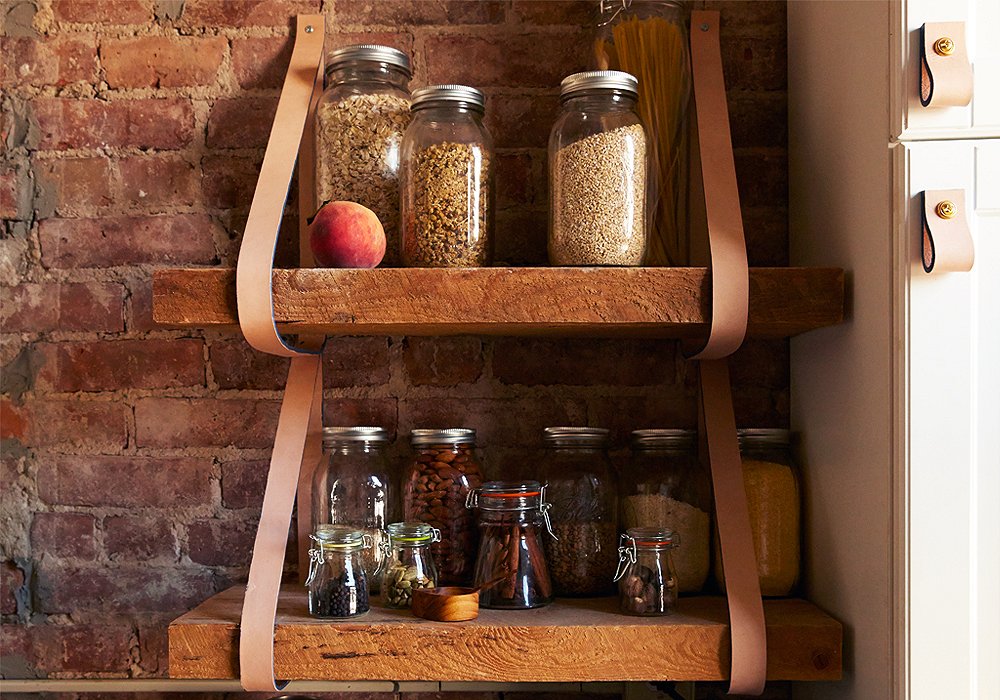 I hung two shelves, but even one would be perfect for something like bathroom storage or even a bedside table! The possibilities are pretty endless.
Want more fun projects? Check out my Weekend Decorator page. And be sure to share your latest DIY projects with us using the hashtag #WeekendDecorator!