Megan Pflug, style guru behind our Weekend Decorator column, is an editor and interior designer based in New York. She's back with her latest crazy-cool DIY solution—a seriously impressive and sophisticated paint job to help up your floor game. 
We renovated our kitchen a while back, and in the process we refinished the hardwood floors with, unfortunately, less than amazing results. I had used a dark stain for the kitchen floor, while the dining room floors still had a worn finish, meaning they didn't match up at all. Recently I finally decided to do something about the dining room floors.
I've always admired the bold look of a painted floor, especially the dreamy patterns that always seem to jump out of the pages of home magazines. I love how painted floors can pack so much style and drama into any space.
I took a few cans of paint to my dining room floors and painted them in an oversize tumbling-block pattern—all in just a weekend! Keep reading for my step-by-step guide.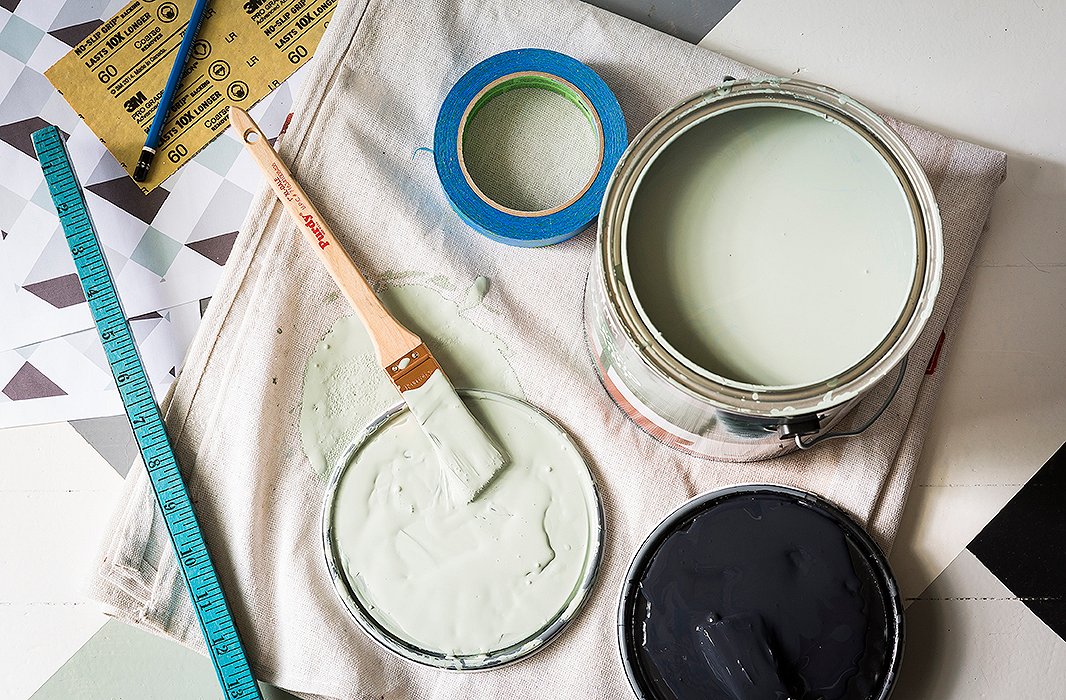 Here's What You'll Need:
The success of any project depends on the right tools. Luckily the materials for this project are actually pretty simple.
60-grit sandpaper
Zinsser primer
Porch-and-patio floor paint (I used Behr Flintridge PFC-42, Storm PFC-64, Tar Black PFC-75, and Pacific Fog PFC-62 in matte finish)
Painter's tape
A tape measure
A straight edge (I used a yardstick)
A small paint roller
A one-inch paintbrush
Floor polyurethane (I used Bona Sport Poly 350 in satin)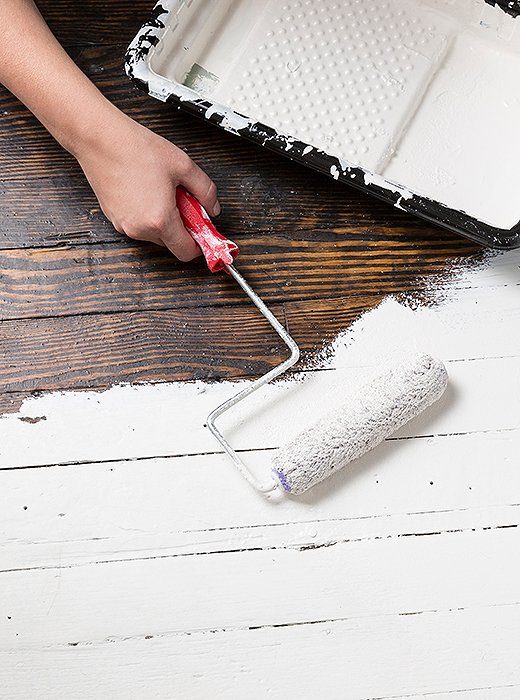 Step 1: Sand and Prime
Depending on the condition of your floors, your prep might vary a bit. In my case, because the finish on my floors was worn but still present I used a hand sander and 60-grit sandpaper to remove the finish. This will give your paint a nice surface to adhere to.
Next I cleaned the floor with a round of vacuuming followed by a good mopping. Once the floor was completely dry and dust free I used a small paint roller to apply two coats of Zinsser primer, making sure to follow the manufacturer's instructions. I decided to use the white primer as my white background color. If you want a different background color now is the time to apply it.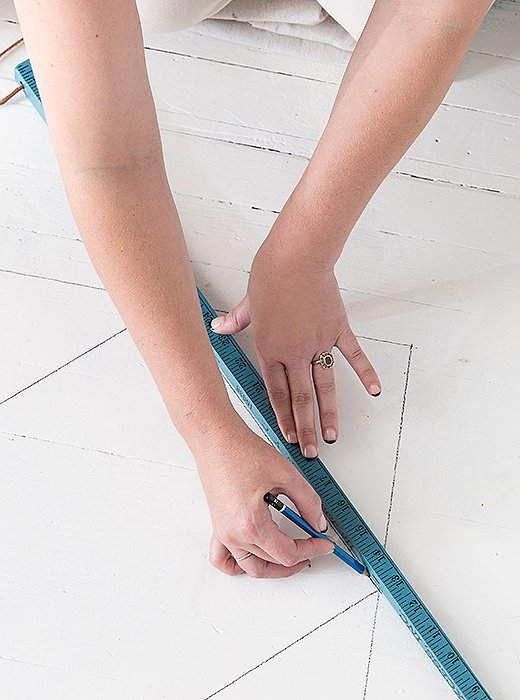 Step 2: Measure and Mark Your Pattern
Every pattern will be a little different. I suggest sketching out your pattern on a piece of paper so that you can reference it as you're marking out your design. I used a pencil and a straight edge to lay out mine, a fun take on the tumbling block.
A foolproof way to start marking any pattern is to find and start from the center of your room. I drew two diagonal lines that formed an X over the center point. From there it was just a matter of drawing the diagonal lines, marking one about every foot.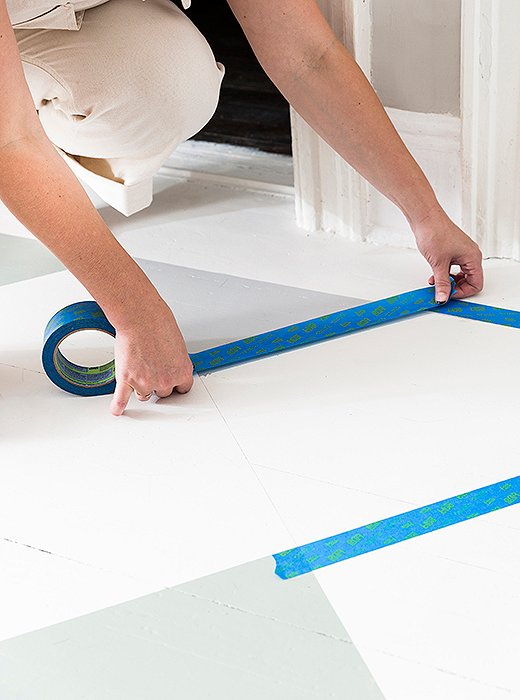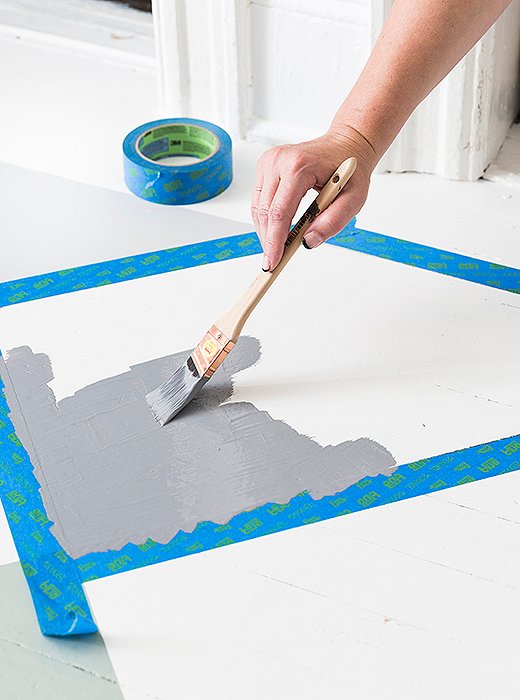 Step 3: Tape and Paint
At this point, I took a step back to make sure my pattern was penciled out the way I wanted it. With my final pattern marked out in pencil, I carefully taped out the edges of my color blocks along the pencil lines, one at a time. Then I moved on to applying the paint, filling in each block with a one-inch brush.
Because I used more than one color to create this pattern I found it easier to work my way through the design one color at a time, taping off and painting all the blocks that had the same color first. I used a latex porch paint that hardens over time but dries fairly quickly, so by the time I finished taping and painting one color I was ready to remove the tape and move on to the next color.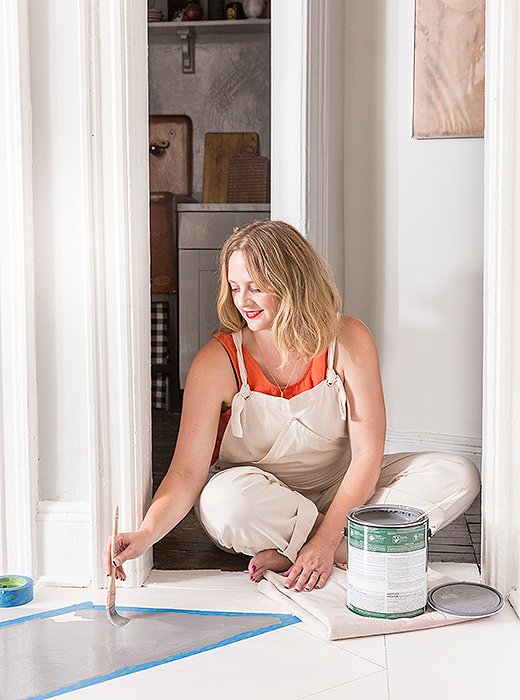 Step 4: Finish
Although it's not 100% necessary to apply a clear topcoat I felt that it was important to give my floor an extra layer of protection. I used a satin-finish topcoat designed for floors.
If you plan on doing this extra step make sure you choose a matte-finish porch paint for your designs—a glossy-finish paint will make it hard for the topcoat to stick to the painted layers.
I'm totally thrilled with the results. My dining room floors were pretty but bland, and this tumbling-block design really punched up the room with a lot of style. And it turned out to be even easier—and prettier—than I expected.
See below for more of my Weekend Decorator projects on One Kings Lane!