Megan Pflug, style guru behind our Weekend Decorator column, is an editor and interior designer based in New York. She's back with her latest crazy-cool DIY solution: an ingenious (and renter-friendly) way to add moldings to any wall.
Adding drama can be especially challenging in newer homes, where the default architecture style is especially pared down. But don't despair! Just because the bones of a space are simple doesn't mean you can't have some fun with classical details. With a coat of gray-blue paint and a spool of black grosgrain ribbon I created wall panels with faux molding and transformed this plain bedroom in one day. And my favorite part is that the ribbon is held in place by upholstery tacks, meaning it's a totally renter-friendly project that's big on style. Keep reading for my step-by-step how-to.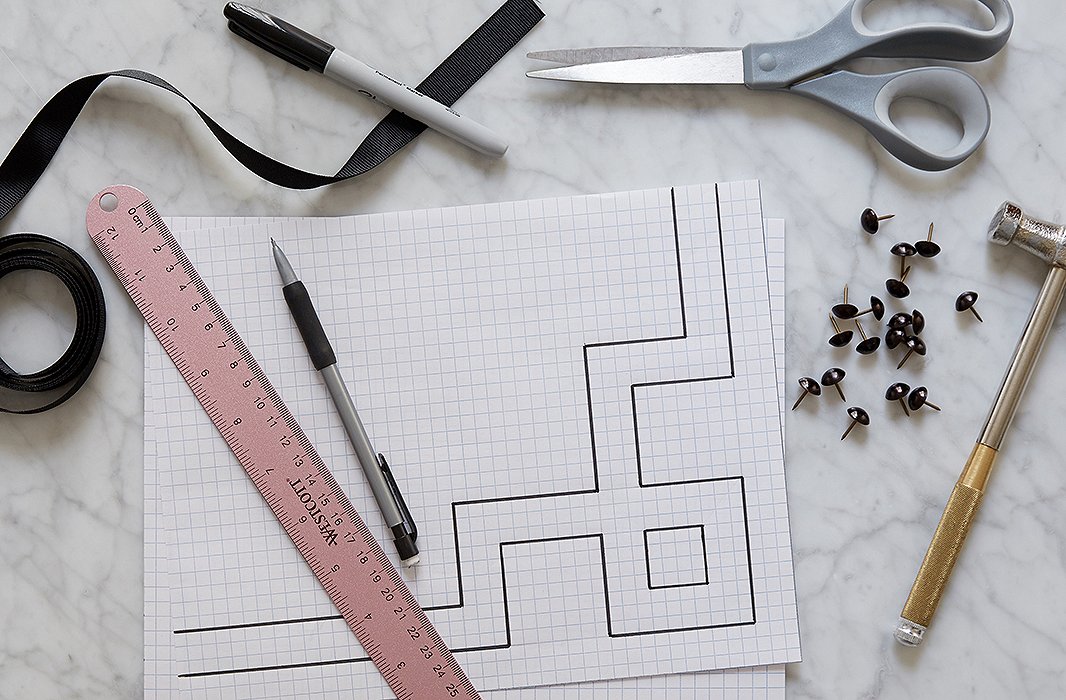 Here's What You'll Need:
– A large spool of grosgrain ribbon (1/2-inch wide and about 100 yards)
– A box of matching upholstery tacks (I used a Sharpie marker to color mine black)
– Pencil
– Hammer
– Scissors
– Measuring tape
– Greek key design paper template (download the PDF here)
Step 1: Prep and Layout
This is optional, but if you want to paint your walls, it's important to do it before anything else. I painted the walls of this bedroom Ralph Lauren Bespoke because I loved how this gray-blue would set off the black ribbon.
Step 2: Trace Out Your Molding Designs
Once you're ready, mark the corners for the outermost frame in each of your moldings. I used a pencil and measuring tape to mark all five of my outer-frame layouts on the wall. I followed the floor, ceiling, and corners of the wall to help make sure my lines were straight.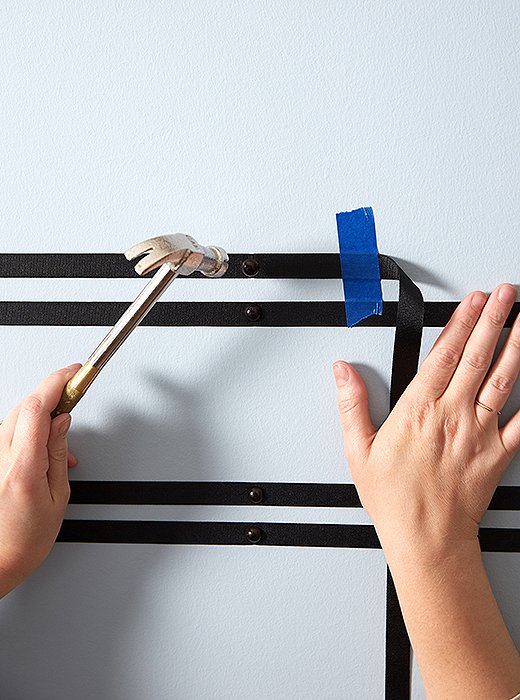 Step 3: Create the Outer Frames
Begin by cutting a large length of grosgrain ribbon long enough to go all the way around each of your outer molding frames.
Starting at one of your marked corners, secure your ribbon to the wall using an upholstery tack. Make sure it's not too firmly affixed, since it's used only to keep the ribbon in place for now.
Align your ribbon with the next corner, and fold it so that it creates a right angle. Then secure the fold with another upholstery tack. Make sure your ribbon is laid flat and pulled tight as you go.
Continue running the ribbon to all the corners of your frame, folding and securing each corner with a tack.
When you reach the first corner again, trim the ribbon a half-inch longer than needed, and fold the raw edge under. Carefully remove the first tack, and secure both the ends of the ribbon with the same tack.
In spots where the ribbon spans more than 20 inches, use a tack to help keep the ribbon from sagging. A little painter's tape can also help hold the ribbon in place while you're attaching your tacks.
And the first part is done! Take a step back to make sure your outer ribbon frame is straight.
For my simpler bottom panels in this bedroom, I repeated this process a few inches inside the outer frames to create the interior borders, resulting in the rectangle-within-rectangle designs.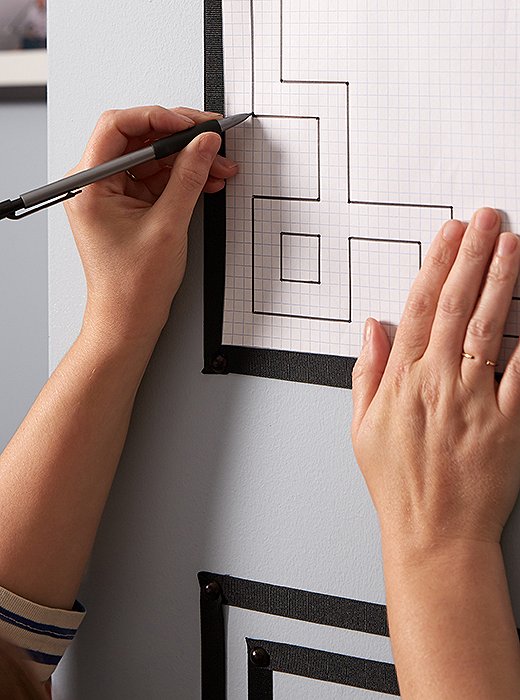 Step 4: Create the Interior Greek Key Designs
For a little extra classical flair, I created a Greek key pattern for a few of my interior corners. I sketched the pattern out on graph paper for use as a template to mark the pattern on the wall. Because working the ribbon into this design requires a little more precision, I chose to do them only for the bottom corners of my top three panels.
To begin, use an upholstery tack to poke small holes in your template, one in each of the corners of the design.
Next, align your template with the inside corner of the outer ribbon frame.
Use a pencil to transfer your design to the wall using the pinholes you just created.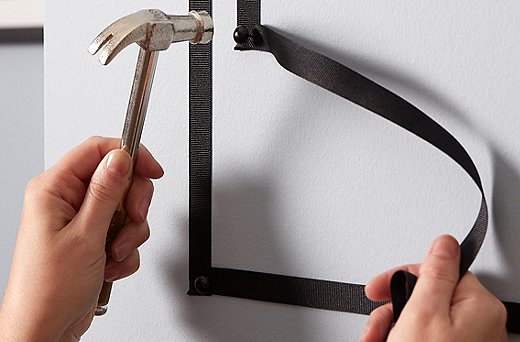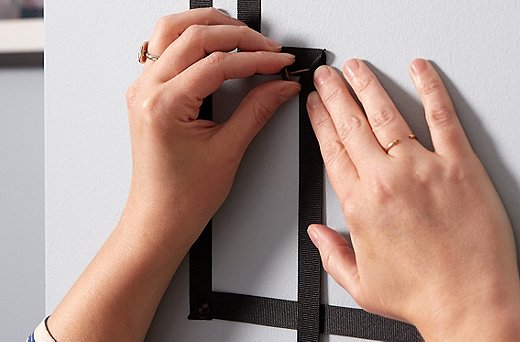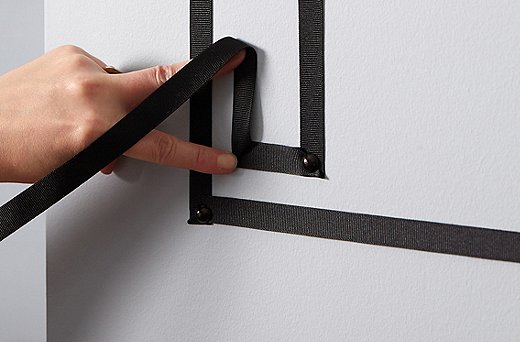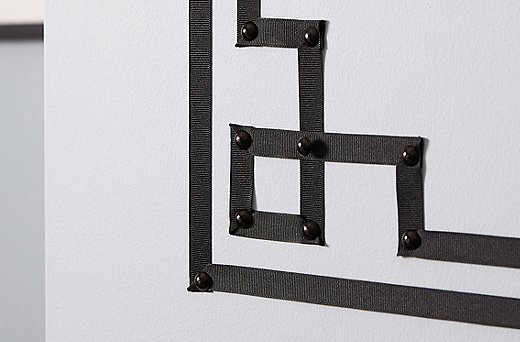 4. Beginning at the top of the panel secure a long length of ribbon, just as you did for the exterior ribbon frames.
5. Using your corner markings as guides, align your ribbon and fold it to create right angles at each corner (as you did with the outer frames). Be sure to secure each corner with an upholstery tack.
6. Repeat this for each frame to which you want to apply this pattern. Remember to step back after finishing each frame to check that the interior border is straight.
Step 5: Bring in Chic Finishing Touches
For finishing touches, I hung a beautiful piece of a vintage canvas painting in the panel above the bed for a focal point and brought in a curvy wood bedside table to contrast with the strong lines of the faux molding. I love how the ribbon borders frame the art and also function almost as a headboard. And there you have it: an alternative to classical molding that's elegant, less costly, and dare I say, picture-perfect.
I love the way that this DIY totally transforms this bedroom. The ribbon molding adds so much architectural interest and really draws the eye up to showcase the amazing ceiling height.
See below for more of my Weekend Decorator projects on One Kings Lane!