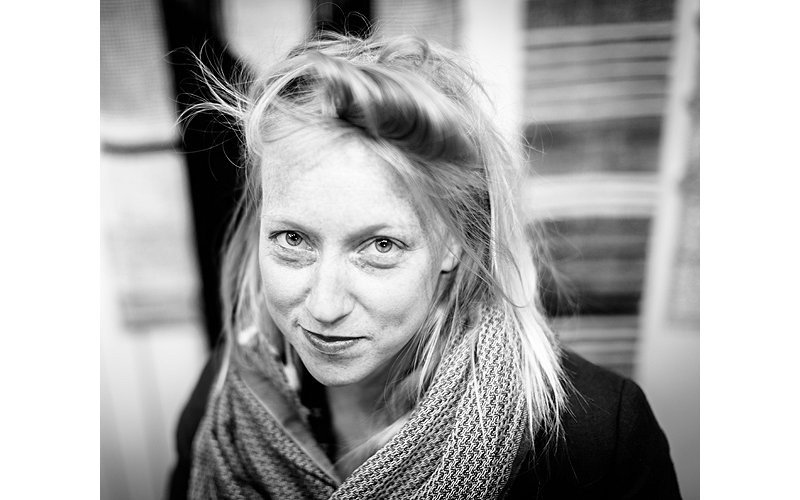 Justine Ashbee took her first weaving class as a student at the Rhode Island School of Design. "There were large looms spread out between shelves filled with cones of fibers of all different textures and colors," says Ashbee. "It was a very stimulating environment, if you find textiles inspiring, as I do." After graduating, as so often happens with the creatively inclined, she detoured into other mediums, fashioning a career out of line drawings and founding Seattle art-collective Cairo. Then, in 2010, she participated in a weaving residency program at New Mexico's Herekeke Arts Center.
"I felt like I'd finally come home," she says. "The drawings I was doing, I realized, were illustrations of my weavings." These days Ashbee is living across the pond in the UK ("I met an incredible man with whom I fell in love, and his company is currently based here, so I made the move"). And it's there she creates her woven works, including gossamer pieces that juxtapose sharp geometric lines with spun silver and gold, for her collection Native Line.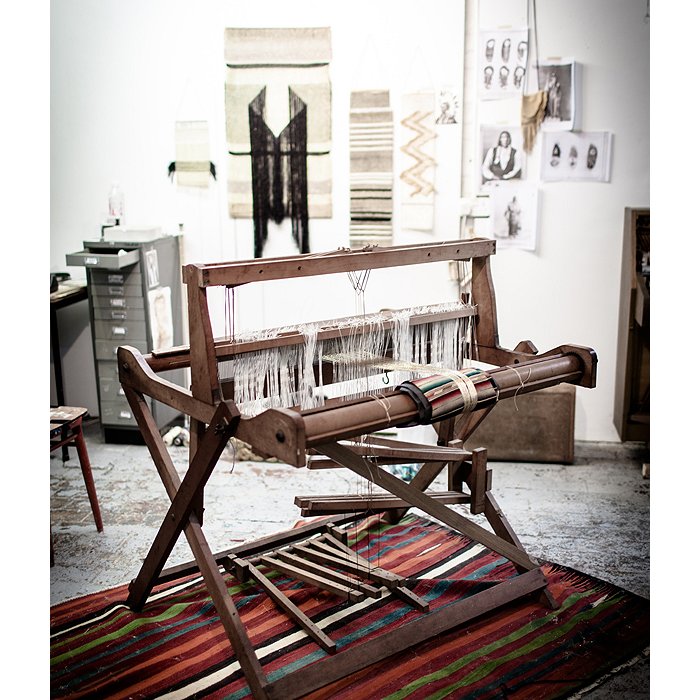 Inspiration
"I am deeply inspired by ceremonial costumes from cultures including the Navajo, Hopi, Dogon, Incan, and ancient Egyptians," says Ashbee. "And I find it incredible that the mythologies inherent within the ceremonies have thematic patterns: There's a great amount of connection with Gods, Spirits, and Great Beings that come from the sky with gifts and wisdom. There's worship of the sun, stars, and the moon. And these practices have a very romantic element to me."
Materials
"I use different fibers for fringe and warp, like gold, silver, and gunmetal wire from jewelry suppliers, metallic threads from Parisian flea markets, natural cotton from Tunisian souks, and bamboo thread from Seattle," says Ashbee.
Method
"I use two floor looms, called 'jack looms," which have foot peddles that lift different warp threads up through a jack device, creating a 'shed' through which I weave gold and silver wire," says Ashbee. "I tend to just sit at the loom and wait for the piece to emerge as I weave. It is a process of discovery: As I weave I allow new decisions and patterns to guide me. Sometimes I won't know what a piece really looks like until it comes off the loom—which is both surprising and fun."
Studio
"The ritual of cleaning is part of the process for me. Not so much at the end, as at the beginning. Cleaning the studio out, beating the weavings rugs covered in tiny fibers and threads, reorganizing the piles of fibers and wires, disentangling the tools, throwing the bags of scraps out. It's a very therapeutic process that signals a shift that I'm ready to create something new, ready to re-set the energy in the space and start again."
Weaving is one of the oldest technologies we have. To be engaged with this practice feels, to me, to be a magical thing.