With its black-sand beaches, endless miles of tundra, and towering waterfalls, Iceland's otherworldly landscape provides the perfect backdrop for photographers looking to document a place that exists seemingly by magic. Lensman Drew Doggett was similarly attracted to the wild scenery of the island, but it was the Icelandic horses—revered for their purity of breed, friendly disposition, and hard work ethic—that made him take the trip to capture his aptly titled series "In the Realm of Legends." Read on to discover how the collection came to be.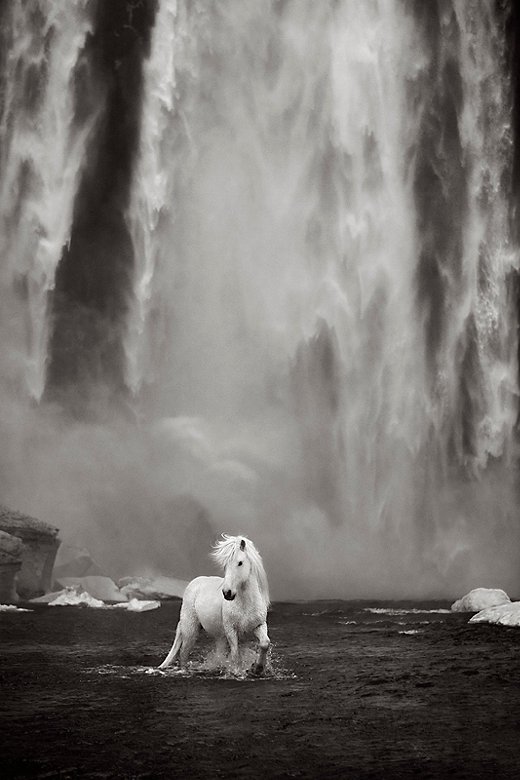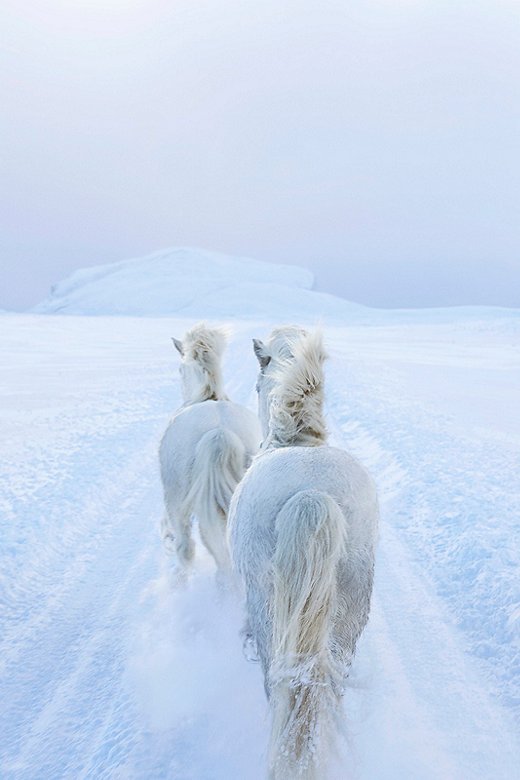 One Kings Lane: What's your process for discovering new places to photograph?
Drew Doggett: I keep a very comprehensive and ever-growing collection of references, research, locations, and concepts that I am constantly refining and growing. I am interested in subjects that are timeless, so prior to ever picking up my camera I always ask myself, "Will this be relevant in 20, 50, or even 100 years from now? Is this an image I, personally, would want to live with forever, one that I would hang in my bedroom and want to wake up to every day?" Often my priorities of what to shoot next come down to whether or not the subject may be lost, forgotten, or altered in the near future.
What drew you to this particular breed of horses?
You could say that this series is a mix of my love of unique equestrian breeds—like the Sable Island horses—and incredible, nearly unbelievable locations—like from my series "Dunes: Landscapes Evolving." The breed itself has an incredible backstory; these are [descendants of] the original Viking horses who came over with the first inhabitants of Iceland. They are friendly and eager to help and will come right up to you, and the extreme backdrop of Iceland is a perfect counterpart to their personalities in this way. The waterfalls, volcanoes, and black-sand beaches are just part of what makes Iceland like nowhere else on earth. Yet despite these natural, somewhat fearful features, the horses are totally comfortable. In the images featuring the waterfall Skógafoss, you can see that the horses are at ease even though millions of gallons of water are pounding into the pool behind where they stand. These horses are at home in conditions that would be considered hostile to most. It is part of their magic.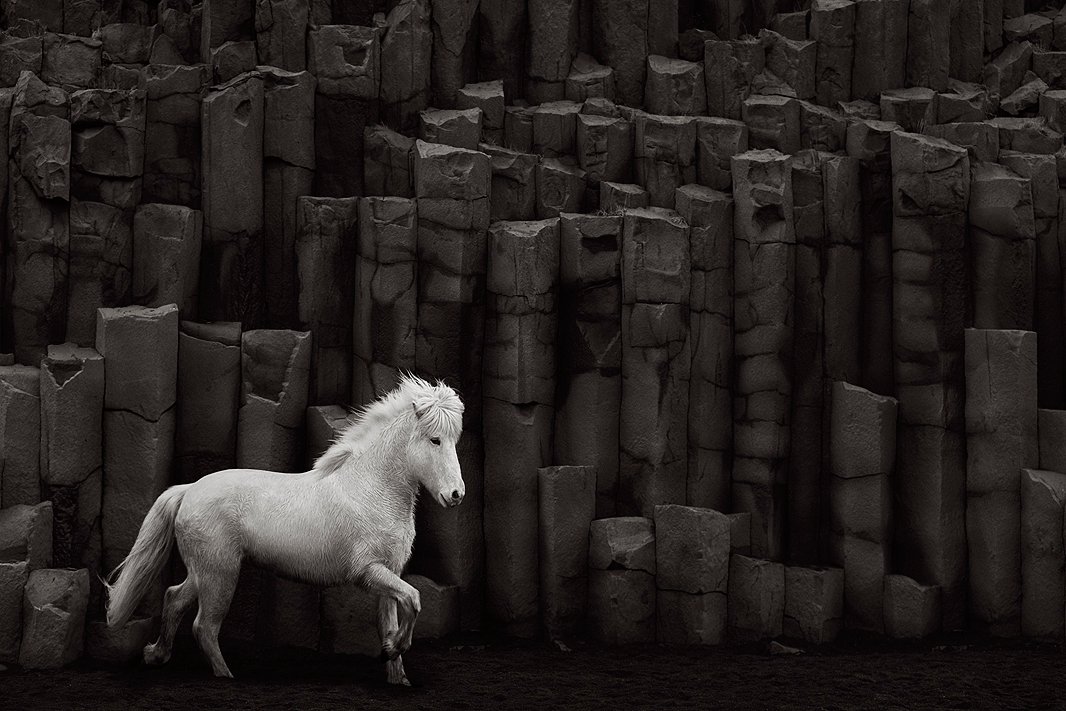 What were the difficulties in photographing this series?
We had heard that Iceland experiences all four seasons in a day—and that was exactly what we got! Beyond working with live animals, the most difficult part of making this series was the weather. I would spend hours working in the low temperatures, trudging through the snow or standing in freezing water. I was also dismayed to wake up one morning and find out that the area I had fallen in love with and that we had shot in the days before was no longer accessible due to high winds and snowdrifts. At one point we had gotten out of our vehicle and the wind was so strong that standing still without being pushed over was nearly impossible. Locals told us that around that area, car doors were prone to flying away if hit with the wind at the right angle!
A lot of your work is in black and white, and many of these images are in color. What makes you shoot something in black and white versus color?
If I am being honest, I had intended on this series being entirely black and white. However, when I first saw the cool blue otherworldly tones of the glacial water and ice as well as the blacker-than-black volcanic sand, I realized that the natural color palette of Iceland was an important part of the animals' identity and their home. Black and white is my mainstay because it is timeless and classic, but I always feel that the story comes first.
How did you come up with the name "In the Realm of Legends"?
There is an underlying element of fantasy that runs through this entire series. When I set my sights on traveling to Iceland, I wanted to read up on the history, [and] soon found that mythology was intertwined in most of the stories told about [its] beginnings. Through diving into myths and folklore, I found that horses hold an incredibly special place in Icelandic history— both real and imagined. They occupy children's stories, mythology passed down from generation to generation, and they are still hugely important in contemporary Iceland. At that point, it became clear that I would need to incorporate some of this attitude into the series itself. Beyond the images—which often reference collective ideas of fantasy or utopia—I landed on the title "In the Realm of Legends" because being in Iceland did truly feel like I was incredibly far away from home—perhaps in a different world altogether.