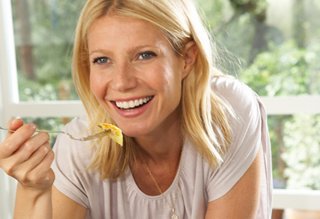 With the publication of her first cookbook, My Father's Daughter, we asked the enviably talented, Gwyneth Paltrow to divulge a few of her personal entertaining tips. From what she serves to how she sets her table, Paltrow reveals her formula for pulling it all off with aplomb.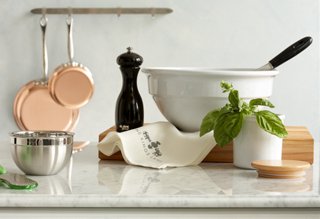 Stock Up
With her busy schedule, Paltrow eliminates the stress of a last-minute trek to the grocery store by keeping the basics for a multitude of meals on hand. "I like to keep my pantry well stocked," says Paltrow, "since our house is the place where friends can show up at any time, often unannounced."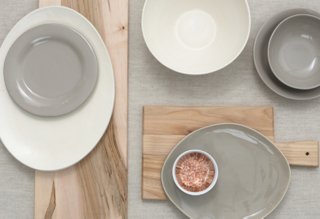 Keep It Casual
Paltrow's hostess style is low-key, opting for platters over perfectly presented plates. "I usually make rustic meals prepared family-style so that mealtimes are relaxed and homey," says Paltrow. "I love having fresh flowers on the table, never too arranged, and great wine, always." Her cookbook is chock-full of recipes perfect for communal dining and devotes an entire section to pasta, the ultimate family-style dish.
Simplify The Scene
Nothing fussy for this hostess—simple settings and a pared-down display are what she loves best. "I never use big flower arrangements or tall candles, as they get in the way of good conversation," says Paltrow. "I like to mix and match small, textured vases with casually arranged flowers."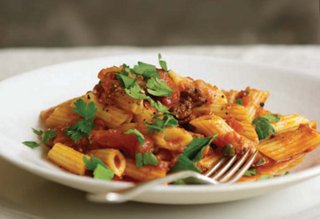 Planning The Menu
"I always try to serve food that is robust but simple at the same time," says Paltrow. It's no surprise then that recipes such as fish tacos, penne puttanesca, and seven types of burgers are featured in her cookbook. "I like for people to really enjoy their meal and by the end, feel sated, happy, and relaxed…full in more ways than one."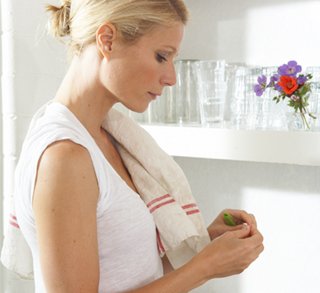 Paltrow's Playlist
Gwyneth's four musts for a great dinner party are: "Good music, a relaxed attitude, alcohol, and one really funny guest." When it comes to the evening's playlist, REM, Santogold, MGMT, and the Strokes are some of her go-to artists.
CLICK HERE to have Gwyneth's playlist going at your next get-together.
Portraits courtesy of My Father's Daughter (Grand Central Life & Style)