If you've found yourself with some extra time on your hands this weekend, you've come to the right place. Today we're bringing you some of our favorite home decor DIY projects that you can easily tackle in a weekend. Read on to get inspired—and get your staple gun handy!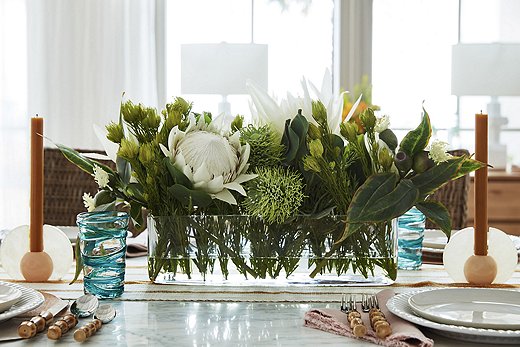 A Glamorous Brass Chandelier
Inspired by a custom light designed by Københavns Møbelsnedkeri, our resident crafter, Megan Pflug, set out to replicate its minimalist lines and unpolished brass components. Adapting designs she'd seen by Lindsey Adelman, she devised an original beauty that comes together in less than an hour. The hardest part? Ordering the parts—which she's made quite easy for us.
A Leather-and-Cord Headboard
Inspired by the ingenious bench cushions in Panama City's American Trade Hotel, designed by Commune Design, Megan imagined a headboard for our director of social media and integrated marketing, Rosie D'Argenzio. Made from buttery strips of leather, leather cord, and chambray, it nails the organic modern look.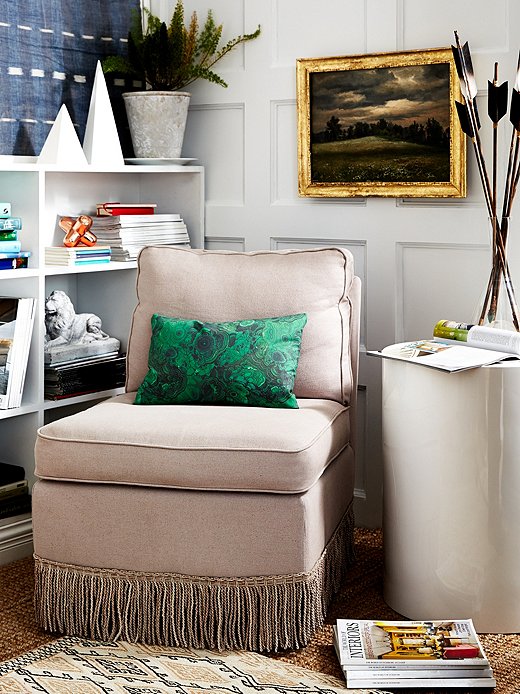 A Fringed Slipper Chair
Fringe is one of our favorite trends both in fashion and in home decor. It's also one of the simplest ways to take any old upholstery piece from drab to fab. Megan updated a basic slipper chair simply by adding a bit of bullion fringe to its base. It couldn't be easier—or more chic.
A Vine Garden Trellis
It's hard to make a backyard any more elegant once you've installed a garden trellis made of meandering vines. Megan dreamed up this beautiful vine trellis, and not only is it utterly sophisticated, it's also incredibly easy. Solid gold—or green.
An Antiqued Mirror
We love the look of antiqued mirror. But you don't have to go digging through flea market bins to board the bandwagon; with a little spray paint you can transform any old—or new—mirror in your midst into one that looks like it has stories to tell.