It may not be fair, but it's certainly true: Not all bathrooms are created equal. With common woes including cookie-cutter hardware, boring tilework, and out-of-date fixtures, the bathroom can often feel like the one space in your home that doesn't quite fit in. Renovations can help you revamp, but such larger-scale endeavors aren't always feasible—especially for renters. Fortunately we have some easy ideas to help give your bathroom a brand-new look without all the work.

Add Gorgeous Greenery
Whether it's a faux floral, a lush fern, or a clipping from your garden, plants are perfect for adding color, texture, and a feeling of life to the bath. Try a vase or a planter with an eye-catching pattern or shape for an extra dose of style.
Wake Up the Walls
Even the tiniest bathrooms have a little wall space, and playing it up will help your bath reach its maximum potential. Keep in mind that moisture from steam can seep into frames and potentially damage your pieces; for this reason, we recommend hanging art set behind glass only in powder rooms. For spaces with showers and tubs, designs made directly on canvas and wall sculptures are the safest bets.
Marry Form with Function
One reason the bathroom often doesn't feel in line with the rest of your home is that it's too utilitarian. A solution? Bring in some furniture! Think small pieces that have a functional purpose but look good too, such as an accent chair or a tiered side table for storage. We also love garden stools: They offer a spot to perch and an extra surface, and they can easily be tucked away or moved to another area in your home when not in use.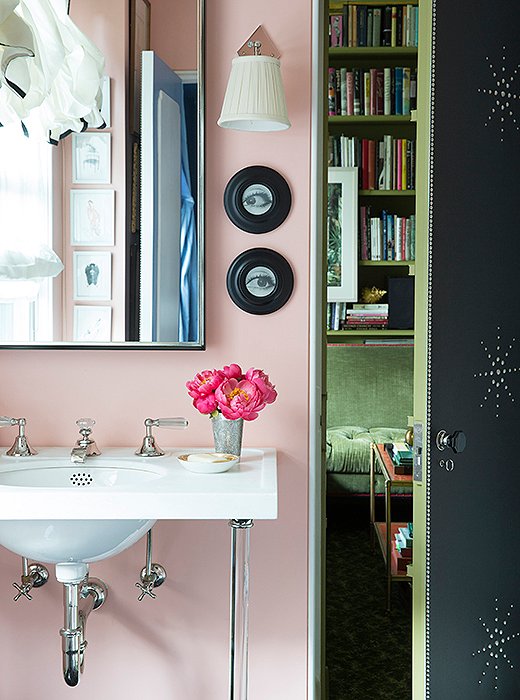 Try a New Hue
Whites and creams are often the default wall colors for bathrooms—and there's certainly nothing wrong with a lightened-up, neutral look. But for those seeking a little something more, consider painting the walls a favorite hue. It's a simple way to make your bathroom feel more personalized—and given the small size of the room, it shouldn't take more than an afternoon or two to accomplish.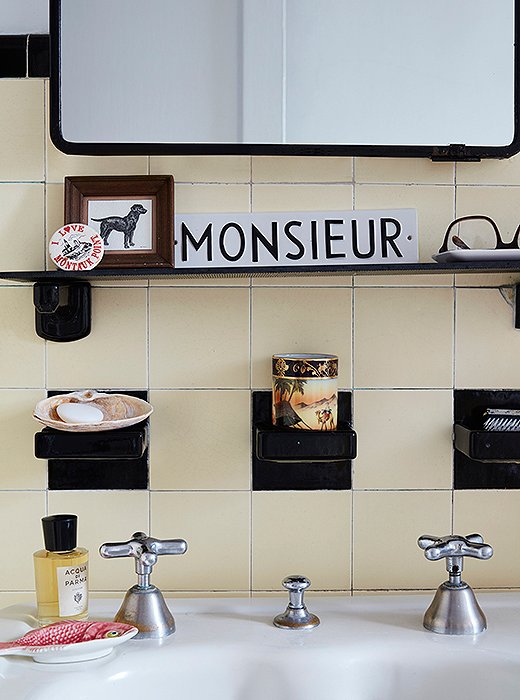 Accessorize Thoughtfully
The bathroom is first and foremost a practical space, meaning everything in it needs to serve a function. But that doesn't mean everything needs to look purely functional. Pair elevated accessories, such as a statement soap dish or a chic drinking glass, with your most beautifully packaged toiletries to create a sink vignette that's both practical and pretty.
Take Advantage of Odd Spots
Thanks to their petite size, bathrooms often come with a few quirks. Instead of shying away from them—or covering them up—embrace them. Create an artful vignette on the back of your toilet seat. Outfit the random ledge in your shower with a plant or a waterproof objet. Place a candle or a collection of vases on the empty windowsill. In a small space, every detail counts.
Elevate the Wastebasket
Say goodbye to that eyesore of a plastic wastebasket and instead introduce something that feels just as elevated as the rest of your home. For a subtle look, we love matching the wastebasket's finish to that of the bathroom fixtures—but we're never ones to shy away from bold colors or textures either.