One Kings Lane style guru (and resident Weekend Decorator) Megan Pflug is back with her latest crazy-cool creative DIY solution.
I get that creating a garden from scratch might feel out of reach, but it doesn't have to be! Whether limited space is holding you back or a challenging climate has turned your green thumb blue, I've got you covered. Keep reading to find out how I transformed two neglected outdoor spots into super low-maintenance green spaces with just a few pots and some well-chosen plants. And the best part is that both gardens are as simple to create as they are to care for. Let's get started!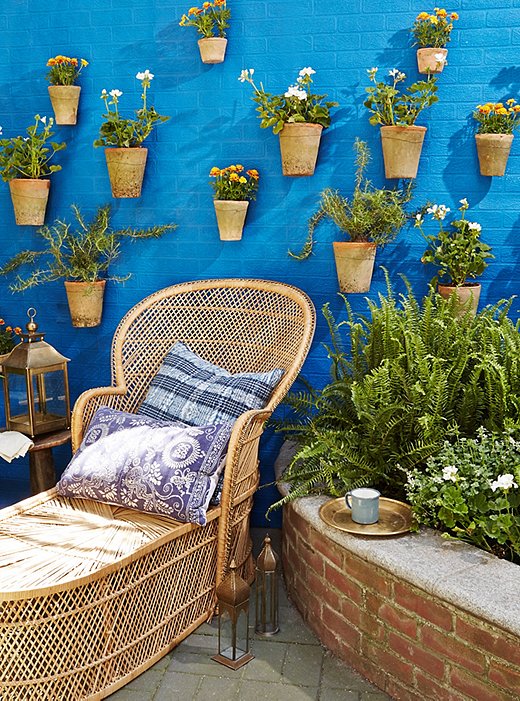 Got a Small Space?
Think vertical! To transform this drab brick wall into a vertical dream garden I used wall-mounted flowerpot clips, a few flowerpots, and a little outdoor paint.

Step 1: Pick the Right Plants
Hanging pots tend to dry out fast, so I picked a few of my favorite plants that don't mind dry conditions. I planted one or two plants per pot and limited myself to geraniums, rosemary, and marigolds. Aside from being low-maintenance, these plants (along with catnip and citronella) repel mosquitoes! Who doesn't want to keep their chill zone bug-free?
Tip: You might need to add a little potting soil to fill out the pots. When you do, it's a good idea to add a few water-absorbing crystals to the soil. They help keep the plants hydrated and happy. If you've never used them before, they look a lot like sea salt, and all you need is a pinch or two.
Step 2: Paint
I chose to paint my brick wall in Benjamin Moore California Blue. I love the contrast between the electric blue and the natural tones of the pots and plants, and the combo reminded me of some shots I'd seen of Jardin Majorelle, Yves Saint Laurent's garden hideaway in Marrakesh.
Tip: When painting a highly textured surface such as a brick wall, you can save yourself a lot of time by using a paint roller with a long nap.
Step 3: Install the Hardware

Next, I screwed the flowerpot clips into the wall. If you're hanging them on a wood surface you can screw them directly into the wood. In my case the wall was brick, so I used a drill and a masonry bit to predrill the holes and inserted anchors to hold the screws in place. Once your hooks are in place you simply slip the pots into them. The tension will hold the pots securely.
Trying to Conserve Water?
Think Palm Springs! With water conservation top of mind in so many states, I created this minimalist garden using just six large plants. Fewer plants equal less water. The key to recreating this look is to let the landscaping—the pots, the gravel, the modernist trellis—do the heavy lifting.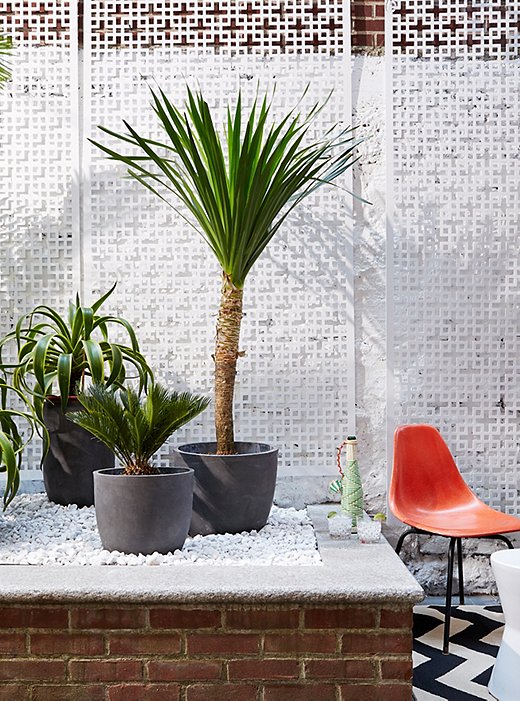 Step 1: Hang the Trellis
Before I started work on the garden, I hung my midcentury-inspired trellis on the wall. This particular pattern has a vibe similar to that of the facade of the Parker hotel in Palm Springs, which I love! Aside from adding some major style and texture, the trellis also disguises an ugly concrete wall.
Step 2: Prep the Garden Bed
Next, I leveled out the soil in my garden bed with a rake and cut several lengths of landscape cloth to cover the soil. To finish the bed I poured the landscape rocks on top of the cloth and used my hands to spread them out.
Tip: Landscape cloth is a porous cloth designed to keep weeds at bay while still allowing water to pass through. It will also help keep your rocks from sinking into the soil over time. It's very inexpensive and available at most garden centers.
Step 3: Pick the Right Plants
I chose sago palms, agaves, and arborea for my planting. This mix works well in my zone, but you should check at your local garden center to find the best fit for yours. I bought two of each kind and planted them in matching pots of varying heights before arranging them in groups of three along my flower bed. I also recommend choosing mature plants and large pots so that your bed is instantly filled out.
Tip: Regardless of the exact plants you use, it's key to choose plants with interested shapes in a variety of heights. Because you are using so few plants, the shape of each one really matters.
We love to see what you're making! Share your weekend projects on Instagram using #WeekendDecorator, or follow @onekingslane to be sure you never miss a project.