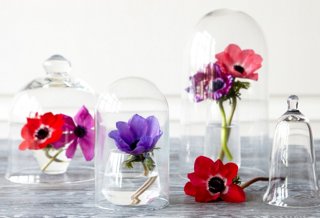 Sometimes less is more. With just several cloches and drinking glasses, you can turn a few flowers into a stunning yet simple tabletop display.
Start with a grouping of mismatched clear glass cloches and drinking glasses.
Match each glass to a cloche: For a shorter and wider cloche, use a stout glass. For a tall and skinny cloche, use a slim glass.
Cut your flowers to fit under each cloche, leaving at least three inches of space between the flower and the top of the cloche.
Although some of our cloches came with a base, we chose not to use them, to allow for a more airy feel.
Tip: This is especially well suited for outdoor entertaining, as the cloches protect your flowers from gusts of wind.
"This is a great option for fresh-cut garden flowers because you need only a few blooms. You can display your garden's bounty with pride. "
—Megan Pflug, stylist