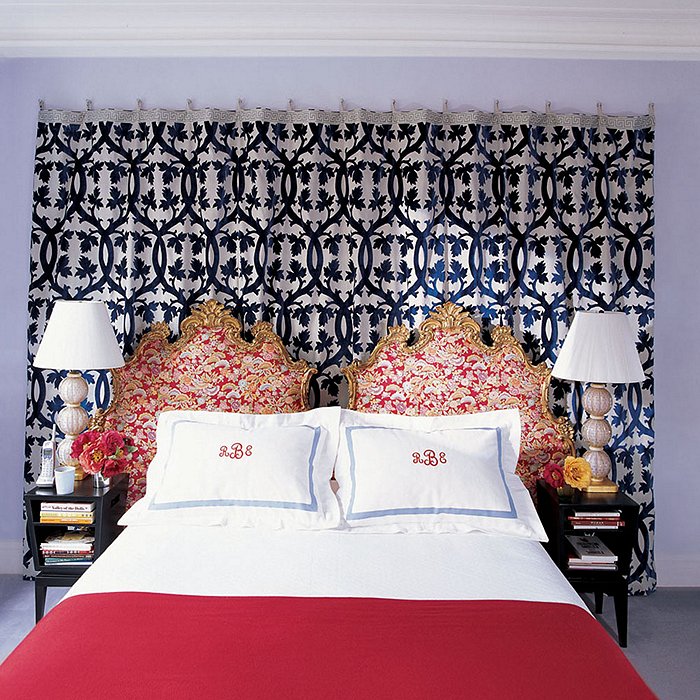 If you're having trouble deciding on the perfect headboard, consider something entirely different: draping a gorgeous curtain behind the bed. Plus, even when you do find a headboard you love, you can keep the curtain there for added drama.
Get Started
1. When choosing the size of your curtain panel, a good rule of thumb is for the fabric to end just outside the edges of the bed or, if you have them on either side of your bed, the nightstands.
2. Measure the width and length of the space you want your panel to occupy. Standard-size curtains will easily work for this project. You can use two or more panels placed side by side.
3. Use standard drapery hardware based on your curtain's header style. The tabbed curtain above hangs from individual hooks, but you could also use a decorative curtain rod. The best part is, you can easily switch out your fabric for something else at any time.
Things to Consider
The higher up the wall you start, the grander your curtains will appear. Floor-to-ceiling fabric makes the strongest visual statement.
A narrow curtain is more traditional and reminiscent of an actual headboard. For twin beds, matching narrow curtain panels are a great choice.
I love this project because there is no heavy lifting. All you really need to know is how to use a screwdriver.