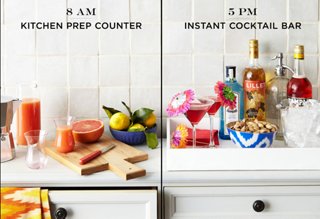 Wire shelving and other freestanding kitchen storage options are usually more about function than form. If you're in need of more kitchen counter space, try a versatile piece such as a dresser or a chest of drawers. It will add an upscale, decorative look while providing additional work and storage space.
Choose a piece of furniture with ample drawer space. Deep drawers are great for storing dishes, pots and pans, and pantry goods. Shallow drawers work well for spices, knives, utensils, and kitchen linens.
If you plan to use the piece for food prep, consider protecting the surface by covering the top with butcher block.
And placing a rectangular tray on the work surface transforms the chest into a welcoming mini bar. Outfit the tray with glasses, liquor, your favorite mixers, and ice—and don't forget the cocktail umbrellas!