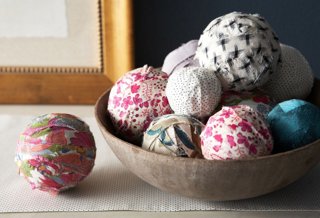 Looking to add a bit of spring color and pattern to your home? These incredibly durable, eye-catching objects are easy to make and will instantly refresh your space.
What You'll Need:
fabric scraps (about 1/4 yard per ball)
an assortment of balls (we used tennis and baseballs and leftover balls of yarn)
fabric glue
scissors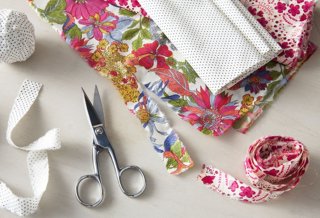 How To:
1. Rip or cut fabric into thin strips. (We especially like to use thinner fabrics, which rip easily resulting in a pretty, feathery edge.)
2. Attach one end of a fabric strip to a ball with a dot of glue. Wrap strip around ball, crisscrossing to cover any exposed areas.
3. When you reach the end of a strip, secure with glue. Continue with additional strips of fabric until your ball is fully covered.
Tip: Quilting-supply stores sell fabric in "fat quarters," which are typically 18″ x 22″. These fabrics are usually small prints, which work well in this context, and stores generally arrange them by color to help you compose your look.
Sources: Fabrics from City Quilter and B & J Fabrics

"These globes are a great way to add color or florals to your decor without too much of a style commitment. And if a nice piece of fabric gets ruined, now you can put it to good use."
—Megan Pflug, stylist