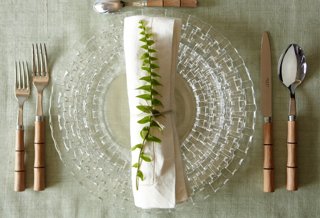 Personalize a place setting with natural elements easily found in your home or garden. Organic shapes, such as a fern frond, lend a contrasting texture to your dishware and glasses, creating a visually alluring tabletop.
For our place setting, we used a Boston fern. In keeping with the botanical theme, we used a cut length of natural jute twine to keep the frond in place. The twine also serves as a napkin ring.
Fold a standard-size cloth napkin into a square, then roll it up. Place a fern frond on top of rolled napkin. Secure by wrapping twine around the napkin bundle, finishing with a knot. Cut off any excess twine.
Things to Know
The length of the frond and the napkin should be about the same, so feel free to trim your frond to fit.
Young stems of forsythias (which bloom in spring) are a nice alternative for this project. A geranium leaf or flower would also work nicely.
Fern fronds will stay fresh out of water for up to 24 hours. This means you can make your napkin bundles in advance.
Tip: Since fern fronds naturally lie flat, they can also be used to form a runner. Crisscross fronds down the length of your table for a truly organic look.