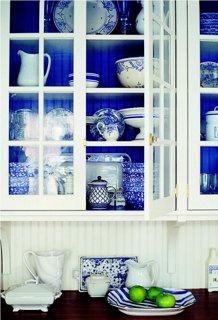 Rather than downplay a storage area, transform it into a focal point. Paint the shelves or the back wall of your open shelving or glass-fronted cabinets to add a surprising splash of color that won't overwhelm your space.
What You'll Need:
Fine-grain sandpaper
Tack cloth or a damp sponge
Painter's tape
Primer
Paint
Paintbrush
How To:
1. Lightly sand all surfaces to be painted.
2. Remove any dust leftover from sanding with the tack cloth or damp sponge; if using the latter, let the surfaces dry before proceeding.
3. Tape all edges where the paint will meet the exterior of the cabinet.
4. In most cases, you should use a primer as your first coat, as it helps the paint adhere to the surface. For factory-finished cabinetry or shelves, look for a primer specifically for nonporous surfaces. This will prevent you from having to remove the existing finish.
5. Now you're ready to paint. Apply multiple thin coats, allowing each coat to dry according to the manufacturer's directions before applying another. Make sure painted surfaces are completely dry before placing objects on shelves.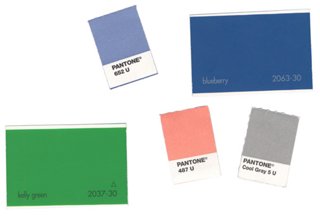 Tip: We love paint with a high-gloss finish. Above are some of our favorite colors for this project. Benjamin Moore offers latex high-gloss paint in range of colors. For a more customized look, Fine Paints of Europe sells a beautiful selection of oil paints that can be matched to Pantone colors.
Photo by Quentin Bacon; Courtesy of Better Homes & Gardens