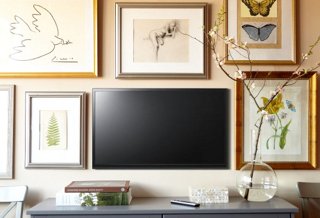 If your sitting room and media room are one and the same, try deemphasizing the television with this easy decorating trick that turns technology into part of your tasteful decor.
How To:
No matter the size of your flat-screen, by treating it as part of a larger composition of wall art, you will draw less attention to it.
If your television isn't already mounted, start by hanging it on the wall.
Next, arrange your artwork around it following our helpful video below.
Tip: A credenza and a flat-screen are a tried-and-true combo. To complete this look, add decorative objects, books, and flowers to your credenza surface. This also helps detract attention from your television.