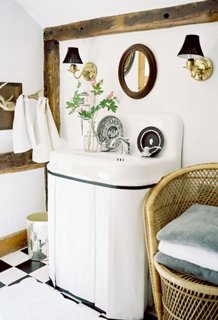 When storage space is at a minimum, simply create more. This easy project gives your bathroom a pretty facelift while also creating a home for toiletries and other necessities.
This project works best on larger pedestal or wall-mounted sinks. Your sink base should have enough depth that the skirt can be attached at least three inches below the top of the basin. (This keeps the fabric from getting wet and soiled.)
Choose the right fabric.
We prefer home-decor fabrics because they are both stain and crease resistant. Upholstery-weight cotton or linen is a great option, as is ticking fabric. To enhance the look, consider pleats or gathers (just remember to account for the extra yardage when purchasing fabric). Trims and other embellishments are also a nice touch.
Measure before you buy.
Measure the perimeter of the sink exactly where you plan to attach the skirt; you'll need this measurement not only for the fabric but also for the strip of adhesive-backed Velcro that will attach the skirt to the sink. Then measure the length to the floor.
Sew your skirt.
For an experienced sewer this is an easy project. You can also commission a tailor to create a custom skirt for you. You'll need to sew one side of the adhesive-backed Velcro to the top of the skirt.
Attach to your sink.
Carefully stick the matching side of the Velcro three inches below the base of your sink, making sure the strip is even on all sides. Fasten skirt.
Tip: Consider constructing your skirt in two panels—you can conceal the slit in the gathers or pleats. A slit can be helpful for providing easy access underneath your sink. It may also be needed for more-tailored skirts with less fullness.
"Weather-resistant fabric or even a beautiful fabric shower curtain is a good choice for this project, since it's suited to wet conditions and resists mold. "
—Megan Pflug, stylist