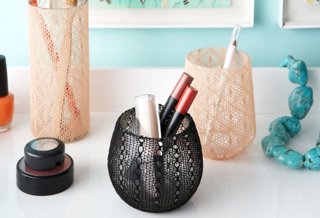 When stockings run, we typically throw them out. Instead, try this quick and easy project. These boudoir-themed vessels will add romantic glamour to your vanity or nightstand.
Use any type of stocking for this project, new or already worn. We chose perforated stockings for their intricate design, but if you'd like to conceal what's within your storage vessel, use solid matte tights.
What You'll Need:
Tights or stockings
An assortment of glass vessels
Scissors
Garment tape (available at drugstores)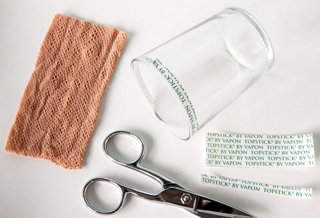 How To:
1. Cut off the top and bottom of each stocking leg to create two tubes.
2. Slide a glass vessel into one of the stocking tubes. Trim the stocking, leaving 1 inch of excess fabric on each end. Remove the vessel from its stocking.
3. Stick garment tape to the outer top rim of your glass, creating a continuous adhesive strip.
4. Slide the vessel back into its cut stocking tube, bottom first. The excess stocking will gather under the base of the vessel, keeping it in place. Carefully stick the stocking's top edge to the garment tape. Cut off any excess so that the stocking is level with the rim of your glass.
Tip: Garment tape is removable, so you can easily reposition your stocking fabric until you are satisfied. Once in place, press down firmly to ensure the stocking is secure.
Sources: garment tape available at wardrobesupplies.com and drugstore.com.
"This is also a great idea for votive candleholders. The beautiful weave of stocking fabric has a luminous quality when lit from behind."
—Megan Pflug, stylist