Every gardener has a problem spot. Mine is a little area under a tree where the shade and roots prohibit planting much, which leaves my garden and the surrounding wood fence in major need of visual interest. The solution: hanging planters! I opted to customize terracotta pots by stringing them together using a bit of rope braided through the drainage holes. To give this easy hanging planter a try, keep reading for my step-by-step guide.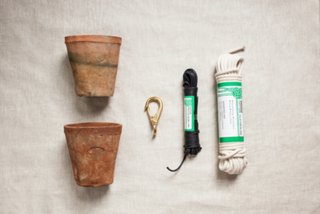 Here's What You'll Need
2 or 3 terracotta pots
1 bundle of cotton clothesline (50 feet)
1 brass snap hook
1 bundle of black cotton Venetian blind cord (optional)
Gather Your Materials
First I hit the hardware store for rope. I chose a simple white rope and a black accent cord to give my planters a modern feel. When it came time to find the pots I went straight to our garden shop. I love these aged terracotta pots in particular because they have such a simple shape and a nice handmade texture. Trust me, that's not easy to find!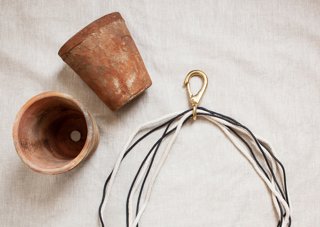 Cut and Thread
Begin by cutting three 16-foot lengths of clothesline and three 16-foot lengths of black cord. Next, thread all the cords through the snap hook until you reach the halfway point.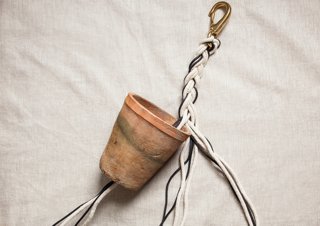 Braid
Separate your cords into three sections—each section should have two cords of clothesline and two black cords. Braid the sections down about 12 inches from the snap hook, or until you've reached your desired length. Now you're ready to attach the first pot. To do this, thread one of your three sections through the drainage hole on the inside of the pot, leaving the other two sections outside the pot.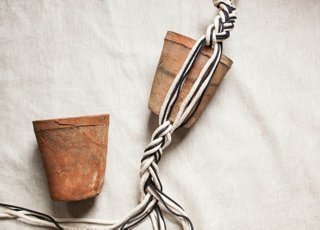 Once the pot is in place gather all three sections of rope together at the bottom of the pot and begin braiding again. You can stop here or repeat the process to attach additional pots.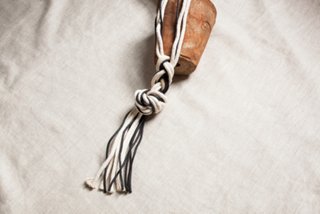 Knot
Finish your pot hanger by braiding a few extra inches; then knot the ropes and trim the ends to your desired length.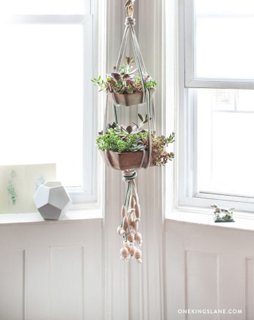 For all the details on creating this two-tier planter using these square pots, head over to Design*Sponge.
Photography Lesley Unruh