Imagine being a writer and interviewing the crème de la crème of the design world: discussing what it takes to create a chic yet family-friendly home with Kelly Wearstler; mixing prints and patterns with the master, Peter Dunham; talking about the importance of the handmade with Pam Shamshiri—then taking all that knowledge and applying it to your own home. Would you be paralyzed by the wealth of choice, or would you embrace your knowledge with open arms? Such is the life of L.A.-based writer Christine Lennon, and she opted for the latter. "The best part about what I do is that I feel like an eternal student," she says. "Every time I write a story, I learn something." Christine lives with husband Andrew, a television writer; eight-year-old twins Millie and Louis; and their darling Wheaten-mix, Ollie, in a 1921 three-bedroom colonial in the Hancock Park neighborhood. It's a traditional house, decorated with care, from the fresh color choices to the riot of patterns both subtle and bold, and filled with love. We were thrilled to turn the tables on Christine, for once letting her play the interviewee. Step inside her picture-perfect family home below.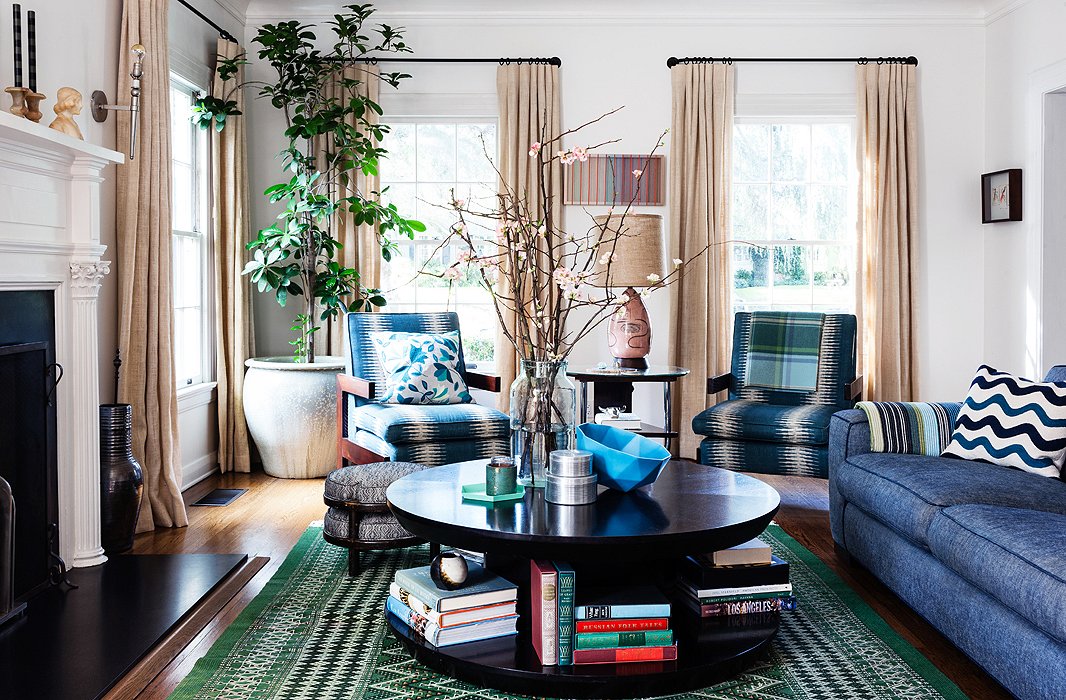 The Big Move
Christine lived and worked for years in New York City, doing time at top-notch magazines including W and Vogue and inhabiting—as most New Yorkers do—pint-size apartments. "They were always minimally decorated, because I couldn't stand the idea of living in a small, cluttered space," she says. Then she headed west to Los Angeles, rented her first Cali home (an amazing one-bedroom cottage in Silver Lake), and finally had the space to flex her design muscles. "It was like I was shot out of a cannon!" she laughs. "I was at the Rose Bowl every month buying vintage, and I just immersed myself in the California design community. It felt so immediately comfortable."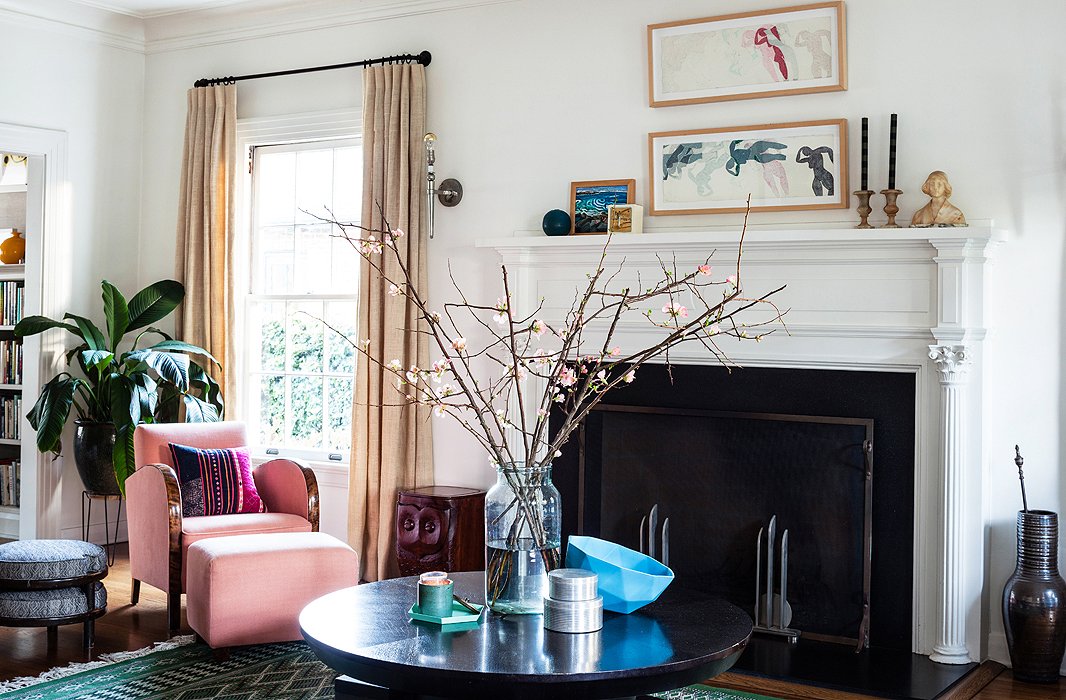 Inspiration and Influence
With each interview she does, Christine's design IQ grows, especially now that she's based in L.A. with a wide range of architectural styles at her fingertips. She says: "Tamara Kaye-Honey has such a great sense of humor and finds ways to sneak it into the terribly chic spaces she designs. Amanda Masters is so confident with textures and showed me that having something lush and tactile in every room is important. Architect Barbara Bestor has so much confidence with color that you can't help but be inspired by her eye." But the biggest influence on her style has been Pam Shamshiri of Commune. "What I took away from Pam was that in order for a room to have a heartbeat, a sense of welcoming and comfort, at least one thing in it has to be handmade. You have to see the fingerprint of a human being on the pieces you acquire, whether it's a custom lampshade or a hand-knotted rug."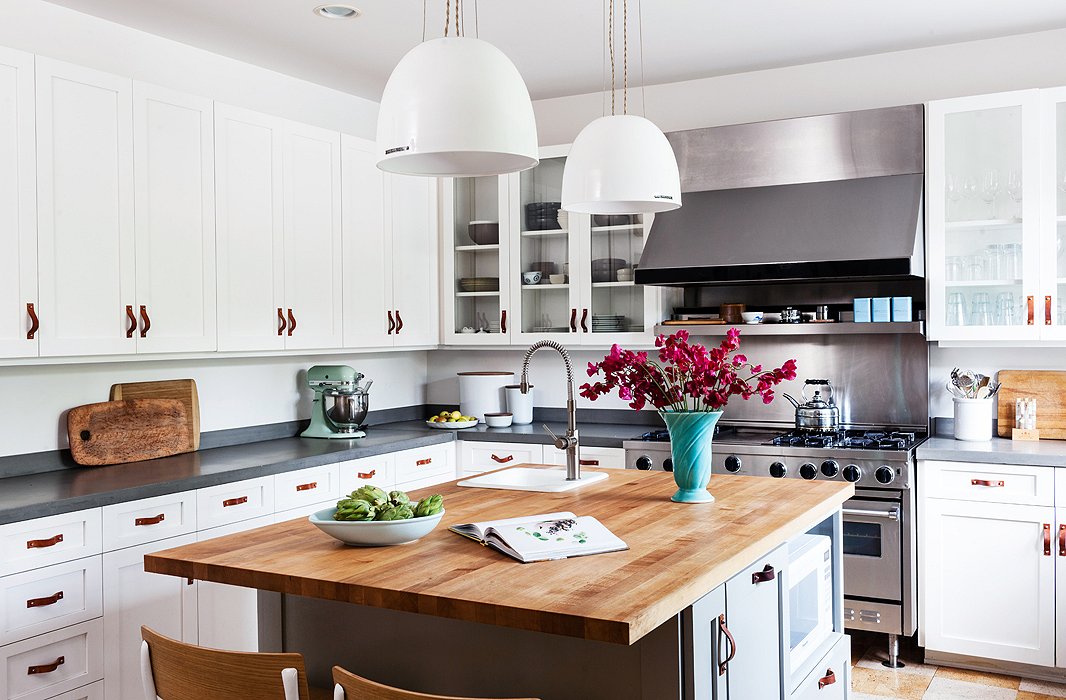 Family Rituals
Sundays find the clan at the Larchmont Farmers' Market. "We walk over from our house and see our neighbors and friends along the way—it's like our version of church," says Christine. The kids have been going since they were babies ("scoring free apples since 2008!" says Christine), and the family will pick up fresh produce, bring it back home, gather in the kitchen, and cook. "We've created a couple of mini-mes, so we all like to do the same things: cooking, reading, biking, swimming, hiking, and gardening," says Christine. If they're not at the farmers' market? You'll find them at Ultrazone Laser Tag in Sherman Oaks for a birthday party. "I wish I were joking," she laughs.
Love at First Sight
"I was the first potential buyer to see this house," says Christine, "and I had no game face at all. They knew right away that I wanted it." She was taken by its classic good looks, swooned over the property's mature trees, and was sold when she stepped into the kooky den with slanted roof, which was an addition in the 1940s. "It made the place feel a little weird and unpredictable, in a good way, and I was immediately drawn to that mix of traditional and modern," she says. She's a firm believer that if a house has good bones, any style of furniture will work, so faced with a home that could go formal and buttoned-up or looser and family-friendly, she and Andrew opted for the latter.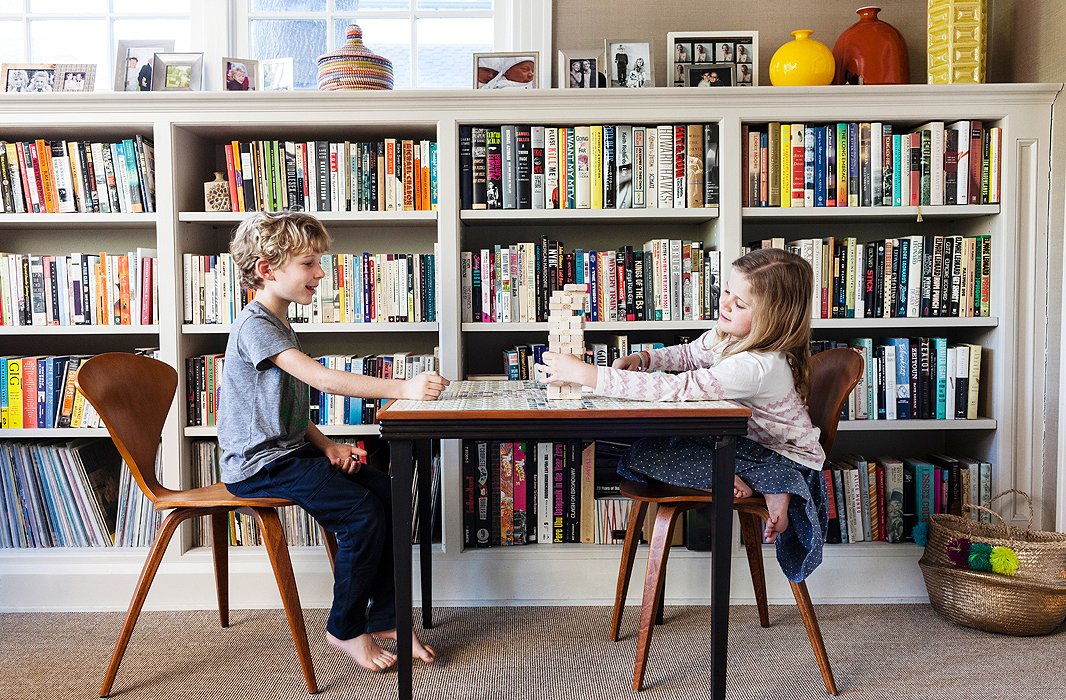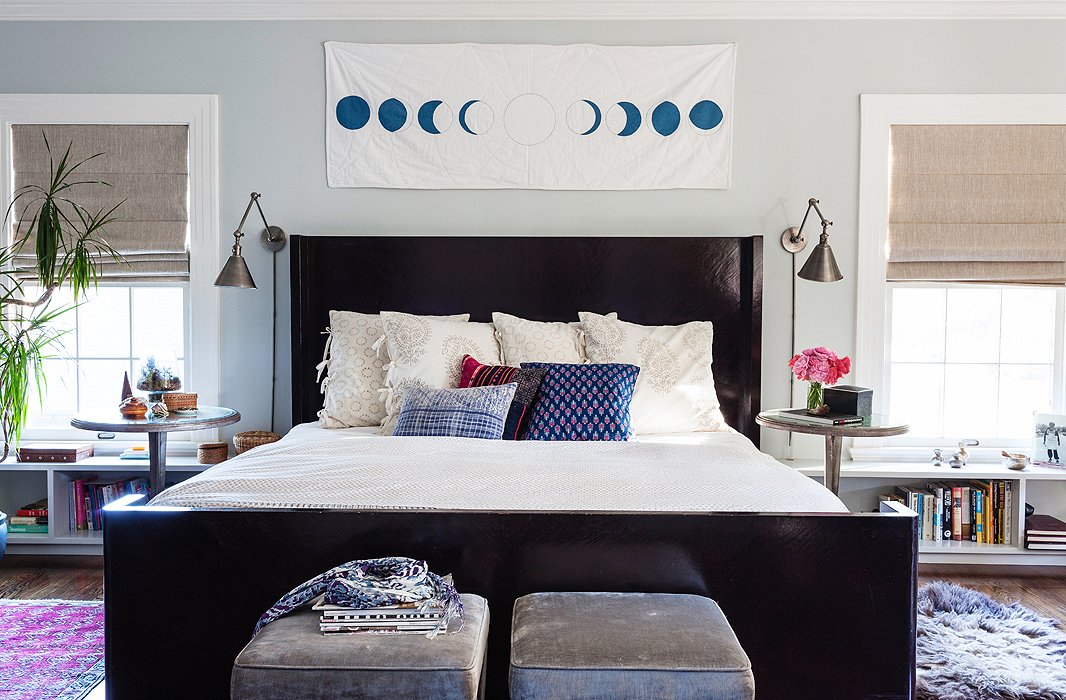 A His-and-Hers Mash-up
Part of any marriage is compromise, especially when it comes to combining his decor with yours. "My husband was really into Deco pieces—his place was like the ultimate bachelor pad—and I had a flea-market-bohemian thing going on," says Christine. "When we combined our belongings—and let's be honest, I put some of his stuff out on the curb—what emerged was a mix that's hard to define, but I think it's working. Well, I hope it's working!" She integrated some of his pieces into their home as is (like the bed in the master bedroom) and slightly changed up others (reupholstering chairs) to make them gel.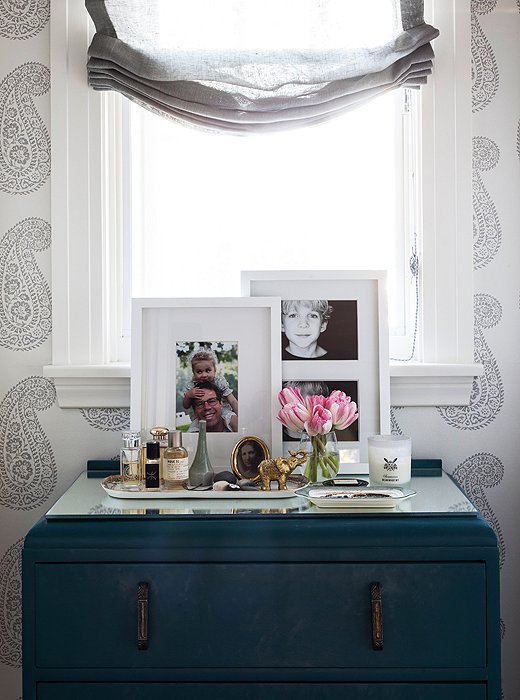 I love mixing color and pattern, and though sometimes I feel like I'm winging it, I'm doing it with joy and confidence.
Arty Party
Christine's favorite part of daughter Millie's room is the Tim Barber photograph of a pink-haired girl far above Central Park. "It makes me remember what it felt like to be 20 and full of possibility," she says. "There's a rebelliousness there that really matches my daughter's personality." She dreams of starting an art collection for her kids much like her friend Karen Kimmel, the founder of Crafting Community, who buys a piece of art for her children every couple of years, so that they'll have a ready-made collection when they're ready to strike out on their own.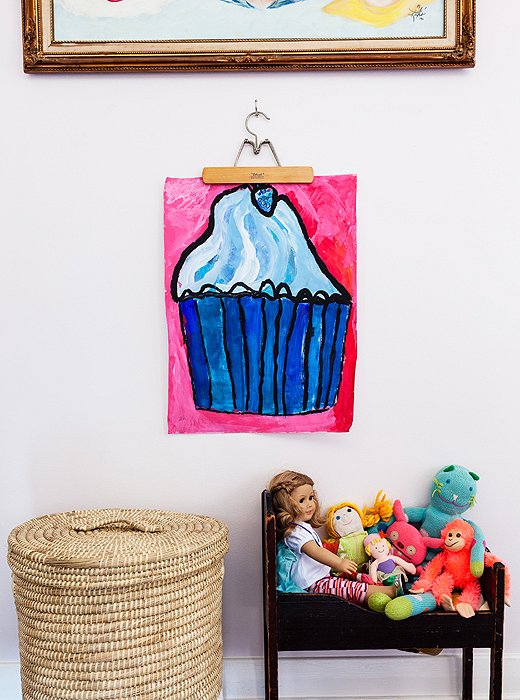 A Place for Toys
As a design-minded mom, Christine has one tip for creating a chic, family-friendly home: "Don't sacrifice your space to toys! When you have an infant, the baby swing, pack-and-play, and bouncy seat can totally take over, and that's fine, but once your kids are out of that stage, take back your house!" She's a firm believer that your home should be an inviting space for children and adults and that toys should be contained in the kids' rooms or in a reasonable amount of storage. In her home, lidded baskets and plenty of shelving do the trick in the twins' rooms.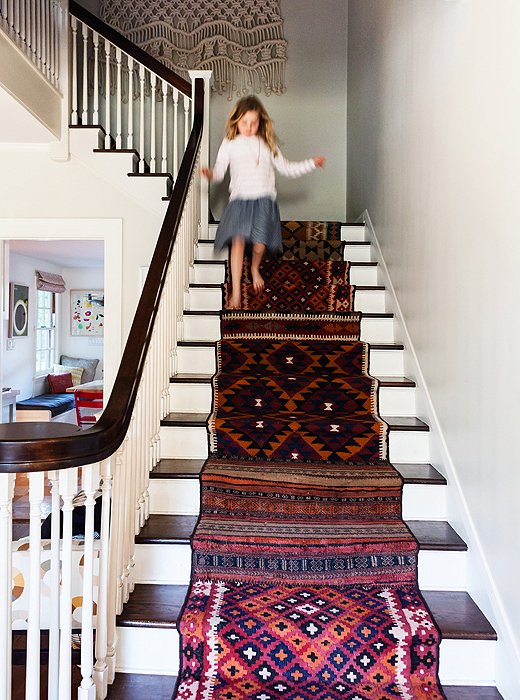 I wanted guests' first impression of my home to be 'Whoa, this is no buttoned-up colonial.'
Party Time
Christine takes her entertaining seriously. In the winter, handfuls of families will gather inside for casual dinner parties, but during warm summer nights, it's all about the backyard, where she'll move furniture to create lounge areas or rent long tables and chairs. "We're really into what I can only call 'food adventures,'" she says. She and Andrew have organized a raw bar from Oyster Boys; had parties catered by Paella Project, special round grill and all; and once, for the kids' birthday, hired a New Orleans jazz band to lead the revelers on a parade up and down the block while the kids tooted along on kazoos. "I get pretty amped up about parties," says Christine.