Design editor, entertainer extraordinaire, flea market tour guide: You can say that Eddie Ross has done it all when it comes to decorating and the home. He's styled stunning spaces for House Beautiful and Martha Stewart Living and competed on the Bravo reality TV show Top Design, and now he's ready to share his wealth of knowledge with his first book, Modern Mix, which is chock-full of tips, tricks, and tantalizing rooms that showcase his eclectic, approachable style. Here, some of our favorite lessons straight from the pages of Eddie's gorgeous book.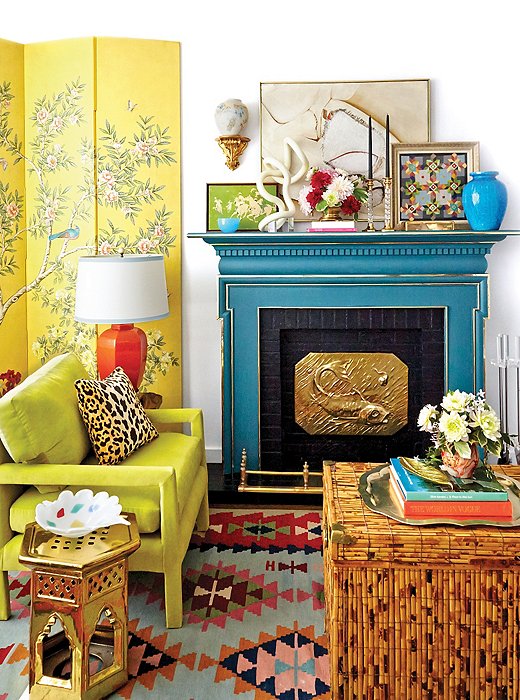 Decorate to Please Yourself
Eddie has only one rule of thumb when it comes to decorating: "If you buy only the things that bring you joy, a room will always feel right," he writes. And for Eddie, filling a room with beloved objects isn't just about pleasing the eye; it's also about letting your confidence shine through. "I see a lot of rooms—on blogs and Instagram, in portfolios and scouting shots—and it's always the personal statements that stop me in my scroll, draw me in, and entrance me with a captivating mix of color and pattern, time periods and materials," he writes. So whether it's a tarnished old chair, an heirloom chest, or unusual artwork found at Brimfield or salvaged from the toss, if a piece resonates with you there's a good chance you'll find a place for it in your home.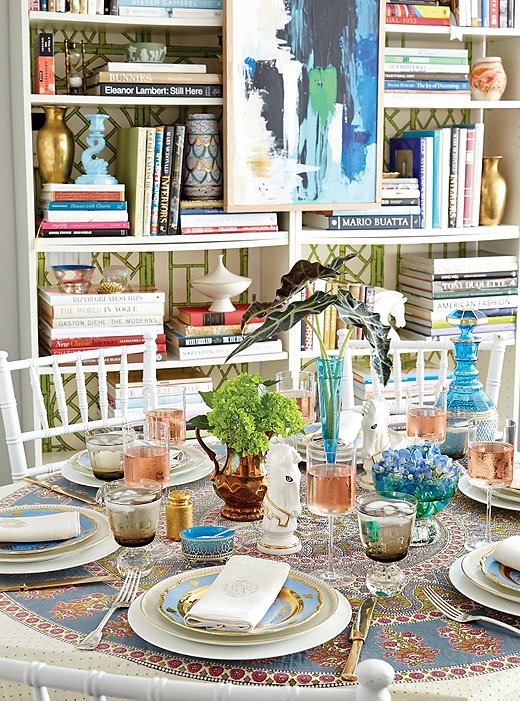 Save Time to Make Time
A consummate host, Eddie knows how to set a spectacular table and, of course, throw a swanky party. But Eddie believes that while entertaining should feel fun, it's also a chance to showcase one's creativity. "Parties are work, no matter how you look at them. They're fun but they take effort," he writes. "If there's one thing I learned over the years, it's that presentation matters. By pairing homemade favorites with store-bought shortcuts, you can free up precious time to create dazzling parties with a modern mix." Case in point: Eddie's lunch table (left) mixes vintage and store-bought glassware with heirloom pieces for a setting that's elegant without feeling overdone. But our favorite accents are the twin ceramic knights from a chess set Eddie owns—a witty personal touch that truly sets the table apart. Don't be afraid to mix high and low even with a table; the result can surprise you—and your guests.
I've learned that you don't have to spend a lot of money to get a high-end look at home if you know what to look for and where to find it.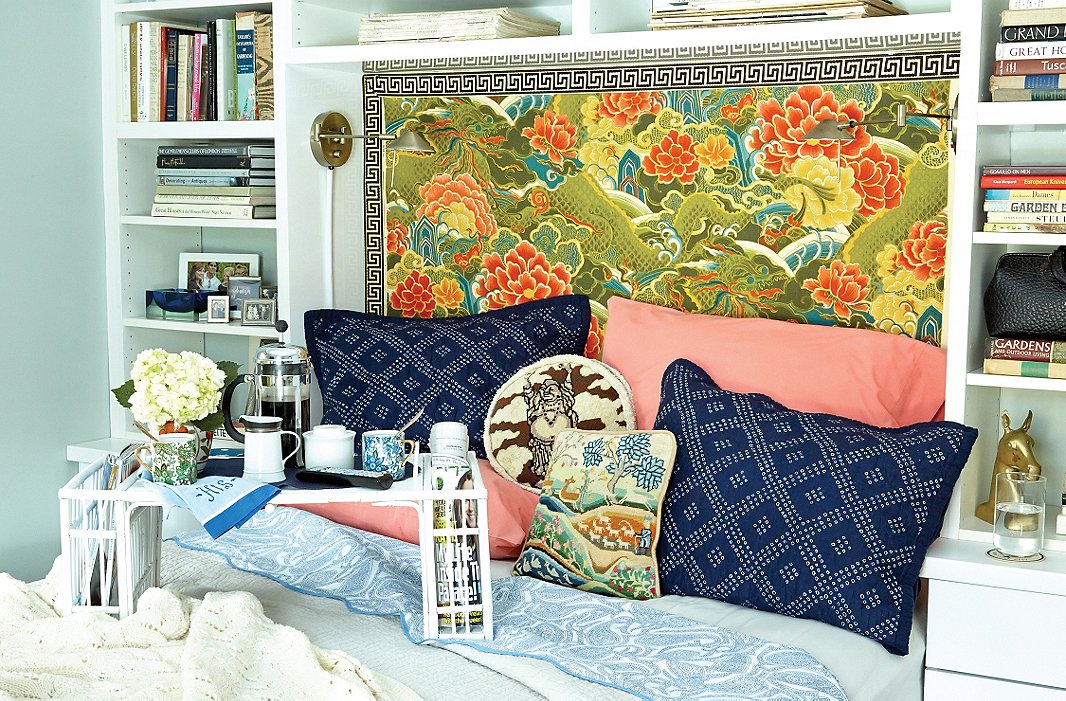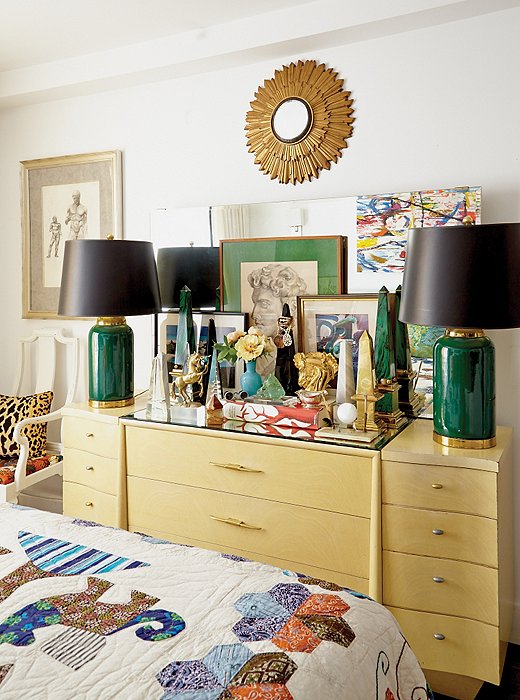 Don't Be Afraid to Experiment
A recurring lesson in Eddie's book is a sense of self-exploration and discovering one's personal style. And it comes from trial and error and educating your eye. "Take risks," he writes. "If something doesn't work, change it. You can't expect to make a journey toward a more creative life without a few missteps along the way." A haphazard approach to decorating often yields the most rewarding results. "Unexpected combinations are the hallmark of a modern mix," Eddie points out. "Pattern on pattern, vintage and new, simple and elaborate, rough with luxe. Oddball objects add character, and surprises thicken the plot." Our quick takeaway? Seemingly misfit objects can bring a new perspective to spaces. Try similar objects in pairings, sets, trios, and even a collection for a cohesive look; after all, it's true what they say: There's strength in numbers.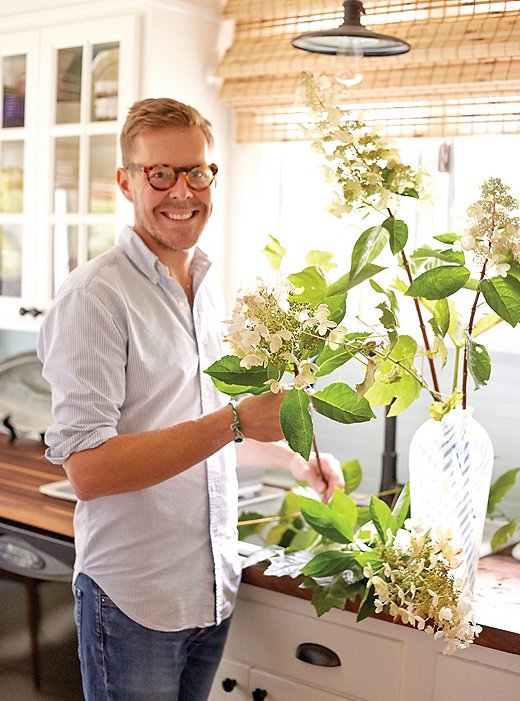 More Helpful Tips from Eddie's New Book, Modern Mix
Discover metals. Look for vintage metal tableware in simple shapes. Early objects were often the most basic, with a primitive charm that pairs well with more-elaborate pieces to create, yes, a modern mix.
Discover ceramics. Look for shadows of your fingers when you hold up porcelain to the light. It's fired at higher temperatures than other ceramic wares, forming a glasslike material that's thin, strong, and translucent.
Discover plastics. Look for French ivory carving sets. They add a sense of chivalry to a banquet or a barbecue. A kitchen shop can sharpen the blades or replace them altogether.