Elisabeth Holder is a few things we love: French, a mom (to six-year-old twin boys), and a savvy, effortlessly stylish businesswoman. Her family bought a little Parisian bakery called Ladurée in 1997, and as the co-president of Ladurée U.S., she's helped skyrocket the brand, crystalize its signature tea-shop-from-our-dreams style, and introduce us all to that bite-size morsel of sweet perfection that is the macaron (we're addicted). Her knockout design sense is nowhere better experienced than inside the new Ladurée SoHo. She decorated it, aiming for it to awaken all your senses, and it's a marvel from front (quaint café) to back (salon that's a dead ringer for an 18th-century ballroom—soaring ceilings, chandelier, and all). Since we're, well, sweet on her, we were thrilled to chat her up about her design inspiration, creative path, and of course, her personal favorite macaron flavor.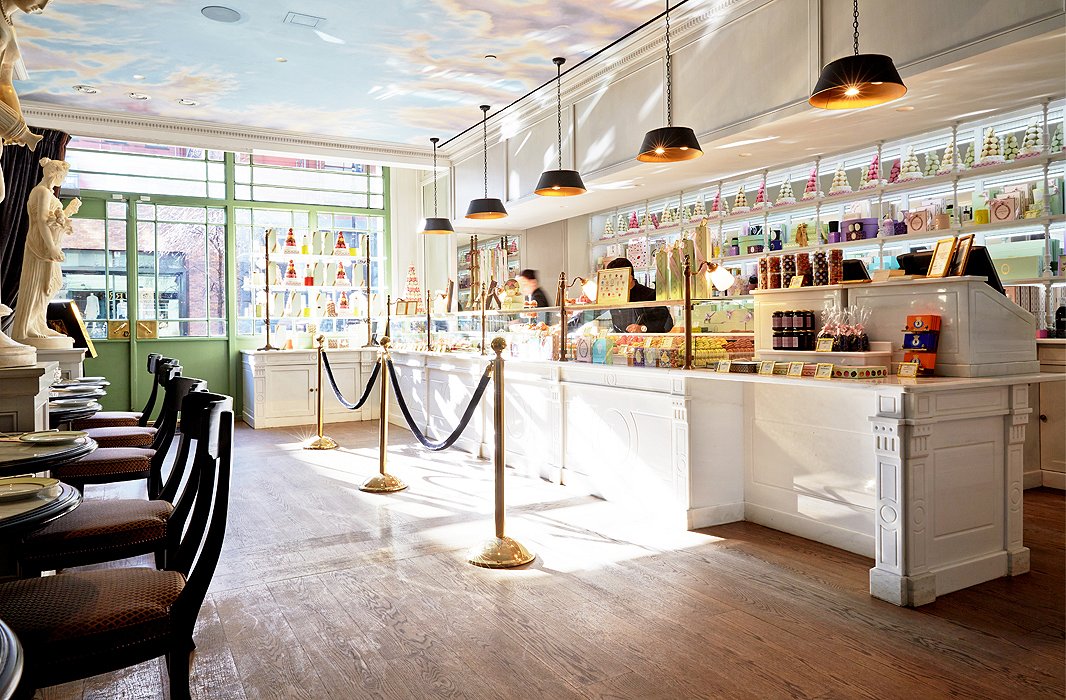 First things first, where did you grow up? "The north of France."
And does that region influence your style at all? "Not so much—living in Paris and New York have been bigger influences on my style."
Did you learn how to bake as a child? "I did—I had no choice! Every Wednesday after school I was helping my grand-maman at our bakery in the north of France. I grew up with foodies."
We want the shop to feel like a time machine that wakes up every sense.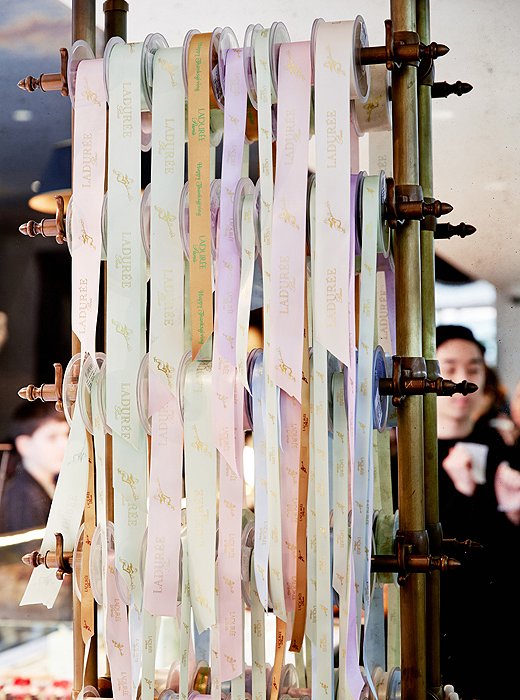 What was your family's relationship to the original Ladurée? "We went there for lunch in Paris every Saturday for years, then it went up for sale, and my dad made an offer. At the time there were only four flavors of macarons—it was a sleeping beauty."
And the name Ladurée? "It was the name of the original family."
Did your previous jobs at all prepare you for this path? "I worked in fashion and luxury, and that's what we are—more than a pastry shop, we're a lifestyle."
How does your personal decorating style relate to the design of the shop? "It's kind of opposite actually—night and day. My style is very modern. We have a loft with loads of art, colorful details, and light, light, light. But you'll find the same attention to craftsmanship and detail in my home as in the shop with regard to everything—especially tableware."
When we bought Ladurée there were only four flavors of macarons—it was a sleeping beauty.
What's the one thing you did that was crucial for building the brand? "Respect the DNA of the sleeping beauty: It was all there already; we just had to recognize it and revive it, so it stays true."
Do you possess any traits that you feel were critical to your success? "I love people, but really what's key is putting together a great team."
Did you ever receive any stellar business advice? "Be open-minded, listen closely, and learn quickly."
You work closely with your husband and brother—how is that dynamic? "Can I take the fifth? It's interesting at times. We have the same culture, the same references, but the main advantage is the trust—we all work for the same goal even if sometimes we disagree."
How did you transition your family from France to the U.S.? "One macaron a day made it easy."
On that note, what's your favorite flavor? "Rose always, but I'm like a child and have a new favorite each month."
Do you have any cherished family rituals? "We all—the parents, siblings, kids—take a one-week vacation together every year."
Where's your favorite place to travel? "Always places I have not been to yet—like Lord Howe Island off of Australia."
Generally are you a morning person or a night owl? "I am both a morning person and a night owl!"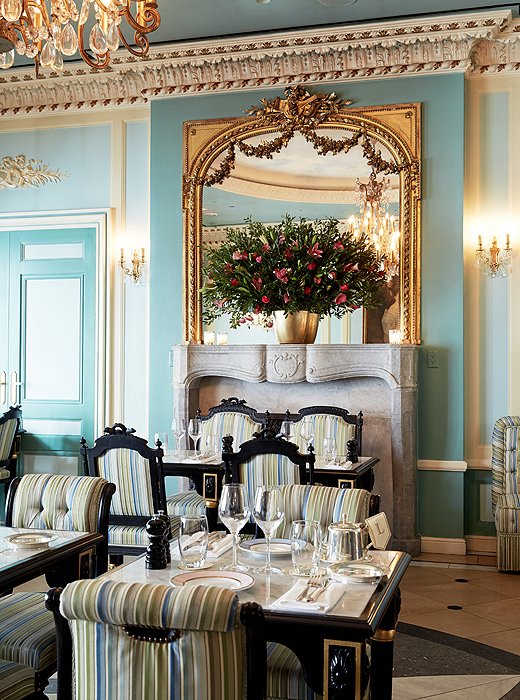 Where would we find you on a Sunday afternoon? "With my twins at an exhibit, a park, or the Ladurée garden for brunch."
Coffee or tea? "Canarino, a Ladurée specialty."
How do you unwind during those rare off-duty moments? "Yoga and boxing."
As a working mom, what is your best time-saving tip? "We order all our groceries from Fresh Direct."
What would people be surprised to learn about you? "I'm an amazing singer (in the shower), or at least I think I am!"
We're more than a pastry shop; we're a lifestyle.
If someone swings by Ladurée for a visit, where else should she stop in the neighborhood? "I love Juice Press, The Mercer, and Le District, the French version of Eataly."
Where do you love shopping for decor? "I love Monc XIII in Sag Harbor, the store in the Wythe Hotel in Brooklyn, and websites like One Kings Lane."
Since you're always on the go, what items are always in your bag? My lipstick, blush, iPhone, hand cream, a rose spray for my hair by Christophe Robin, a mini elixir spray by Caudalie—it is like a shot of vitamins for you face—and a Globe Trotter perfume charge by Francis Kurkdjian.
Are you currently stalking anyone on Instagram? @ladureeus, of course, and @manrepeller and @bonappetit.