Lesson #1: Form and Function Can Totally Coexist
As a fan of classic, just-so design—Canvas Home, Libeco, and Matouk being a few of her favorite brands—Day curates the Cobble Hill, Brooklyn, brownstone she shares with her husband and their three-year-old son as carefully as she would a sale on our site, but always with practicality in mind. Her ottoman coffee table, a find from Kelly Wearstler, isn't just chic; its soft sides also suit her son's love of running and jumping. Meanwhile, the nubby sisal rug adds warmth while secretly being easy to clean. For the room's main light source, Day selected a stunning sculptural pendant that adds a sense of lightness to the architecture's ornate moldings and highlights the room's high ceilings.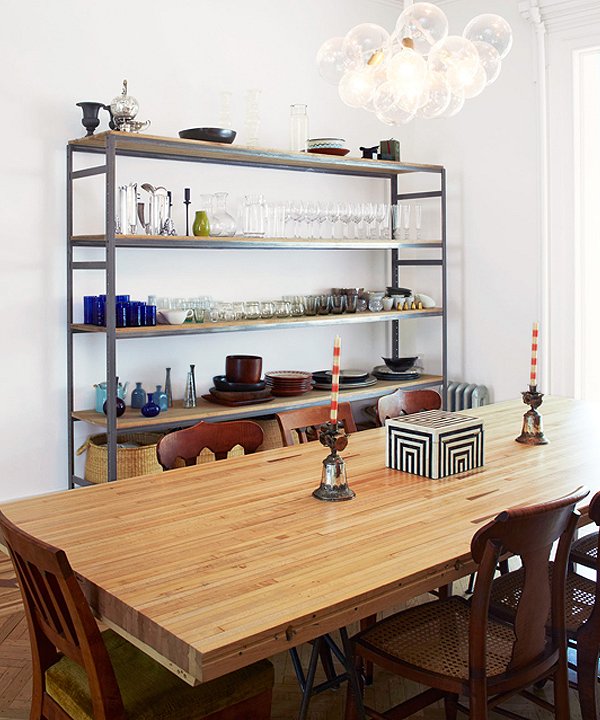 Lesson #2: Collections Can Double as Art
"I just moved. I'm in the beginning of the accumulation phase," Day tells ELLE magazine. Adding a generous shelving unit by Design Workshop to the dining room may have started as a strategic kitchen-cabinet space-saving measure (both Day and her husband are enthusiastic cooks), but it quickly turned into the most eye-catching spot in the room. The selection of simple blown-glass tumblers, earthenware plates and bowls, silver candlesticks, and serving pieces say as much about Day's personal aesthetic as any piece of art.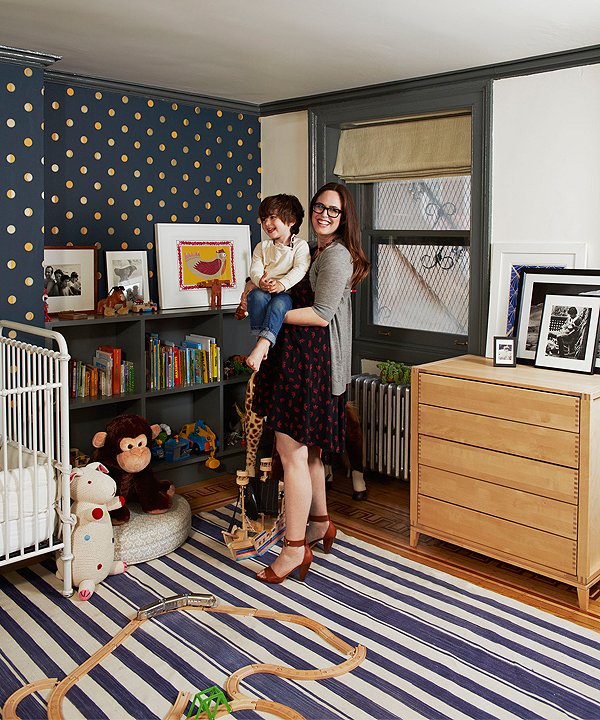 Lesson #3: Kids' Rooms Can Be Sophisticated
Day became obsessed with finding just the right wallpaper for Arthur's nursery (she's eight months pregnant with baby number two, by the way), but she didn't limit herself to companies that traditionally cater to junior aesthetes. She eventually found the perfect deep-navy wallpaper (those polka dots are actually phases of the moon) that's fun but has a certain polish, as does the flat-weave striped rug. Simply framed family photos in grown-up black and white balance out the primary pops of color provided by Arthur's toys and favorite books.
To see more snaps of Day's home, head over to Elle.com for the full interview!
Photos by Christopher Sturman, Courtesy of ELLE Magazine.