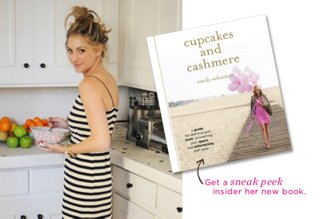 We're always looking for ways to switch up our entertaining repertoire come fall, so we were thrilled when Emily Schuman of the cult-favorite blog Cupcakes and Cashmere offered to share a few ideas from her new book.
See below for Emily's tips and recipes for Crafting the Perfect Cheese Plate, Hosting a Homemade-Pizza Party, and Finishing the Night with Pie.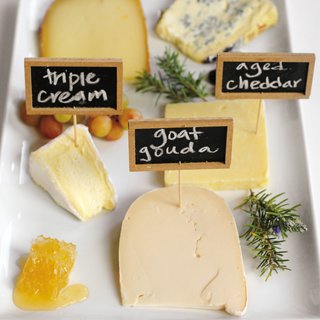 CRAFTING THE PERFECT CHEESE PLATE
If you're not confident in your cooking abilities, you can do a great cheese plate and then serve takeout. As a rule of thumb you should include different types and textures: soft, semisoft, aged; mild, sharp, and blue.
Here are some excellent varieties to include:
Triple cream (soft, usually cow)
This cheese has a butterfat content higher than any other cheese, which is what makes it so dense and creamy.
Tip: Use a small serrated knife with holes for easier slicing.
Favorites: Saint Angel, Saint-André, Brillat-Savarin
Cheddar (aged, cow)
Cheddar is one of my favorite types of cheese—it's flavorful, it packs a punch, and I think the sharper it is, the better.
Tip: To get the best cheddar, pick ones that have been aged at least six years.
Favorites: Cabot, Old Quebec Vintage Cheddar, Fiscalini Aged Cheddar
Sheep's-milk cheese (semisoft)
These cheeses are mild in flavor but well rounded.
Tip: Add some quince paste to really bring out the flavors of the cheese.
Favorites: Istara, Petit Basque, Manchego
Gouda (hard, goat)
A goat's-milk gouda is a great cheese for beginners. It's smooth and velvety, and not too tangy.
Tip: Serve it with pear paste or sliced pears.
Favorites: Beemster, Arina, Cablanca
Blue (soft, goat)
Blue cheese can certainly be overpowering due to its pungent flavor, but if you stick to creamy varieties (versus those that are crumbly), the flavors are much less intense.
Tip: Make sure to end your cheese tasting with blue (never start with it), so that it doesn't warp your palette for the other cheeses.
Favorites: Saint Agur, Montbriac, Roquefort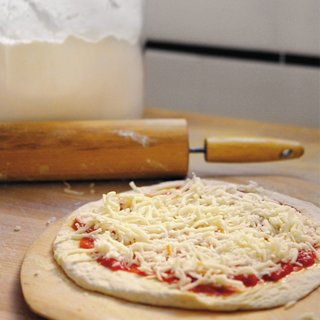 HOSTING A HOMEMADE-PIZZA PARTY
Pizza is a fun thing to be able to make, and once you're mastered the dough it's great for a quick, easy meal. All you need are a few basic ingredients (most of which you should already have in your kitchen) and a little bit of time to let the dough rise. Then you can invite friends over, and they can all make their own pizzas with their favorite toppings.
Ingredients
Makes enough for two 10-inch thin pizza crusts

3/4 cup warm water (it should be between 105°F and 110°F)
1 packet active dry yeast (not fast-acting)
1/2 teaspoon sugar
2 1/2 cups all-purpose flour (you can also substitute part or all for whole wheat)
2 tablespoons olive oil
2 teaspoons salt
1. Preheat the over to its highest temperature (mine is 500°F).
2. Pour the warm water into a large bowl, sprinkle in the yeast and the sugar, and let the mixture sit for 5 minutes until it's slightly bubbly. Stir in the flour, olive oil, and salt until it forms a ball (if it seems dry, you can add a teaspoon of water at a time until it comes together, but make sure it doesn't get overly sticky).
3. Place the dough onto a lightly floured surface, and knead until it's smooth and elastic. Using the same bowl, drizzle in just enough olive oil to coat the interior (so the dough doesn't stick). Place the ball of dough inside, and cover it with a damp cloth. Let it rise for about 45 minutes, or until it has doubled in size.
4. If you're using a pizza peel (the long wooden paddle used to transfer the pizza to and from the oven), sprinkle on a little cornmeal (this will help the pizza slide off onto the heated pizza stone in the oven), and roll the dough out to the desired size. Don't worry if you don't have these tools; you can simply sprinkle cornmeal onto a baking sheet and place the pizza directly in the oven.
5. Now you're ready to add your favorite toppings (I love the combination of sautéed onions, sage, and fennel sausage). When you've done that, bake the pizza until the bottom of the crust is golden brown and the cheese—if you've used any—is melted, roughly 7 to 10 minutes.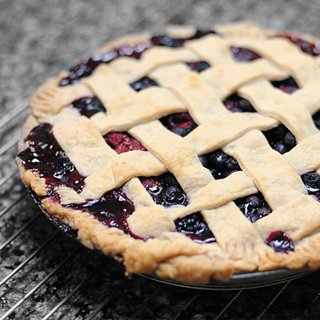 FINISHING THE NIGHT WITH PIE
Pies really celebrate the season, whether you're making a pumpkin or a berry pie, and it's something you can go to year-round. I love the versatility of that. All you have to do is nail the crust and you've got home-baked goodness for all.
Ingredients
Makes 1 pie
Crust

2 cups sifted all-purpose flour, plus more for rolling the dough
3/4 teaspoon salt
3/4 cup all-vegetable shortening (I always keep Crisco sticks in the freezer)
2 tablespoons chilled unsalted butter
8 to 10 tablespoons ice water

Filling

5 cups mixed berries (I use raspberries, blackberries, and blueberries)
1 tablespoon lemon juice
3/4 cup sugar
4 tablespoons cornstarch
1 teaspoon grated lemon zest
A pinch of salt
1. Sift and measure the flour and put it into a large bowl. Add salt and then whisk together. Cut the shortening and butter into small pieces and add them to bowl. Working with either a pastry blender or two knives, use a chopping motion to combine the butter and flour until they are mixed together and the texture resembles coarse cornmeal. Slowly sprinkle the water around the bowl while tossing with a fork. Add only enough water so that when pressed together, the dough holds its shape—it shouldn't feel wet. Without handling the dough too much, make two equal-size balls. Shape them into flattened disks, wrap them in plastic, and refrigerate them for 30 minutes.
2. Wash and drain the berries, place them in a large bowl, and add the lemon juice on top. In a smaller bowl, combine the sugar, cornstarch, lemon zest, and salt, and pour it over the fruit. Carefully mix the filling ingredients together (making sure not to break up the berries too much), and then let them sit for 15 minutes so the flavors incorporate. Preheat the oven to 400°F.
3. On a lightly floured surface or a piece of wax paper, roll out one disk of dough until it's roughly 13 inches in diameter.
4. Place your pie plate upside down on top of the crust and flip the entire thing over. Carefully peel off the wax paper (if the crust begins to stick, put it in the fridge for a few minutes), then gently fit the dough into the plate.
5. Repeat the rolling process to shape the other dough disk into a 13-inch circle, and cut it into 3/4-inch strips.
6. Pour the filling into the pie shell.
7. Lay several parallel strips of dough on top of the filling, leaving about 1/2 inch of space between each one (it usually takes about 5 to 7 in order to span the width of the pie). Fold back every other strip halfway and place one long strip of dough perpendicular to the parallel strips across the middle of the pie. Unfold the folded strips again. Repeat this process, weaving in strips, until you have made a complete lattice pattern over the top of the pie.
8. Trim the extra dough from the sides and use a fork to crimp the edges. Bake the pie for about 45 minutes, or until the crust is dark or the fruit bubbles over the top.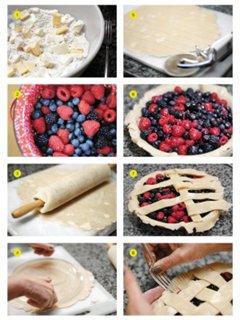 Big thanks to Emily for giving us a sneak peek inside her book!
(All photos and content courtesy of Emily Schuman and Abrams)

For more entertaining ideas and recipes, plus style advice, beauty how-tos, and much more, pick up your own copy of Cupcakes and Cashmere HERE.